Composer-pianist and algorithmic maestro – LARKHALL – will return in 2023 with a collaborative new album: 'And You Were: Say You're With Me Reworked'.
Released on 26 May, the record will feature nine radical reinterpretations of songs which featured on Larkhall's 2022 album 'Say You're With Me' created during the isolation of lockdown.
Enlisting a cast of creatives who have crossed paths with the Bath-based artist AKA Charlie Williams since his move to the UK, the album will see guest appearances from artists including Echo Juliet, Alexandra Hamilton-Ayres, Neil Gay, Simeon Walker, Jim Cornick, Josh Semans, Harriet Riley, and more, all of whom lend their idiosyncratic stylings and individual talents to this eclectic release.
Leading the way into the new release, Larkhall is delighted to unveil two of the album's most immediate and engaging cuts: James Yuill's reworking of "Eleven Japanese Streams", plus Ani Glass' rework of "Cascade", both of which are available to stream now.

Earning his stripes remixing for legendary acts like Erasure and M83, and premier producers like Mint Royale and David Holmes, the Moshi Moshi-signed James Yuill brings his vivid visions to the world of Larkhall for the first time. Transforming the pensive piano score of the original into a playful synth-pop wonderland, Yuill's rework of "Eleven Japanese Streams" glitters with the bright, innovative and optimistic energy of his own folktronica creations. 
Speaking about the rework of his 2022 album Larkhall says:

"It's a great way to hear another side of a musical idea and the perfect excuse to collaborate with someone who's in your creative circles but you haven't worked with before. James was on my radar as a great-musician-and-nice-guy around the London scene, we got talking on social media and the invitation for a remix was simple "Here's the track, do whatever you want!"
So impressed with Yuill's rework, the track would provide the lightbulb moment that would therein inspire a full collection of reworks, 'And You Were: Say You're With Me Reworked', which will arrive later this Spring. As Larkhall adds:

"His remix of Eleven Japanese Streams is so good that it actually inspired the rest of the "reworks" album— it was an idea that had sort of been kicking around in my head, but hearing his remix made it clear that this was something worth pursuing."
Putting her spin on Larkhall's oeuvre, Ani Glass has also shared her own renegade reworking of "Cascade". Ploughing slinky new grooves into the postclassical piano-based piece, the Cardiff-based electronic-pop musician, producer and Welsh Music Prize-nominated artist proves her pedigree with this dark, dancefloor-ready transformation.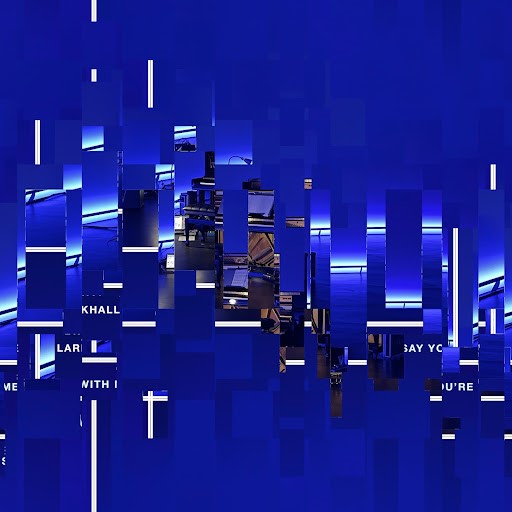 With Yuill and Glass's reworks available to hear today, 'And You Were: Say You're With Me Reworked' arrives in-full on 26 May 2023. The tracklisting is as follows: 
Eleven Japanese Streams (James Yuill Rework)
Uncertain Times (Echo Juliet Rework)
Cascade (Ani Glass Rework)
Vincennes (Alexandra Hamilton-Ayres Rework)
Time of Flight (Neil Gay Rework)
Before We Knew (Harriet Riley Rework)
In My Mind Are All The Tides (Josh Semans Rework)
Uncertain Times (Simeon Walker Rework)
On The Morning of the Second Day (Jim Cornick Rework)


Larkhall is a prizewinning concert pianist and coder-musician extraordinaire. A self-described "mad scientist", his innovative live performances see him work in cooperation with Otto, a computer system of his custom design, who creates spectacular live visual projections that respond in real time to his performance.

A composer of elegant electronic-infused piano pieces that share DNA with the neo-classical artists such as Nils Frahm or Max Ritcher and the nu-soul / minimalism of Go Go Penguin, he has released two albums to date, including his 2019 debut 'The Sea Was Never Blue' (which reached #2 on the iTunes Classical Chart) and 'Say You're With Me' (2022). Technically complex, yet masterfully understated and laced with a magnetic sense of melody, Larkhall's most recent album received praise from the likes of Times Radio ("A new exciting voice on the contemporary scene") and Scala ("Absolutely lovely"). Larkhall pairs the album with a new release in 2023 'And You Were: Say You're With Me Reworked'; nine collaborative reworkings of songs from the project.

Touring in support of the release, Larkhall will be performing live at a special 'Piano Day Celebration' at St George's Bristol, alongside Alexandra Hamilton-Ayres and Simeon Walker on 2nd April. 
LARKHALL – 2023 LIVE DATES
18 March – Pervasive Media Studio Bristol
1 April – Twigmore Hall Bath (w/ Alexandra Hamilton-Ayres + Simeon Walker)
2 April – St George's Bristol (w/ Alexandra Hamilton-Ayres + Simeon Walker)