Joby Fox is a Belfast-born songwriter, musician and humanitarian who began his career in his teens as bassist of the post-punk band The Bankrobbers.
Releasing their debut single on renowned local label Good Vibrations in 1982, they appeared on the TV show The Tube and were snapped up by EMI, issuing two further singles before splitting. Fox then co-founded Energy Orchard and wrote their first single and biggest hit, 'Belfast', which reached no 1 in Ireland and also charted in the UK.
Leaving Energy Orchard in 1991, Fox embarked on a new phase of his career that saw him acquire production and sound design skills and record a number of electronic songs for Sony. He has over the years worked with artists as diverse as Steve Earle and Lee 'Scratch' Perry. He also began dividing his time between Ireland and Denmark for family reasons – albeit with his roots remaining firmly planted in his homeland – and eventually embarked on a solo career in 2011 that has afforded him the opportunity to interpret his culture in new ways via international collaborations.

His first solo album, 'End Of The War' [2013] was described by The Irish News as "beautifully wrapped up for mass consumption, like an iron fist in a velvet glove". Its release was accompanied by a short film entitled 'Lost Commandos' that challenged perceptions of identity in Northern Ireland and was chosen to open the inaugural UN Peace Festival in Hong Kong.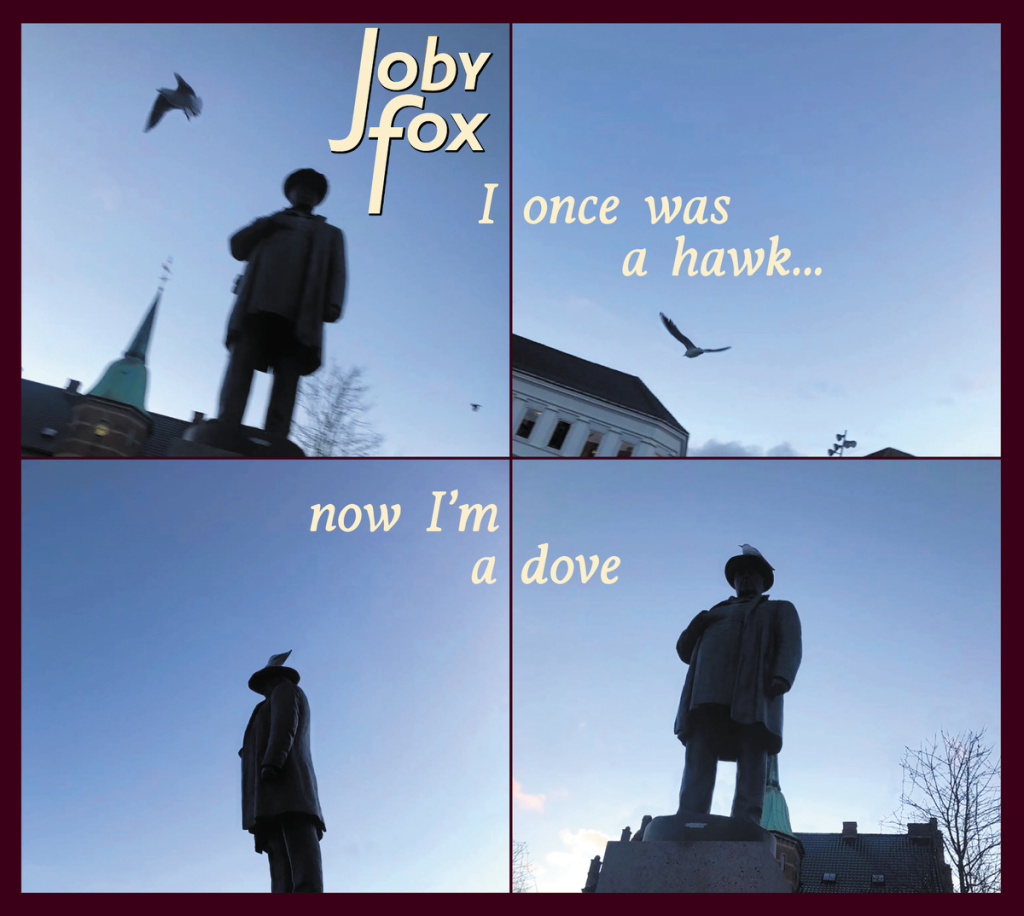 I ONCE WAS A HAWK NOW I'M A DOVE
TRACKLISTING
1  Falling
2  Don't Come To My Rescue
3  I Took A Walk
4  No Home
5  Angels Fly
6  Dream On
7  I Thought I Knew You
8  This World Is Crazy
9  I Love You
Its follow-up, 'I Once Was A Hawk Now I'm A Dove', has taken a full decade to appear, but Fox has been more than busy in the meantime. Taking a break from gigging in 2015, he was in Lesbos and witnessed the increasingly hazardous plight of refugees when a vessel capsized that resulted in dozens of unnecessary deaths. Deciding that more had to be done to help, he co-founded the organisation Refugee Rescue, receiving a boat donated by artist Jake Chapman and operated by a voluntary professional crew that has saved almost 20,000 lives in the Mediterranean.

In 2016 he also became involved with the Orchestre des Réfugiés et Amis as its musical director. Providing opportunities for musicians with Refugee or Asylum status in Northern Ireland to collaborate, it created a true global fusion and facilitated workshops and awareness sessions in schools and youth clubs that have challenged pre-conceived perceptions of refugees and migrants.
Fox was visiting family in Denmark when the world closed down in 2020. Trapped among forests and lakes, he wrote a new set of songs including several about coming to terms with his recent experiences, as well as the altered reality of that period. These were later recorded in the city of Aalborg with a young trio of leading emerging talents in the Danish jazz and folk scene before being co-produced by Fox with Søren Mikkelsen in the famed Medley Studios, Copenhagen. The result is 'I Once Was A Hawk Now I'm A Dove', a superb amalgamation of two cultures and cross-genres that blends extrovert Irish with Scandinavian cool. The Belfast Telegraph have already given it the thumbs up, declaring that "he has always been an emotional artist, but this is exceptional work. It has a brooding power that's akin to Christy Moore and Van Morrison".

Fox states that the album title "speaks about the emergence of a 'New Ireland' and specifically to those who feel trepidation about the future. The message is simple – we have all come a long way together."
A video for the album's closing song, 'I Love You', has been made available to coincide with its initial digital only release. A remastered version of a track originally released as a single in 2011, Fox has performed it at weddings, in various Irish embassies abroad and, not least, for the late Irish-American actress Maureen O'Hara, who was the original inspiration for the song. O'Hara starred alongside John Wayne in the classic 1952 film 'The Quiet Man', which was filmed in the village of Cong in County Mayo, and visited again 60 years later. Fox spent a few days in her company and performed 'I Love You' for her at a private session in Ashford Castle. Fox recalls that "it was a very special moment for me as the film is a favourite of mine and I have fond memories of watching it with my family when growing up. Maureen O'Hara was a great actress and a huge star in Ireland."


The album also includes the singles 'No Home' and 'Falling'. Of the former, Fox had seen a similarity between his work with refugees and his own mid-19th century forebears, stating that "the parallel between current victims of forced migration and Irish population of the 1840s struck me. Having witnessed first-hand the desperation of whole families and communities, and indeed countries, my imagination brought me vicariously to the trauma of my Irish ancestors. There is a line where I sing 'I curse the English profiteers', although I want to be careful to make the point that I'm not condemning all English people of that time, because they themselves suffered from the class system, and still do, to this day. In that way we all stand together."

As for 'Falling', Fox reveals that "I started to get an emotional connection to the song as soon as I began singing the title. I wrote it at a time when I was trying to process my involvement in the refugee crisis and the terrible treatment of people who have already suffered untold pain and upheaval in their lives. I had underestimated the profound effect that being in that environment had on my life. The song is about the healing effect of being in a loving and supportive relationship."