North East singer-songwriter – JAMES LEONARD HEWITSON – has announced his new album 'More Pop' (due 6 October, via Butterfly Effect Label).
Leading with the single "Black Jeans", the release also arrives alongside the announcement of a run of UK live dates this July.
A chipper cut with a distinct retro feel, "Black Jeans" sees James Leonard Hewitson pair his knack for meticulous earworm melodies with colourful and hyper-real storytelling that unfurls as a pragmatic pastiche of his Hartlepool hometown. 
Over a score that blends bouncing '60s-tinted beats with spiralling electric guitars and bubbling synths, James' striking observational lyrics like "my favourite team lost on Saturday, my town declined to a ghost-town getaway" leave an added sting of emptiness, mundanity and loss. Explaining more about the song, JLH says:
""Black Jeans" is a pretty corny song, but the melody just sort of flowed so I kept going with it. I'm from a generally down-trodden North East coastal town called Hartlepool, but it's great how your fashion sense helps you escape the wider socio-economic realities of where you are."
As sprightly choruses descend into more sprawling stretches of contemplative instrumentals, he adds:
"The song morphs from a doo-wop song in D major to a noisy, blues-y jam by the end. I was listening to Courtney Barnett's 'Things Take Time, Take Time' a lot last year and I loved the way some songs just kept going in a meditative way, even though they could've finished earlier."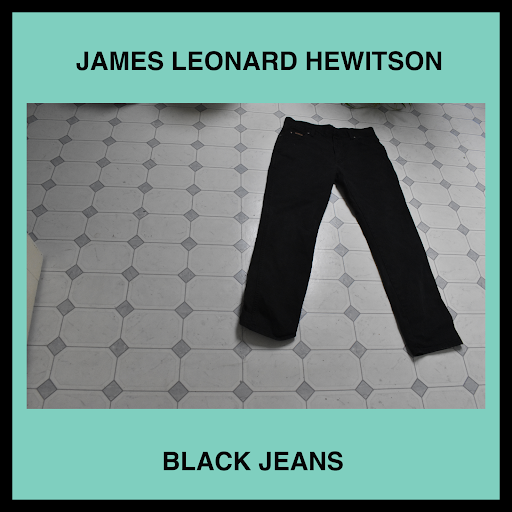 J
AMES
LEONARD HEWITSON – NEW SINGLE: "BLACK JEANS" –
OUT NOW
STREAM ON ALL SERVICES HERE
"Black Jeans" arrives as the first sample from James Leonard Hewitson's awaited second album 'More Pop', arriving 6 October 2023. Largely a compilation of ideas that were created during the depths of the pandemic, the record touches on themes of loneliness, lust and sadness and is inspired by some of James' favourite pop artists. 
Where his debut record 'Only The Noise Will Save Me' saw JLH getting started as an artist, 'More Pop' lands as an in-depth exploration of how he's previously been held back. Recorded and mixed by Chris McManus at Blank Studios in Newcastle-upon-Tyne, the album was mastered by Peter Maher and features a small cast of performers including Michael Kitching on drums and percussion and Josh Ingledew on synths.
Alongside the new single, the record also features an genre-bending and glimmeringly diverse array of tracks. From the BBC 6 Music-backed "Stable" and PC Music-inspired "on-the-nose '80s new wave synth-pop song" "Sideways" to the hazy disco cut "Disco In August", paying homage to the likes of Warmduscher, Baxter Dury and Charlotte Gainsbourg, and autobiographical and introspective "Be Someone" and from the  Father Ted-inspired "Fill My Head With Sugar" to the Beatles-meets-Scott Walker-esque closer "She Makes The Rain Go Away", 'More Pop' takes listeners on a rich sonic journey through space, time and influence.
JAMES LEONARD HEWITSON UK TOUR 2023
06 NORTH SHIELDS Engine Room
07 HARTLEPOOL Tall Ships Festival 
15 MIDDLESBROUGH Disgraceland