At dawn two armies assembled upon a summer meadow, green grass dusted in the pink, white and yellow of wild flowers.
They stood proudly arrayed in gleaming, burnished steel and their brightly coloured pennants snapped bravely in the breeze.
At dusk a handful of broken men staggered through a sucking morass of mud and blood, stumbling over the silent dead and the screaming dying, hacking desperately at each other, all sense of cause or reason lost in absolute exhaustion. The carrion crows feasted around their hideous parodies of chivalric combat, hard beaks puncturing soft, blind eyes. As the first stars appeared in the darkening sky just two men stood amidst the carnage, chests heaving beneath battered metal plates, sweat cooling beneath the crowns upon their brows. They raised their gore-stained swords in silence – too spent for battle cries or noble soliloquies – and flung themselves, each at the other, the final bloody tableaux, the inevitable end When Kings Meet…
Line-up:
Ben Porter – Vocals
Rapha Comes – Bass
Hardip Sagoo – Lead Guitar
Scott Lomas – Rhythm Guitar
James Hawes – Drums
Following in the wake of the Iron Thunder single, bursting through the drifting cannon smoke of that opening barrage, comes the heavily armoured new EP from indefatigable metal warriors, IMPERIUM. When Kings Meet is a six track attack of pure British steel that simply cannot be denied. Opening with the muscular title track, a gritty tale of the battlefield – a place where perceptions and allegiances may differ but Death's scythe is indiscriminate as it reaps. This majestic ensemble of blood and thunder ushers in an onslaught of razor sharp riffs, soaring solos, glorious vocal refrains and skull caving drum thunder. From the bitter headbanging rage of 'Desperate Screams' to the seething, snarling, gut punching 'Capable Of Murder' and the familiar power of 'Iron Thunder', When Kings Meet is an overflowing cauldron of magnificent metallic might. When the four studio tracks have delivered their payload, raw, hyper-aggressive live renditions of 'Capable Of Murder' and 'When Kings Meet' – recorded at Bloodstock Open Air in 2022 – move in to apply the coup de grace. If you thought the sheer class and potent blend of melody and force that was the 'Iron Thunder' single couldn't be matched, then think again. When Kings Meet is a breathtaking statement of intent, a bloodstained standard thrust into the field of conflict, a cry of indisputable victory!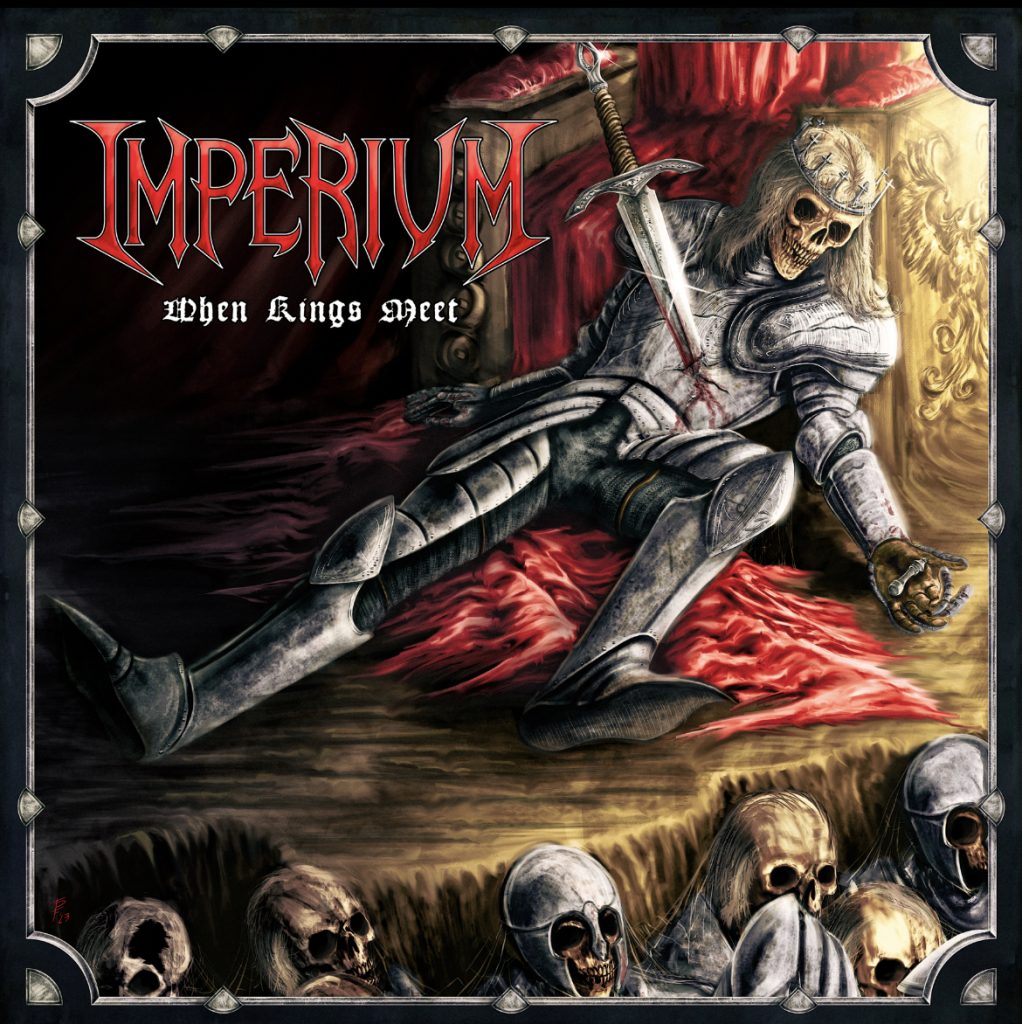 Recorded mixed and mastered by Oz Craggs at Hidden Tracks Studios (Lauren Harris, Richie Faulkner, Gallows etc) with the inimitable Ewan Bennett harnessing the cataclysmic hammer of James Hawes' drums, the studio portion of When Kings Meet sounds superlative – power, clarity, texture and tone immaculately combined. Meanwhile the Bloodstock live tracks are infused with a raging intensity that captures the full force collision of an encounter with IMPERIUM in the flesh! Adorned in the awesome artwork of Daniel 'The Pitforge' Porta (Hirax, Unto Others, Haunt etc) When Kings Meet will be released on CD and digital formats on September 23rd, with IMPERIUM launching this monumental collection with a special show at The Fighting Cocks in Kingston that night, with support from Dead Before Mourning, Hellfekted, Blacklist and War Grave. Stand well back because IMPERIUM's time has come – and they are about to explode!