Hayley Cain, the enigmatic frontwoman/guitarist of melodic punk outfit Hayley and the Crushers, confronts a harsh reality in their latest single/lyric video, "Broken Window."
Released as part of their acclaimed album Modern Adult Kicks, the song delves into Cain's own struggles with codependency—a concept she eloquently describes as the need for others to conform to our desires in order for us to find solace.
The inspiration for "Broken Window" came to Cain while reflecting on the childhood game Operation. She likens the experience of trying to save a loved one from their destructive tendencies to a non-consensual surgery—a futile attempt to alter someone's path. Filmed against the backdrop of Detroit's futuristic People Mover transit system, the video serves as a poignant one-sided conversation about relationships, ultimately leading to the realization that some things cannot be controlled.
"Broken Window" mirrors the mature direction found throughout Hayley and the Crushers' 2022 album, Modern Adult Kicks. While the band is known for their infectious pop-rock anthems, they veered into deeper territory during the writing and recording process of 2020/2021, resulting in a surprisingly powerful and rocking sound. The song, much like the album as a whole, evokes the liberating feeling of dancing freely in front of a mirror, transcending mere self-reflection. As always, the Crushers infuse their music with retro-futurism, an appreciation for classic pop radio, and an unapologetic punk attitude.
Produced by Paul Roessler, a renowned figure associated with bands like Screamers and 45 Grave, and featuring Roessler's distinctive keyboard work, "Broken Window" showcases Hayley and the Crushers' artistic growth. The video, shot on an iPhone by bassist Dr. Cain ESQ, captures the essence of Cain's emotions, accompanied by a powerful wave of distortion. In the lyrics, she diagnoses the problem but acknowledges her inability to excise it: "I've diagnosed the problem / I can't cut it out / do you really think I can do this by myself?"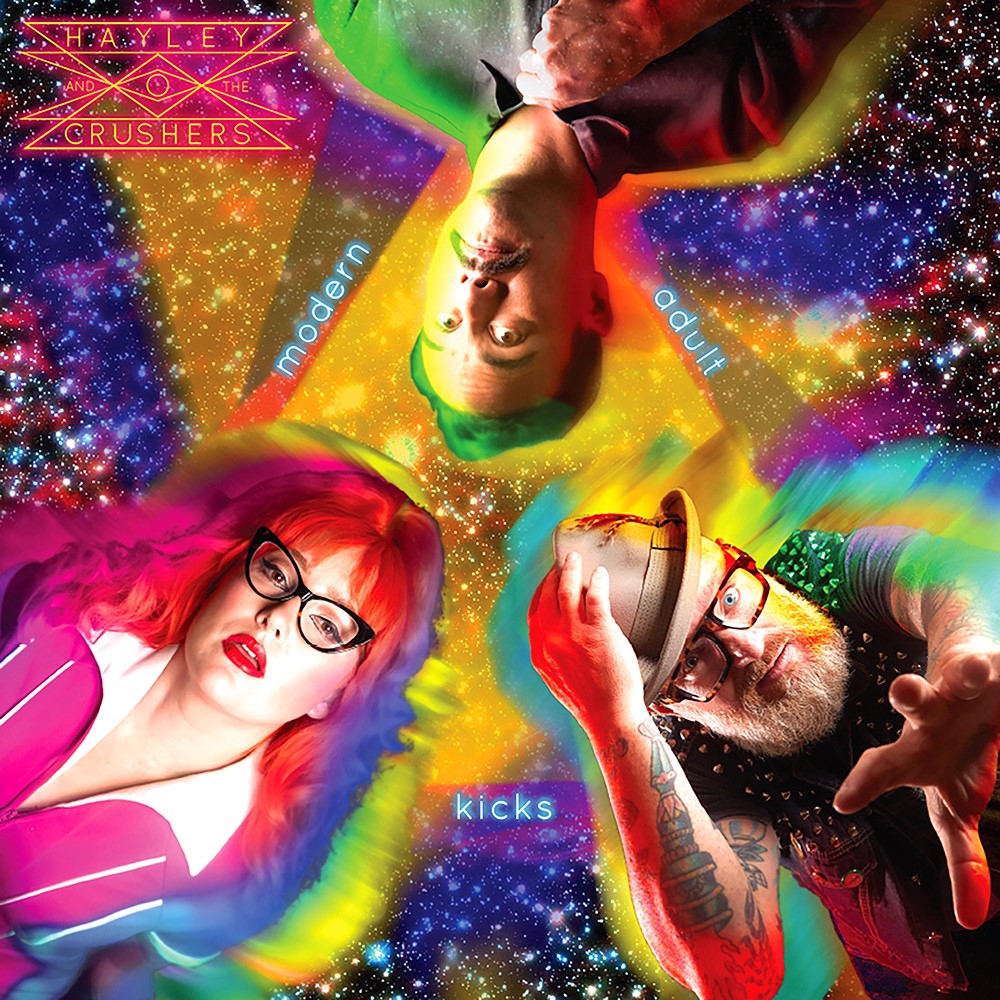 Tracklist:
I Fall
Lost Cause
California Sober
Surf of Flag (vinyl exclusive)
No Substitute (The Shivvers cover)
Overexposed
Cain offers a cautionary message to codependents everywhere, emphasizing that attempting to bear the weight of others' issues alone is a fruitless endeavor. Instead, she urges individuals to introspect and address their own fixations before seeking to fix others.
With their dual bases in San Luis Obispo, CA, and Detroit, MI, Hayley and the Crushers are preparing for a Fall 2023 tour—a continuation of their real-life support for Modern Adult Kicks. The band's unique blend of locations mirrors their eclectic sound, showcasing their ability to seamlessly merge two distinct musical worlds into one captivating experience.
Modern Adult Kicks is available on all platforms via Kitten Robot Records. Catch the Crushers' performing at Detroit's Motor City Pride on Saturday, June 10 (4:30pm, Festival Stage).