One man army – FUNKE AND THE TWO TONE BABY – has shared "Can't Stop The Music", the latest single to be taken from his forthcoming album 'Reacclimate' (due 20 October).
A buzzy summertime sing-a-long that fuses lolloping blues rhythms with an infectious poppy chorus hook, "Can't Stop The Music" feels as though it was plucked right from a far-flung festival corner and channels the wholesome optimism associated with sticky, sunny days and tents filled with music fans.
As Funke and the Two Tone Baby explains:
""Can't Stop The Music" is my feel-good summer hit. I gave it its first proper airing at Glastonbury 2023, and hearing a whole field singing this (as then) unknown song back at me full pelt was one of the greatest feelings I've had this year." 
Prominently featuring Oxfordshire's finest guerilla group vocalists, The Funkettes, the uplifting call-and-response of 'I'm the best version of me that's existing' between Funke and his adept backing singers emphasises the cloud-busting character of self-belief and self-positivity that ultimately defines "Can't Stop The Music".
As Funke adds:
"The track's final hook resonated heavily with the group, as well as with live audiences over the summer. "Can't Stop The Music" is my ode to unbridled and wholehearted positivity. In the times when you're the most sad, deflated and defeated, music is the one thing that will never stop, can never be taken away from you and, if you use it correctly, can change the mood of your entire day."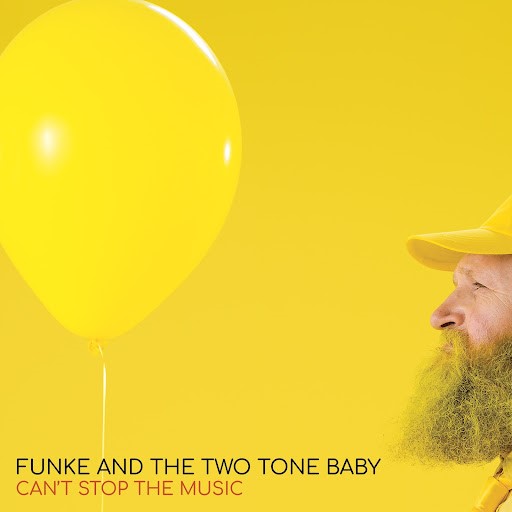 Combining electric elements including manipulated drum machines, synth and DJ effect triggers, Funke's distinctive sound meshes them seamlessly with the more organic sounds of acoustic guitar, blues harmonica and powerful vocal dexterity with sharp, poetic, socially conscious lyrics. With "Can't Stop The Music" following earlier single "Shake It Up" in paving the way for his forthcoming album 'Reacclimate', the artist's output has been fully updated, perfectly captured and re-invigorated across the new 10-track record.
Funke's first album in five years, 'Reacclimate' was born following a tour with Dutty Moonshine Big Band last year. Having held his own on-stage against the 12-piece goliath group, he was introduced to their in-house producer DJ Binge and the pair quickly struck up a fruitful working relationship in the studio together.
Funke explains:
"I've been making live dance music for a long while but to finally get into the studio with a dance producer has been a dream come true. We've really leaned heavily into fat dance beats and wubby basslines. I really think the results are unreal and, although this record is unrelentingly powerful, there's some real beautiful, tender moments in there too." 
As a whole 'Reacclimate' is a thematic reflection of Funke's own growth and re-invention. Touching on the world post-Covid, his own personal journey following the sudden loss of his partner to cancer, and the determination to come back into the world fighting, the new record weaves its way through blues, funk, big-beat and heartbreaking love songs.
The artist adds:
"Considering the turmoil I (and all of us) have gone through these last few years, I was determined not to make a depressing album. Of course, these subjects are heavily touched upon, but I've attempted to pull the lightness from even the darkest of times. This is an album of positivity and the unwavering belief that life, society and grief will inevitably improve even if the odds seem against you."
UK LIVE DATES 2023
OCTOBER
20 RAMSGATE Ramsgate Music Hall [SOLD OUT]
NOVEMBER
08 SHEFFIELD Yellow Arch
09 LEEDS Hyde Park Book Club
10 GLASGOW Hug & Pint
11 CARLISLE The Source Collective
15 CARDIFF Clwb Ifor Bach
16 BRISTOL The Jam Jar
17 SOUTHAMPTON Joiners
18 HASTINGS The Brass
22 LONDON Paper Dress Vintage
23 BIRMINGHAM Hare & Hounds
24 EXETER Bomba!
Tickets available now here.