The Assembly Hall in Islington is a den of beauty and it was soon filled with a skulk of Black Foxxes fans.
Creatures easily identifiable by their branded t-shirts, (good news for the merch stall) tousled mane and penchant for conversation and ale.
Their sound checked, excitement mounted in the crowd as the three musicians took their places on stage, their gear set up in-line to the front of the stage, all for one and one for all.
Drummer Finn Mclean in the middle with Mark Holley on guitar and vocals and Jack Henley on bass either side.
Opening tonight for FATHERSON, Black Foxxes exploded into their opening song, "How we Rust"– raw energy, pure emotion and instant communication connecting them with their audience. Punching, dancing and lunging, Mark's rhythmic guitar playing matched the heavy, insistent drum beat to create a feeling of tension, suspense… the reassuring promise of what was to come…
Second number, Drug Holiday, had a slower and sadder vibe at the beginning, emotion building to a louder second part with heavy riffs in a minor key. A crescendo building to a climatic finish, the song faded away… "Get me out…out of sight…out of mind…"
Carsaig, saw the guitarists turn and play towards the drummer, the time signature changing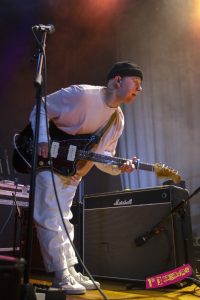 through 4/4 to 3/ 4 with sections played in free time. A big symphonic sound interspersed with melodic distortion and falsetto vocals characterized the song's theme of fear; "the bruises of my fight…I'm scared to let you go", with a Tierce de Picardie to finish the song with a tentative note of optimism.
The final two songs, River and Badlands, were increasingly intense and angst-filled, with poignant pause and improvised sections highlighting the mental health themes of depression, mania, hopelessness and rage. Silence is used to powerful effect, lyrics echoing this; "There is comfort in silence…there's weight in talk…"
The talented Black Foxxes finished their impressive set with a final outpouring of emotion from Mark Holley; a mounting excitement matched by the exquisitely accurate drumming by Finn and head-banging insistence of Jack building to a powerful, emotional climax. We were seriously impressed.
BLACK FOXXES played Islington Assembly Hall on 10 06 2022 – Opening for Fatherson
Words and live images Copyright of 1st 3 Magazine – Not to be reproduced without permission