Marking the first new music since BBR Music Group/Wheelhouse Records singer-songwriter Elvie Shane's acclaimed Backslider album debut, Shane shares his new song 'Forgotten Man', available to listen HERE.
An anthem for those chasing the American dream with calloused hands and a weary, but still-believing heart, it's another example of Shane's deep-feeling take on country, co-written by the rising star with Dan Couch, Luke Preston, and Oscar Charles.
With his big-hearted Platinum Number One, 'My Boy', Shane showed fans the kind of man he is – one who'll step forward and stand for what he believes in. He calls 'Forgotten Man' "the song I've been trying to write since I started all this," and it finds him representing those hard-working, willing-to-sacrifice folks he's met around the nation. But while that mission has been taken on many times before, it's never been done quite like this.
"There's been a lot of attempts to recognize that group of people in country music, but sometimes it feels like it's not a very honest representation of the angst that's involved," Shane explains. "It doesn't ever really touch on how p*ssed off you can be, just trying to find the American dream."
Full of tough-as-nails grit and featuring an uptempo, heartland-rock sound, the tune tributes those who wear their name on a patch like a badge of honor. Matching raw power and fist-in-the-air-pride with a deep sense of sympathetic camaraderie, it once again finds Shane going against the grain in country music, and going beyond the surface level.
Shane admits the track came from a time of personal struggle, and the clarity he found in front-row fans around the country. So with more new music to come, it hints at a creative re-awakening – one focused above all on the honesty of the "Forgotten Man".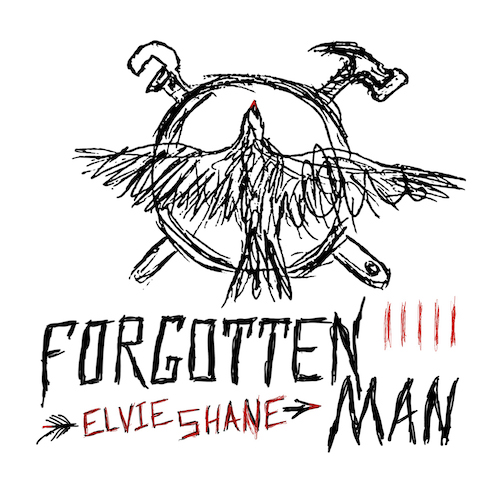 "I'm wearing that patch, too," he says. "I'm out here trying to give an honest account of who I am and put an honest effort into what I do. I actually do give a sh*t, and I will place my bet on those people I'm singing about in this song against all odds."
'Forgotten Man' is Shane's first original solo release since 2021's Backslider album, and now points toward the beginning of a new musical chapter (with more info on the way). But recently, he's been on a collaborative hot streak.
In January, the Kentucky native released a spine-tingling version of The Rolling Stones iconic hit 'Sympathy for the Devil', taking part in the star-studded Stoned Cold Country tribute to the band's 60th anniversary. That project found him shoulder to shoulder with hit makers like Eric Church, Brooks & Dunn, his hero Steve Earle and more, and in February, he followed up with 'Hillbilly', joining The Cadillac Three and Old Crow Medicine Show's Ketch Secor for a Southern Gothic rocker.