Cambridge Folk Festival 2022 returned with a mighty blast of traditional and modern folk, Americana, blues, world music, and everything in between.
Turning up on the Friday, we had that distinct feeling of coming home. Covid had taught us some valuable lessons. Lessons about loss, love and what is important and not important in our lives – simple pleasures taken for granted that can be so quickly taken away.
So, honestly, it was a little bit of an emotional return which genuinely filled our hearts with joy to see faces old and new, the organisers, the journalists, the photographers and the Cambridge Folk Festival ground itself, we were back home and it was beautiful.
Had the evil Covid targeted them? There seemed fewer banjos that in previous years, but there was no shortage of guitars and violins. As ever, fans of traditional British and Irish folk were well catered for. 
So, what did Friday have in store? We had the pleasure of listening to The Breath, comprising Ríoghnach Connolly (who played with Afro Celt Sound System the following day) on vocals and flute and Stuart McCallum on guitar. Introduced as 'melancholy with attitude', Ríoghnach prefers the term 'melancholy with aggression'. These songs have a darkly quiet poignancy and twisted beauty. 
Folk festival regulars, Spiers and Boden brought positivity and joy to traditional tunes. As Spiers said, 'We're going to play some old songs now, but we play traditional folk so they're all old songs'. 
Devonshire duo, Show of Hands introduced Country Life by saying, 'This didn't get us in the charts but it got us on Farmers' World twice'. The lyrics around rural poverty are even more relevant now than when it was written. Rather than only singing about lives during the industrial revolution, songs like this continue the folk tradition of narrating working-class lived experiences. 
Few exemplify this better than BBC Radio 2  Folk Award winners and altogether nice blokes, The Young'uns who played both stages over the weekend, combining covers such as Billy Bragg's Between the Wars with songs around historical events such as Cable Street and those about contemporary poverty, homophobia, suicide and civil disobedience. As humorous as they are political, David Eagle joked that they had won awards for his foot stamping during the songs but ironically now that they had won awards, they had been promoted to a carpeted stage which precluded effective stamping.
Another humorous male group, who are adamant that they are not a men's group, even though they tell us that they howl at the moon and have unresolved issues with their fathers, are the black clad Australian collective, The Spooky Men's Chorale. Their version of Bohemian Rhapsody (Rhapsody in Bluegrass) couldn't fail to raise a smile with its speeded up verses, solo spots and yodelling of Galileo. Words cannot do it justice – it has to be seen and heard to be appreciated. Not just a comedy band, they also have plenty of more serious songs, and this not men's group really know how to harmonise.
Mention folk music and most people think of England, Scotland or Ireland. Yet there is a rich and diverse history of Welsh folk music. If Cambridge had been guilty of neglecting Welsh acts in the past, this was certainly not the case this year. Leading the charge were young male string trio, Vrï who played both Stage 1 and Stage 2 over the weekend. With two violins, a cello and voices so beautiful and pure they charmed the tears from your eyes.  Vrï showcased Welsh traditional music including both numbers sung in Welsh and instrumentals packed with foot stamping and furious fiddling. So new that they didn't even have any merch to peddle, their album is due for release in October.
Their compatriots Tapestri, a double female fronted band backed by three Sleeper blokes charmed us with tales of feminism, mothers and love. As they reminded us, being bilingual means twice the work but twice the exposure and their lush harmonies pleased the audience on a glorious sunny Saturday.
The Welsh acts didn't stop there. In the Club Tent, Eve Goodman's gorgeously sweet vocals were extremely well received. She was followed by barefooted guitarist Gwenifer Raymond, who is definitely one to watch. With nods to American Primitive and Spanish classical, she has not only exceptional musicality but possibly a style unlike anything you've heard or seen before. Her mesmerising and intensely passionate playing evoked the beauty, violence and creepiness of the mountains, valleys, rivers, stars and legends of Wales.
Demonstrating the diversity of Welsh music, The Honest Poet brought a more urban vibe with a socially conscious set opening with 1994, an account of how his mother faced racism while raising him in South Wales, followed by a emotive track about domestic violence, and then he ditched the guitar for an homage to Black Lives Matter and George Floyd. 
On the subject of men singing with guitars, the solitary, enigmatic Passenger charmed the main stage on Saturday evening with his self-penned songs and his popular cover of The Sound of Cylons Silence. This former busker reminded us over again that he has just the one hit single, Let Her Go, but judging by the intense female screaming in the front rows, there may be more to come. Indeed the audience didn't want to let him go, continuing to sing along long, long long after his set was over.
Dustbowl Revival played both stages and brought a blend of folk, roots and funk for a laidback set packed with catchy tunes that got toes-a-tapping and hips swaying.
Their name doesn't tell the whole story, with their music blending not only African and Celtic styles, but also Indian rhythms for a truly international sound. For those who wanted to dance their way into the night, Afro Celt Sound System whooped it up for a real good time bringing their usual blend of vibrant and unrelenting energy to the stage as Saturday's colourful carpet of music unfurled. 
Before you could pop another Otter in your tankard, it was Chico time. Chico Trujilo didn't just carriyon the party vibe on Saturday night with their Chilean cumbia music, they lifted the proceedings to a whole new level. The colourful, energising set from Chico Trujilo  got tevryone marching to their good time beat.
Never to be outdone, the following evening Gipsy Kings fronted by Nicolas Reyes pulled out all the stops, put the good times into overdrive and raised the game yet again. Getting the crowds off their blankets and onto their salsa loving feet with flamenco classics such as Bamboléo and Volare.
Nicolas Reyes - Gipsy Kings
For those looking for Americana and blues, there were three standout acts. The vibrant, vivacious and effervescent Elles Bailey demonstrated why she's been asked to support Don McLean with a highly polished performance on Stage 2 that channelled the music of decades long before she was born. 
Bailey's incredible backing band included a tight-trousered,  moustachioed guitarist who looked as if he'd stepped straight out of a 1970s American crime show, fabulous. Elle's on-stage diva persona contrasted with her genuine friendly and sincere attitude afterwards, where she was seen chatting with the audience and even presenting a matching hair accessory to a very young fan. This is a woman with too much talent and personality for the constraints of Stage 2, we hope to see her fully unleashed next year on Stage 1.
Seasick Steve was the highlight of may people's weekend. Steve was good ol' Steve and never disappointed  headlining the main stage Friday night. Steve gave a magnificently rousing, electric-foot-stomper of a performance, but for us the real highlight took place on Stage 2 on Sunday when Grammy award winner Mississippi musician, Christone 'Kingfish' Ingram gave a performance so loud that it could be heard for over a half mile radius. Ingram's set blew everyone away, along with their ear-drums.
Christone 'Kingfish' Ingram
Make no mistake, 'Kingfish' is the real deal and it's difficult to believe that someone still in their early 20s could not only display such technical skill but moreover communicate the spirit of the blues through his playing. Cambridge Folk Festival 2022 was filled with legends in the making.
Christone 'Kingfish' Ingram
Speaking of legends, following a large festival in Somerset, Cambridge now has a legend slot on Sunday afternoon, which was ably filled by non other than Clannad. Having attempted to tour for the last few years but being scuppered by lockdowns, they didn't disappoint with a set that showcased their spiritual, ethereal take on Irish folk, providing a deep meditative soundscape to  the afternoon.
Suzanne Vega was another highly anticipated act of the weekend. Welcomed by an incredible cheer, she donned a top hat and opened with Marlene on the Wall which sounded as fresh as it ever did.
Ably backed by Irish guitarist Gerry Leonard, Vega's set kept the audience spellbound as the beating buttery sun gently melted into rich caramel over Cherry Hinton. In a set including the big hits, her vocals seemed even clearer and dreamier than when the songs were written. Left of Center brought the narrative of outsider vulnerability to a new generation, while tearjerker Luka prompted an audience singalong. The set culminated in a tripped out version of Tom's Diner, which was sweeping, ambient, funky, rhythmic and euphoric all at the same time. The crowd were entranced and it was over far too quickly.
Kate Staples-This is the Kit
One of the joys of Cambridge is seeing young acts working their way up the stages over the years. Kate Staples of This is the Kit started off at The Den but now commands a prime late afternoon slot on Stage 1. Her performance was delayed by technical issues but she took it all in good humour, entertaining the crowd with a quick dance, getting everyone to do a Mexican wave, and making light of the robotic sounds coming from the microphones with a poignant  Futurama reference. With a varied set that swung from delicate picking to fuzzier sounds, and Kate alternating between her banjo and her 'Nurses Not Nukes' stickered guitar, real mastery of the songwriting craft was on show, both musically and lyrically.
This year's surprise surely must have been Findlay. 'I bet you're wondering what we're doing at a folk festival, I guess we're the wildcard' she mused. Sporting sunglasses and no doubt a record collection containing the likes of The Stooges, The Strokes, Blondie, Siouxsie and the Banshees, The Beach Boys, The Velvet Underground, The Doors, Patti Smith and PJ Harvey, and the nerve to front it out when faced with a sea of bearded folkies, Findlay was the epitome of effortless cool. The set was a melting pot of post-punk, indie, psychedelia, grunge and eminently danceable. With each word punched out like a nail-gun in album title track The Last of the 20thCentury Girls, Findlay narrated the anomie of her generation and gained new admirers.
N'famady Kouyaté - Stage 1 Sunday
N'famady Kouyaté – Stage 1 Sunday
Other up and coming acts included Katherine Priddy, a former winner of the Christian Raphael prize. With a remarkably clear and sweet voice and intelligent songs referencing English literature and Greek legends, she is rare talent. Billie Marten brought a selection of hand-penned songs, with a reflective maturity belying her age.
As ever at Cambridge Folk Festival, there were plenty of other activities going on. In front of Stage 2, there was a totally entrancing folk ballet in the round, The Tears of Jenny Greenteeth.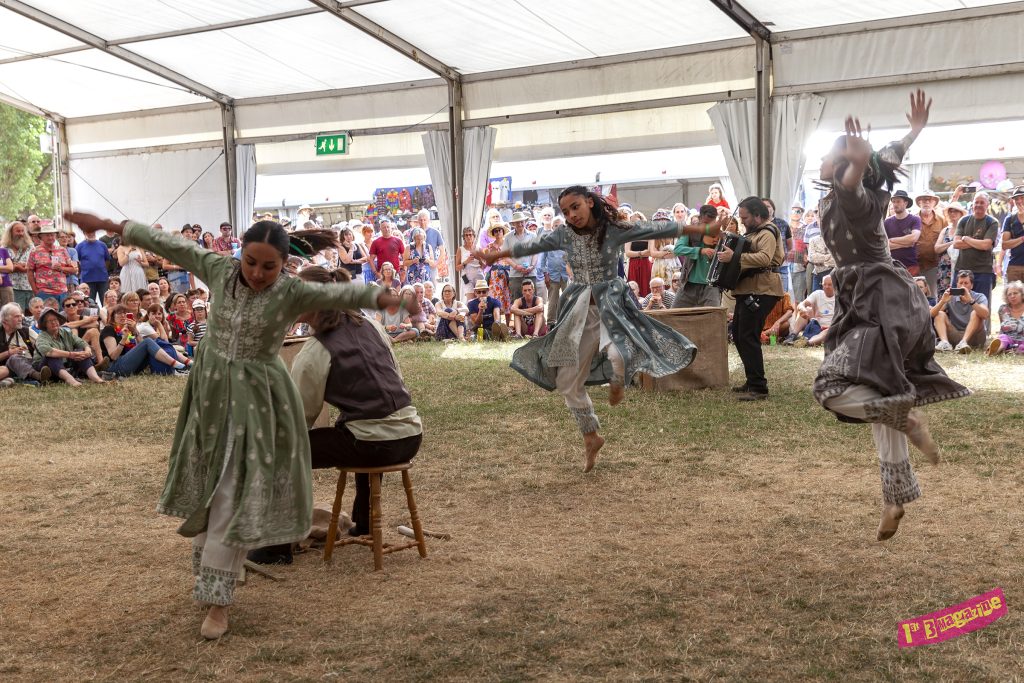 Early morning can be a very magical time at Cambridge Folk Festival. A short walk from the main stages through stalls selling cosy ponchos, felt hats, silver jewellery and mandolins brings you to an altogether calmer plane. Here, the dappled light dances through the trees and mixes playfully with the lightest wisps of incense, guiding you ever so gently to the peace, beauty and tranquility of the Flower Garden and the Duck Pond. In this magical place, a number of workshops, including t'ai chi, drawing, Northumbrian pipes, positive thinking, yoga and willow sculpting. A place to re-set, re-charge and prepare for the day or to dip out of the bustle to simply BE.
On a heavier vibe, as well as all the usual fun stuff at CFF, there were also the serious and engaging campaigns around environmental issues and domestic violence.
The Otter Brewery beer tent seemed to be permanently colonised by off duty Morris dancers and bearded men wearing exotic hats carrying personalised tankards for the purpose of sampling this very fine ale.
Of the food stalls, which spoil you for choice, the peanut butter and cherry bourbon vegan burgers at Vegan Vice deserve a special mention for out-of-this-world deliciousness.
Oh, and did we mention that England won the football? This was gleefully announced by Billy Bragg during his ballsy set. 
If you peeked around his dressing room door, as we did, you'd see him watching the game instead of putting on his stage threads and applying his make-up. Bragg's set, like many others, warrants a review all of its own, which you can find shortly.
Yep, the women did what the men haven't managed in over 50 years. With the highlights of this year's Cambridge Folk Festival including Suzanne Vega, Findlay and Gwenifer Raymond, it was definitely one up for the women this year…. it all came home.
Apologies to artists not mentioned, photo sets and other artist reviews to follow.
Words and photos copyright 1st 3 Magazine. 
Not to be reproduced, cropped or altered in any way without prior permission. Social media use only for persons depicted, event organisers and venue.