London psychedelic pop artist Black Market Karma presents 'Wonky' featuring Craig Dyer of iconic psychedelic rock duo The Underground Youth, lifted from the band's eleventh full-length album 'Friends In Noise'.
A collaborative album rooted in friendship, this record follows 2022's 'Aped Flair & Hijacked Ideas' LP. Recorded over nine years, it was released via London boutique label Flower Power Records.
Revolving around songwriter Stanley Belton, Black Market Karma adds some much
needed colour to this world with a carousel of jingle jangle and distorted wobble with
flavours of psychedelia, fuzzed out tones and thumping grooves.
"Craig and I became pals during the nascent days of our bands. I remember that the kind of
music we loved and wanted to make felt somewhat dead at the time, so it was special to
come across groups like TUY and connect in that way. He's a good dude and a wicked
lyricist. We've both been at it for over a decade since those early beginnings and it's really
nice to have this collaboration out together. It really is a perfect blend of both our groups. I
dunno why we didn't do it sooner," says Stanley Belton.
With a thick and colourful sound channelled through vintage equipment, Black Market
Karma's music is rooted in 60's guitar and pop music, other influences include folk, blues,
lo-fi electronica, alt pop and soul.
"In the hazy days during which I started my project, many years ago now, before live shows
and a global following, I found like-minded individuals and bands in a small online
community. One of those individuals was Stan and his band Black Market Karma,"
explains Craig Dyer.

"Fast forward to a different time, years have passed and the both of us are still creating
music under our long since chosen monikers. In a perfect celebration of that, Stan
approaches me with his idea to collaborate on a song. I dig into the vaults of myself to
produce something reminiscent of the period in which our bands began and the music that
inspired those beginnings. The result was 'Wonky', a perfect blend of 50% Black Market
Karma and 50% The Underground Youth."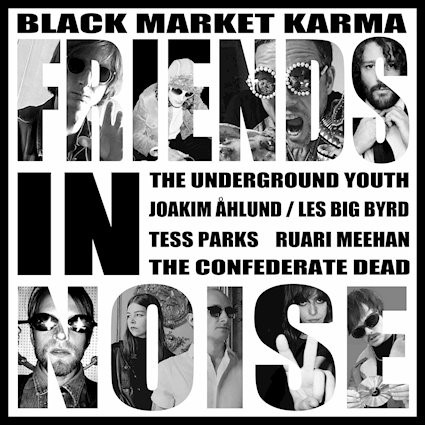 Black Market Karma
'Wonky' from 'Friends In Noise' LP (out now via Flower Power Records)
New video for 'Wonky' collaboration with The Underground Youth out June 28
This follows up the latest audio-visual offering from this album – the 'Heady Ideas' rework
by Swedish cosmic mastermind Joakim Åhlund of Les Big Byrd, packed with slamming
breakbeats, analogue filters and krauty synths. Earlier singles include 'The Sky Was All
Diseased' with iconic vocalist Tess Parks and 'Aping Flair' with Ruari Meehan (Tess
Parks & Anton Newcombe and Belakiss). This album also involves fellow Londoners The
Confederate Dead.

'Friends In Noise' is out now, available digitally via Apple Music, Spotify and Bandcamp,
and on 180-gram coloured vinyl, along with their latest 'Aped Flair & Hijacked Ideas'
LP. In August, Black Market Karma will also release the output from the recent
collaboration with Pete Kember (aka Sonic Boom) of Spacemen 3, which can now be
pre-ordered.
TRACK LIST
1. Black Market Karma & Ruari Meehan – Aping Flair (with Ruari Meehan)
2. Wonky (with The Underground Youth)
3. The Sky Was All Diseased (with Tess Parks)
4. Heady Ideas (Joakim Åhlund Remix)
5. War In The Streets – Stan Belton Remix
6. Ageing Boy (with The Confederate Dead)