Ahead of that, they preview 'O Torto Santo', the intriguing lead single from this psych-rock, post-Tropicalia, noise rock collection.'Arte Bruta' represents the process of self-analysis the band has undergone in recent years, resulting in the most daring leap in the group's career.
BIKE's trajectory has been one of long journeys, formed in 2015 by Julito Cavalcante (guitar and vocals), Diego Xavier (guitar and voice), Daniel Fumega (drums) and João Gouvea (bass).

"The lyrics for this song were inspired by self-analysis, where I understood that everything has two sides and that we have to be aware of what happens around us, strong enough to face difficulties and take advantage of every opportunity that life gives us," says Julito Cavalcante.

"Both 'O Torto Santo' and this album move forward from our sound on previous albums. We managed to mix all the coolest things we had already done with new references and older ones that have not yet appeared on other albums. We also added new elements and handcrafted instruments in the songs. The idea was to sound artistic and raw at the same time."
To date, BIKE has played more than 400 shows in 16 Brazilian states, the venues ranging from larger stages to underground houses and festivals. They've also shared the stage with The Black Angels and Os Mutantes. The band also did three extensive international tours through France, Germany, Italy, Belgium, Scotland and Wales and has performed at Primavera Sound (Spain), Nox Orae (Switzerland), MIL Lisbon (Portugal) and The Great Escape (England).

On March 1, 'O Torto Santo' will be available from fine digital platforms, including Spotify, Apple Music and Bandcamp, where the 'Arte Bruta' album (out on May 5) is also available for pre-order. BIKE will be performing at this year's SXSW Festival (March 13~18) and Treefort Music Fest (March 24-26). More live dates can be expected.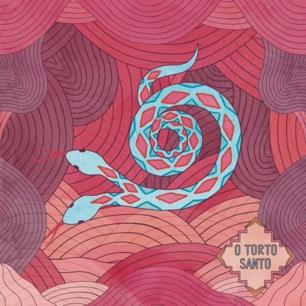 TRACK LIST
01  Arcoverde
02  Além-Ambiente
03  O Torto Santo
04  Cedro  feat  Guilherme Held
05  Traço e Risco
06  Filha do Vento
07  Clara-Luz
08  Além-Céu
09  Que vai da Terra ao Céu
10  O Encontro do Céu com a Terra
11  Santa Cabeça
12  A Queda do Céu
13  Yaripo

ALBUM CREDITS
Recorded by Gustavo Mendes & Guilherme Held
Recorded at Estúdio Held in São Paulo
Mixed by Guilherme Held
Mastered by Fernando Sanches at Estúdio El Rocha
Produced by Guilherme Held
Lyrics by Julito Cavalcante
Songs by BIKE, except 'Arcoverde" and 'Além-Céu' by Guilherme Held and "Cedro" and 'Yaripo' by Guilherme Held and BIKE
Julito Cavalcante – vocals, electric guitar, acoustic guitar, garabiroba and percussion
Diego Xavier – vocals, electric guitar and acoustic guitar
Daniel Fumega – drums and percussions
João Gôuvea – bass, synthesizers and harmonium
Guilherme Held – electric guitar on Cedro
Cover artwork and design by Juli Ribeiro