gggtgttgtggt
Gather 'round you turkey heads and brace yourselves for some gnarly news from the sonic adventurers known as BIKE!
 These Brazilian rockers are unleashing their latest offering, 'Arte Bruta,' and they've got a rad video of their blistering live performance session at KEXP in Seattle to prove it. Cheryl Waters, the badass host of the Midday Show, had the pleasure of broadcasting this mind-melting session.
Now, let's take a moment to appreciate the sheer awesomeness of BIKE. Julito Cavalcante on guitar and vocals, Diego Xavier on guitar and vocals, Daniel Fumega on drums, and João Gouvea on bass, formed the band back in 2015. Since then, they've embarked on some killer sonic journeys, both musically and geographically.
The KEXP session is a wild ride through select tracks from their new album, 'Arte Bruta,' which just dropped via Before Sunrise Records. And let me tell you, my fellow headbangers, this session is more intense than a mosh pit on fire. Not only do they slay their lead singles, 'Filha do Vento' and 'O Torto Santo,' but they also treat us to a sick medley of 'Olho D'água Grande' and 'Boca do Sol,' tracks from their previous album, 'Quarto Templo.'
Julito Cavalcante himself had a few words to say about the experience: "It was a huge achievement for us and very exciting to be able to record at the KEXP studios and even more exciting to have Cheryl Waters host our recording. It's not easy to make a living from music in Brazil, it's even more difficult to tour outside the country and being able to get to KEXP was glorious, and we're going to take that for the rest of our lives." Hell yeah, Julito, we feel your excitement!
'Arte Bruta' marks BIKE's fifth studio album, and let me tell you, it's been a long time coming. This badass record, led by producer and guitarist Guilherme Held, showcases their maturity and embraces a more Brazilian sound compared to their previous releases. These dudes have been tearing it up, opening for The Brian Jonestown Massacre in São Paolo and wowing Anton Newcombe himself. They've even rocked stages at SXSW and Treefort Music Fest earlier this year.
But let's not forget what 'Arte Bruta' represents, my metal brethren. It's a deep dive into BIKE's self-analysis, a journey through their psych-rock, post-Tropicalia, and noise rock roots. This album is a slow-burning mirror, meticulously crafted and meticulously enjoyed with every damn minute of listening pleasure.
The album's title, 'Arte Bruta,' started as a megalomaniac idea of releasing it on vinyl with just two lengthy compositions. But as the pandemic forced us all to stay put, this ambitious project expanded into something greater. The title remained, though, capturing the clash between artistic sophistication and the unforgiving harshness of brutality. You see, "art brut," a French term, refers to creators who aren't even aware that their creations can be seen as art. That's some next-level punk rock, my friends.
BIKE's signature psychedelia still reigns supreme on 'Arte Bruta,' but they've taken their musical and lyrical references to a whole new level. Afro-Brazilian vibes pulse through their veins, intertwining with echoes of international rock. We're talking 60s psychedelic rock, 70s tropicalism and post-tropicalism, German progressive rock, and the rhythmic prowess of krautrock.
The 'Arte Bruta' album is out now and available from fine digital platforms, including Spotify, Apple Music and Bandcamp.

TRACK LIST
01  Arcoverde
02  Além-Ambiente
03  O Torto Santo
04  Cedro feat. Guilherme Held
05  Traço e Risco
06  Filha do Vento
07  Clara-Luz
08  Além-Céu
09  Que vai da Terra ao Céu
10  O Encontro do Céu com a Terra
11  Santa Cabeça
12  A Queda do Céu
13  Yaripo
'BIKE Full Performance Live on KEXP' (in support of new 'Arte Bruta' LP)
Before Sunrise Records. Full KEXP session with Cheryl Waters OUT NOW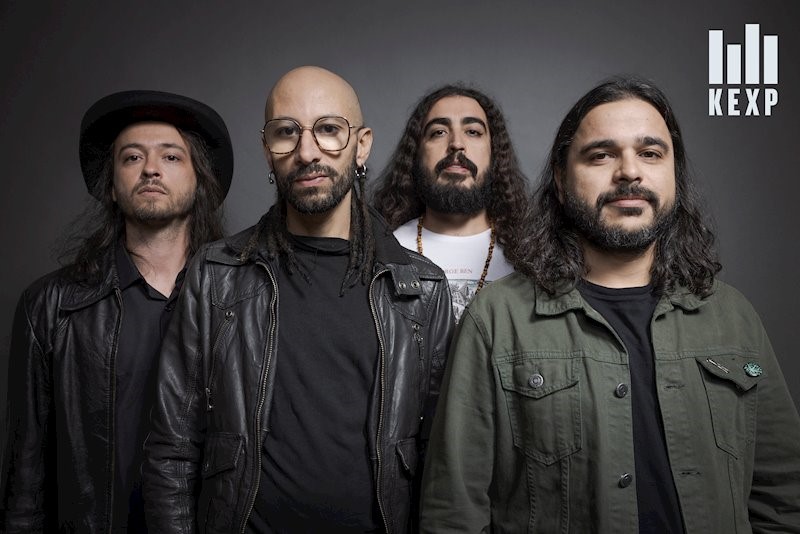 These chaps have been on a hell of a journey since their debut album, '1943,' dropped in 2015. They followed it up with 'Em Busca da Viagem Eterna' in 2017, 'Their Shamanic Majesties' Third Request' in 2018, and 'Quarto Templo' in 2019. And let me tell you, each release brought them heaps of critical acclaim. These rockers are no amateurs, my friends.
In fact, BIKE is the only Brazilian band badass enough to have their music released through Columbia Records imprint, 30th Century Records, back in 2014. Danger Mouse himself founded that label, so you know it's legit. These dudes are making waves not only in Brazil but also across the globe.
Clocking up more  mileage than a rusty old tour van, they've rocked the stages of Europe not once, not twice, but three times!  And get this—they've played over 400 shows in a whopping 16 Brazilian states. These guys are road warriors, and their live performances are known to leave fans in a state of sonic ecstasy.
Sharing the stage with the likes of The Black Angels and Os Mutantes, BIKE has proven time and time again that they can hold their own in the rock 'n' roll arena. Their energy is infectious, their music mesmerizing, and their stage presence is a force to be reckoned with.
So, my fellow metal maniacs, get ready to dive headfirst into the mind-bending sonic landscape of BIKE's 'Arte Bruta.' It's a fusion of psychedelia, Brazilian rhythms, and an unapologetic embrace of musical exploration. These guys have outdone themselves, pushing the boundaries of their sound and delivering an album that's equal parts trippy and intense.
Let the riffs take you on a wild journey through the realms of psych-rock, where art meets brutality, and where sonic exploration knows no bounds. Brace yourselves for the sonic onslaught that is BIKE, and prepare to have your minds blown. Rock on, my brethren, rock on! \m/