Beans on Toast would be a good shout on a bitterly cold, grey Sunday afternoon in Clapham. 
Although a warm mince tart or a nibble of  that delicious tomato sauce covered delight would've been very welcome,  a different kind of Beans on Toast was on offer at the iconic Clapham Grand.  
What could be a better way to entertain your little ones than to take them to the theatre? And what a gorgeous theatre this is. Its fabulousness hidden behind an unimposing façade, the cosiness and grandeur of the Grand enveloped us in the warmest of hugs. Huge chandeliers led the way past an enormous and lavishly decorated Christmas tree, next to which stood Santa in his sleigh- and a table full of 'Little Bee' merch- to the small but perfectly formed auditorium
A glitter ball, centre ceiling of the stage, twirled around calmly and majestically, sending its tiny red and green stars whizzing across the ruby red theatre, entrancing the families as they took their seats. This theatre has a bar with a quirky vintage vibe to suit its surroundings, and the glasses of pinot, g and ts and cans of trendy ales were selling fast, alongside milkshakes and juices for the children, with matching candy cane straws. This theatre is pure old-school glamour- and the people of Clapham are pretty glamorous themselves. The fair-isle jumper atop a tutu was a dominant look amongst the Boden-clad audience, complete with dads wearing babies in slings and matching mummy and daughter Christmas dresses. The question of "Where's the singing bee?" was on lots of little lips… 
The stage is set simply; stripy fabric creating a circus-style feel, with a piano and various props artfully arranged at the front of the stage. 'Matt Magic Fingers' warmed us all up with his fantastic jazz piano set and then the show begins! Folk singer, songwriter and storyteller, Beans on Toast (stage name of Jay McAllister) has diverged from his usual lyrics around politics and love to write a set of inspirational songs and stories for children- 'The Fascinating Adventures of Little Bee'. This collection of 'ten beautiful songs' teach children about values such as patience, curiosity and love of community. 
Beans comes out on stage with his guitar, accompanied by Little Bee (Lily) and Jaime to help tell the stories. Asking the excited anticipatory audience, "Who is ready for the first adventure?", the three take us on a journey through each song, beginning with 'Little Bee goes to the Sea.' 
Lesson one is curiosity- perhaps the most important for children in this age where more and more comes ready prepared and beautifully packaged for them. Skilfully linked to the next song, rockabilly-style "Little Bee goes to the Woods", lesson number two is all about teaching us patience. The children are encouraged to pretend to be acorns, growing into beautiful trees. This old-school music and movement goes down a treat with the pre-schoolers and I watched as the children were drawn into Little Bee's magical, musical world with this simple but effective action. 
 The next two songs tell of Little Bee's adventures in the town and the city and here the music takes on an R and B style. This is one beauty of the set of songs- each has its own separate style; from synth-pop to country to disco- it's all here and gently, confidently delivered with Beans' trademark romantic, optimistic, honest, comfortable flair. These simple yet effective songs and stories have important messages- values even, which echo Beans on Toast's extensive discography.  
The beauty of diversity celebrated in 'Little Bee goes to the City' brings audience participation to a new level, with part-singing and beat-boxing enjoyed by all. Little Bee takes us back in time, to learn from the past through the medium of the spoken word, to the rainbow- where we are taught that "to really see the rainbow, you must stand in the rain". Children are invited on stage to draw each colour of the rainbow on an easel before Magic Fingers Mike whisks us into space with a Mozart-style twinkle on the piano.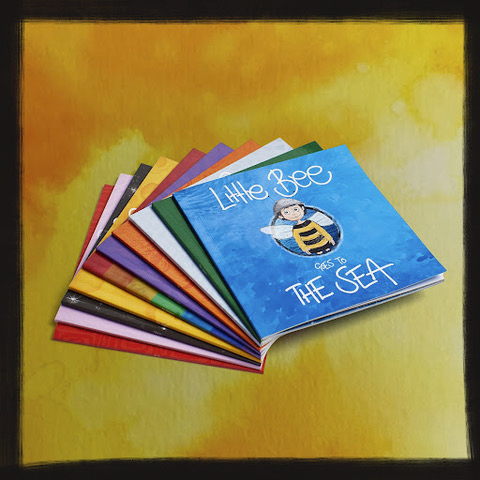 Beans on Toast teaches the children how to write a poem, to show them it doesn't have to rhyme (although all the songs do), or make sense- and he uses their random words (including dinosaur, Spiderman and Christmas tree) to invent a spontaneous verse.  Lily and Jaime teach us all a way to remember the order of the planets, and it is this mnemonic that could sum up the whole show- and indeed Beans' perennial message-  
"Many Voices Encourage Much Joy So Unite Now" 
The grand finale is soon upon us, and Magic Fingers Mike zooms up and down those ivories, Rachmaninov-style. 'Little bee goes to a Gig' is the final song and the lesson is to use your imagination. Huge balloons appear, glitter canons are fired and a storm of confetti whirls as children and parents are invited to join Beans, Mike, Lily and Jaime on stage to boogie the Clapham afternoon away… It is an exuberant, fun-filled party time in the gorgeous Clapham Grand. Joy and love are all around us at Christmas here, as the final Little Bee song segues into 'Dancing Queen'. 
Thank you Beans, for such a lovely, happy afternoon. This idea of a collection of lesson-based songs linked and centred around a singing bee sits perfectly among today's values-based education trend and could run and run.