ARRIVAL OF AUTUMN absorb the icy emotion of their surroundings in a hard-hitting hybrid of heavy metal proficiency, metalcore intensity, and skyscraping melodic sensibility. 
The group channel this energy on their second full-length offering, Kingdom Undone which will be unleashed on May 26th via Nuclear Blast Records.
"After many obstacles and times of uncertainty we are reenergized, refocused and ready to finally show the world what we have been working on! Kingdom Undone is Arrival Of Autumn firing on all cylinders. his is our masterpiece and we can't wait to play these songs for you on the road!"
Now, the band set the stage with the incendiary fretwork and pummeling drums that erupts throughout 'Scars'. The contagious melody will lead listeners on an energetic journey that will leave them shouting along "Why don't you show your scars?" 
Jamison Friesen adds, "We are very excited to release the first track off our upcoming album Kingdom Undone! Scars is about being real with the people around you and to stop pretending to be something you're not. It doesn't matter what's on the outside, it's about having the courage not to hide who you are! We look forward to playing it on our upcoming tours!"
ARRIVAL OF AUTUMN began the recording of Kingdom Undone in August of 2021 at Mark Lewis Studios in Hendersonville, Tennessee and at their own studio in Grande Prairie AB, and concluded in December 2021. The album was engineered by the band and Mark Lewis who also was in change of producing, mixing, and mastering. The artwork for the album was created by Travis Smith.
Pre-order Kingdom Undone here: https://bfan.link/AOA-KingdomUndone 

Kingdom Undone will be available in the following formats:
CD Jewel case
T-shirt
CD + T-shirt Bundle
Orange/ Blue Swirl Vinyl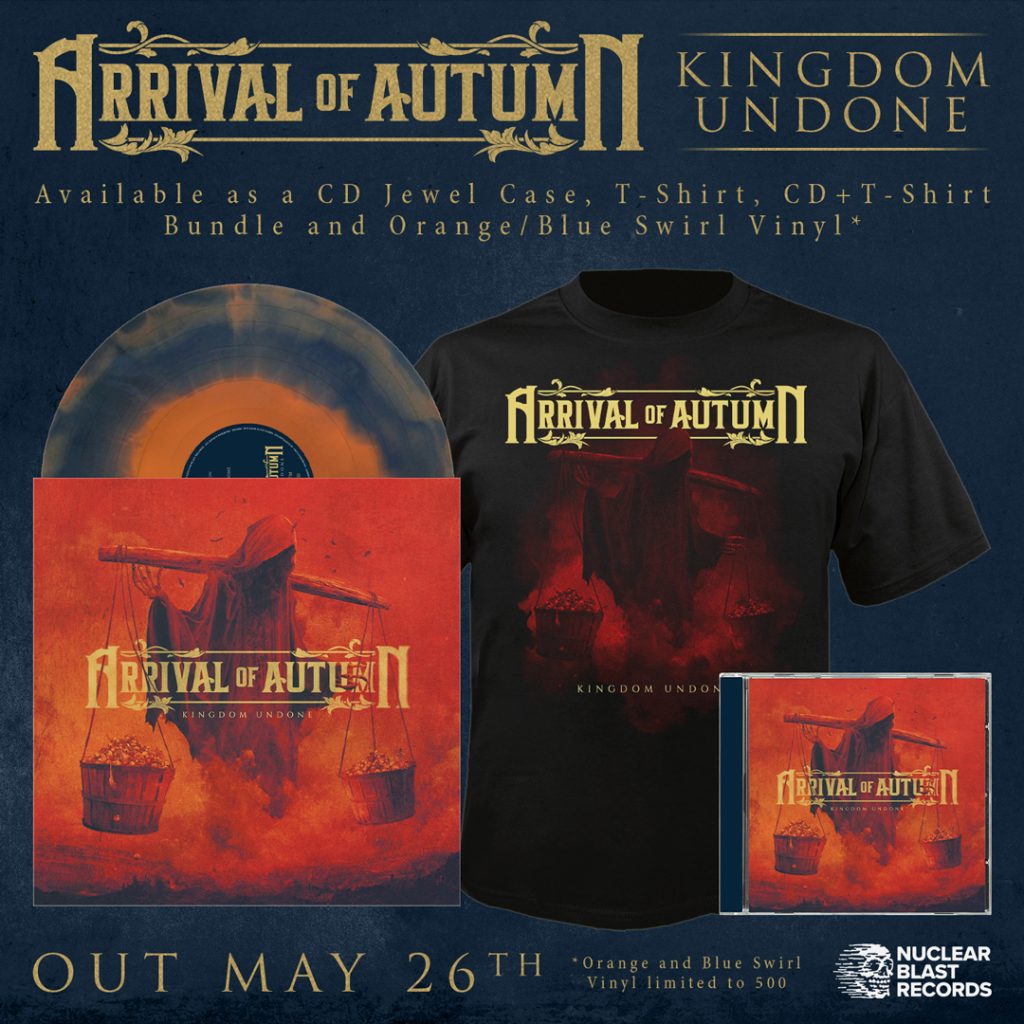 Kingdom Undone tracklist:
1. Scars
2. Your Fiction
3. Trust
4. Ghosts
5. Hell Comes Home
6. One More Day
7. Liminal
8. Burn
9. Who The Masters Serve
10. Bury Me
11. Hallowed