Already Dead rally around a working-class ethos on 'My Collar Is Blue'.
To understand the sentiment behind My Collar Is Blue, the debut album from Massachusetts punk trio Already Dead, it helps to connect the lyrics both at the start and the end.
On opening track "Stability," guitarist and vocalist Daniel Cummings offers up a personal revelation as the impactful first line of the record: "I feel my life is at a stop. I'm at the bottom; dreams at the top." Seven songs later, the concluding chorus of closing track "Something of Freedom" paints a more hopeful picture from the songwriter, now surrounded by friends, colleagues, and collaborators supplying the gang vocals: "Something worth dying for, is all I really want."  
It's an interesting progression, the singular voice of Cummings introducing the record, and then ending it surrounded by a community. The wistful hopefulness remains, the eagerness to break free from the mundane and the need to experience the proper fruits of life still burns, but by the time My Collar Is Blue wraps up over its fiery 22 minutes, Cummings has company in his ambition. And that's an apt metaphor for Already Dead as a whole, as the band unleashes this album to the streams on October 14, with the record release party going down matinee style that weekend, Sunday, October 16, at The Midway Cafe in Jamaica Plain. 
Already Dead are:
Daniel Cummings – Guitar and vocals
Brandon Bartlett – Bass
Nick Cali – Drums
What began as a Covid project for Cummings writing songs by himself about his blue collar identity and hope for a better future has evolved, quite quickly into a proper force of a band that has New England on notice. Over the summer Already Dead – rounded out by drummer Nick Cali and bassist Brandon Barlett – dropped the spirited opening track "Stability," a ska-punk rager that lamented a stalled life and the desperation we feel to better ourselves; and in September, just after Labor Day, the trio unleashed the album's title track, a working class punk anthem that raised a glass to the true builders of society. 
The album's title, My Collar Is Blue, isn't some fly-by-night declaration. It's a battle-cry firmly planted in who Already Dead are as people, and in turn encapsulates the band: Cummings is a Boston union pipefitter; Bartlett is a Boston union ironworker; and Cali is a CDL operator in his hometown. "Blue collar is the life we know outside of being musicians," Cummings adds. "The songs on the album relate to similar views whether it's internal or social commentary."
Cummings started writing what would end up on My Collar Is Blue as a creative release while live music was on pause and his other bands were unable to play shows during the pandemic. With his songs taking shape and yearning for collaboration – recording most of his initial ideas on his iPhone voice recorded while working union gigs all around the region – Cummings linked up with Cali, who he previously played with in other projects, and the two took the demos from his house to Cali's basement where they tracked drums. Cummings reached out to his friend Corbett, a key figure in developing the Already Dead sound, and brought the songs to The Bridge Sound and Stage for recording last Halloween, where Corbett produced and mixed what would become the album. Realizing they were suddenly a legit band, they brought on Bartlett to play bass and round out the trio.    
"This album wouldn't have been without Corbett," Cummings notes. "I was too self conscious to take these songs anywhere else but to him, as he is a friend and bandmate from a different group. He let us take over his basement for some of the tracking, and he spent just as many hours as us making this album what it is."
The seven compositions that comprise the record span a spectrum of punk sounds and ethoses – incorporating influences from ska and reggae to hardcore, folk, and hip-hop for what the band describes as "punk…sorta." Furthering an upbringing on '90s punk and the type of closed-fist Celtic street punk Massachusetts is known for,  album cuts like "City's Burnin'" have a two-tone ska influence, tracks like "Hypocrite" and "Bruises And Bottles" rage with a hardcore punk fury, and the title track and "Talk About It" steer out into roots and alt-country territory. The ghosts of folk singer-songwriters like early Bob Dylan and Woody Guthrie show up in the lyrical themes. It's a punk record solely defined by punk itself being undefinable. It's more about pieces that make up the whole.     
"It's maybe not punk in the purest of terms, but almost anytime I'm writing something it is heavily influenced by the punk genre or any of the subgenres," Cummings admits. "I've played in a lot of other bands that play different styles of music, which is always fun to perform, but my wheelhouse of writing is punk. This first batch of songs were all written by me, and not necessarily for any band in particular. It's more a tribute to all styles of my favorite genre of music. My cousin called it a 'sampler platter of punk' which I think sums it up perfectly."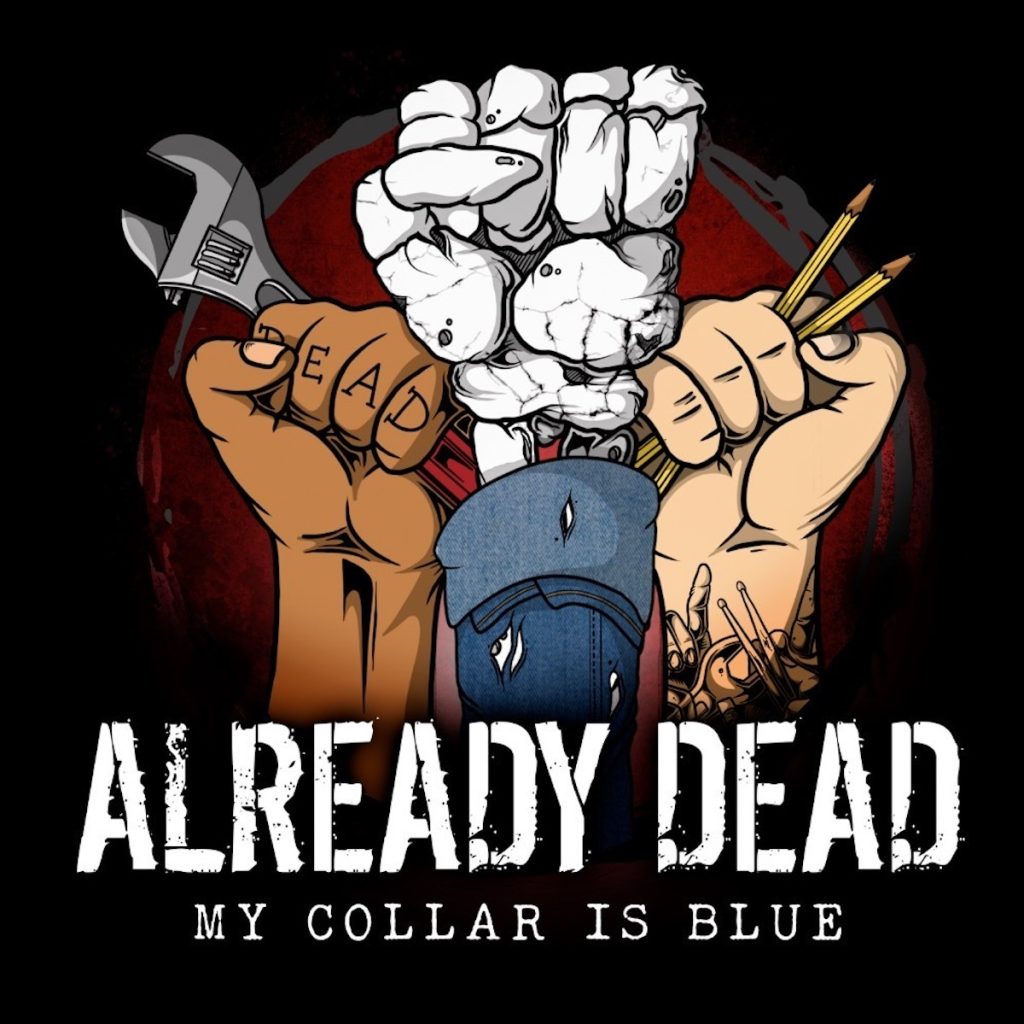 Cummings' lyrical approach mixes self-reflection ("Stability", "Bruises And Bottles") with social commentary, and combined with the Already Dead sonic cocktail makes for a potent mix of memorable melodies with a harder edge across the surface. Cummings is not just frustrated with life, he's pissed at what he sees all around him each and every day. And as pieces of songs come to him while he's out in the field working with his hands – 30-feet up on a scissor lift, down in a trench in the middle of the street –  he's echoing the frustrations felt by many like him as the world continues to burn.  
"Songs like 'My Collar Is Blue', 'Hypocrite', and 'Something of Freedom' are more outward looking at certain conditions of the world," he says. "I specifically remember coming up with the hook to 'Something of Freedom' after watching the first Presidential Debate from the last election. Watching that, first off, made me need a drink. Second off, it just had me so frustrated because it seemed like a high school debate team would have higher standards, and no matter what, the American people deserved better representation than what I was watching. 'Hypocrite' was written on purpose to be straightforward and angry, about conditions whole communities are forced to live in, and survive and expected to thrive, while they are denied basic necessities that communities mere miles away or closer are given." 
With My Collar Is Blue, Cummings is quick to dedicate the record to those around him: His family and friends, his fiancée, his bandmates, and fellow musicians. And, as he puts it, "the working class heroes of our past, present, future – anyone enduring the struggle of today to build a better tomorrow." 
Cummings is building one too, and when he sings it, when he says it, and when he plays it, he can take a look around, and realize he's part of something bigger. The voices alongside his own proves it. 
Photo Credit: Daniel Johnson