Already Dead connect the past and present with 'My Collar Is Blue' music video.
The best thing about protest songs is they have three distinct parts: The past, the present, and the future. At any given moment, the fight of the people relayed through music is rooted in not only what's happening at that particular moment, but also the passion and tenacity of those who came before and those who will come after. There's a lineage that's passed from generation to generation – and right now, Already Dead are not only carrying the torch, but raising it for those around them.
Fresh off the October release of debut album My Collar Is Blue, around the same time the trio were nominated for Punk Artist of the Year in the 2022 Boston Music Awards, Already Dead unleash the official music video for the record's title track on Wednesday, November 16. The visual was filmed and directed by Roberto A. Terrones, with the band posted up and playing live in the garage at the Weaver family homestead North Reading while a century's worth of working class footage highlights the track's underlying message. 
The anthemic composition, a punk rock fight song fueled by folk mindfulness, a slight outlaw country twang, and proper nods to their Celtic heritage (complete with bodhrán and mandolin), roars out of the speakers with a furious abandon. It's a heavy battlecry, and one that instantly put the Massachusetts band on the map in the New England music scene.
"'My Collar is Blue' is about working class men and women who dedicate their lives to being just that," says Already Dead guitarist and vocalist Daniel Cummings. "Also, the notion that while it may seem like other more 'elite' classes control whichever city they are in, it's the working class who directly affect the growth, advancement, and even the daily function of that city. It is an ode to the past, present, and future of the working class." 
he track's title – and that of the album – isn't some fly-by-night declaration. It's firmly planted in who Already Dead are as people, and in turn encapsulates the band: Cummings is a Boston union pipefitter; bassist Brandon Bartlett is a Boston union ironworker; and drummer Nick Cali is a CDL operator in his hometown. "Blue collar is the life we know outside of being musicians," Cummings adds. "The songs on the album relate to similar views whether it's internal or social commentary." 
And that extends itself to the video. Already Dead linked up with Terrones to give the song a visual component, and incorporate everything the song itself is about: Blue collar working class past, present, and future. And it shows both sides to Already Dead, in both their visceral live performance exploding out of the Weaver family garage, made possible through the band's long standing friendship with Katelynn Weaver, and the work they put in each and every day. Cummings always wanted to work in his and the band's day jobs to the "My Collar Is Blue" video, though he jokes that if he brought a video camera to a job site, a general contractor might think he was preparing some sort of OSHA complaint.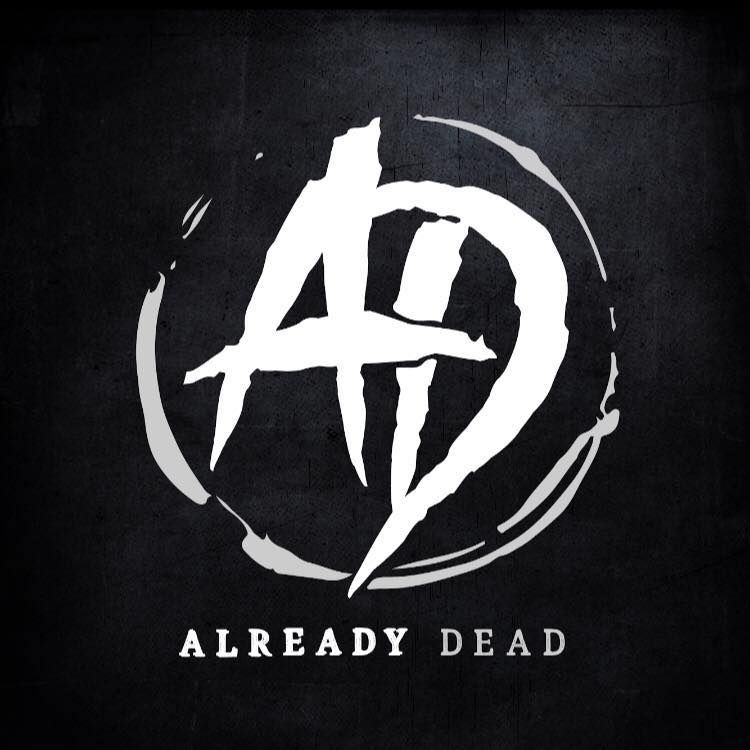 "But when director Roberto Terrones found the stock footage of workers – showing men, women, and children – that really set a tone of how we wanted the video to be," Cummings says. "I have worked at four historic landmarks in Boston, and seen the skyline from so many different points of view. It's almost hard not to romanticize this lifestyle. For others it may be different. But when you are in the top of Faneuil Hall where the bell is, looking at signatures from other workers from 1913, or atop the Gold Dome on the Massachusetts State House, looking through a light at the senate chamber floor, or literally standing inside the 'salt and pepper shakers' on the Longfellow Bridge… those experiences inspired this song."
Cummings adds: "With the vintage footage of the generations before us, I think it helps to remember and attempt to honor what those generations sacrificed so we have a safer and better life today. Shoutout to every worker captured in the vintage footage that shows just a glimpse of the hardships generations before us had to go through."
Already Dead are:
Daniel Cummings – Guitar and vocals
Brandon Bartlett – Bass
Nick Cali – Drums
"My Collar Is Blue" and the rest of Already Dead's seven-track album was recorded at The Bridge Sound And Stage in Cambridge with co-producer and collaborator Jimmy Corbett, who also engineered and mixed the album. The final result capped a wild stretch for Cummings, who penned most of the early Already Dead tracks while waiting out the Covid-19 pandemic. He started writing what would end up on My Collar Is Blue as a creative release while live music was on pause and his other bands were unable to play shows, and while he wanted to record the stuff he was writing, wasn't sure if he was ever going to release them. "My Collar Is Blue," the song, for example, was built off an acoustic guitar riff that randomly caught the attention of his fiancée while he was strumming at home, and the lyrics instantly came together over a 45-minute drive home from his pipefitter apprenticeship. 
With songs like that bubbling up and yearning for collaboration, Cummings linked up with Cali, who he previously played with in other projects, and the two took the demos from his house to Cali's basement where they tracked drums. Cummings reached out to his friend Corbett and brought the songs to The Bridge Sound and Stage for recording last Halloween, and wrapped things up this past March. Realizing they were suddenly a legit band, they brought on Bartlett to play bass and round out the trio.   
"This first batch of songs were all written by me, and not necessarily for any band in particular," Cummings admits. "It's more a tribute to all styles of my favorite genre of music. My cousin called it a 'sampler platter of punk' which I think sums it up perfectly."
With the album finally released, more layers to the Already Dead sound have been revealed, including a ska and hip-hop-infused single called "City's Burnin'." But here with "My Collar Is Blue," the band is flexing its working class, shout-it-out street punk muscle in what is perhaps the signature Already Dead track.
"The song itself both compares and differs from the full album, I think," Cummings adds. "It's a hard-driving punk rock song, which is how the band performs live and reflects most of the album. But it was built with the bones of an acoustic folk protest song vibe. It was originally written as an acoustic song, with a slower swing to it. We could possibly release a version like that eventually."
That, of course, is in the future. But right now, Already Dead are living in the present, and are fully aware of the past that got them to this very point. It's right there on the screen alongside them.