Conjuring up music that can be described as gloom from other worlds, the duo – made up of Ryan Policky of A Shoreline Dream and Andy Uhrmacher of Genessier – has been trying to find their way back to the original trajectory they were on previous to crash landing. Stretching cosmic goth music into a whole new realm, the Denver-based duo combines all the elements they have been striving to integrate into the project over the four years since they decided to launch this project.

Recorded from 2020-2023, Alien Gothic takes a journey out of a world gone mad, to spread a sound that is immersive and rich with varied instrumentation.

"It's something we knew would destroy the seedy, cobweb filled dance clubs of the past, bringing forth a new era of goth… alien goth!" says Ryan Policky.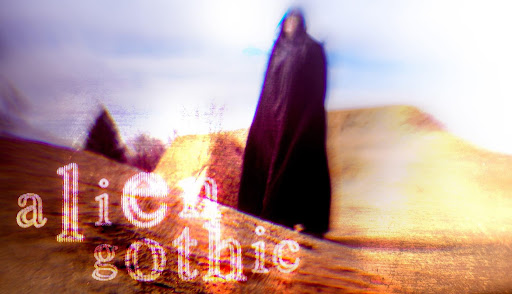 Alien Gothic creates deep gothic electronica, fused with spatial goth autoharp symphonies, deep mellotron overtures mixed with noises from unknown origins on the vast hour-long debut. Themes and words recall events that the duo have had from the far reaches of the beyond. With deep beats, lush goth rock entwines with psych and shoegaze layers to create cosmic, pulsating melodies.
Soundscaping goth is what these artists have become known for elsewhere along the milky way, their spectrums now hitting earth to bring forth a dreary alien orchestra, lost deep in a dark forest beyond the normal stretches of human imagination.

As of August 18, 'High and Dry' album is available from fine music platforms, including Apple Music, Spotify and Bandcamp.
TRACK LIST
1    A Star is Death        02:24
2    In the Night        04:00
3    The Actual Ending        04:34
4    Interpretive        03:25
5    A Drone of Her Celebration        03:34
6    Drowning in a Dark Cavern        03:18
7    Shine the Lights        02:58
8    The Last Battle        04:06
9    Carl        03:50
10    Rat in the System        04:28
11    In the Middle of Breath        03:43
12    Alien Dance Club        02:46
13    Fall From Me        03:11
14    Alien Warfare        03:03
15    The Olde Town        03:43
16    Wormhole        06:30
17    Church of the Empty     03:00