Ahead of the release of album Endless Affair on 17th March 2023, Ailbhe Reddy will play a number of intimate venues in the United States and the UK.
Beginning with one of New York's most famous bars and venues, The Dead Rabbit on 3rd February, and culminating in a performance at SXSW in Austin, Texas. After that, she returns to the UK, where she is now based, from where she will embark upon a UK, Europe and Ireland tour, finishing up with two back-to-back Dublin shows in Whelan's Main Room on Friday 5th May and Saturday 6th May.
"Tell me how did I get here? this endless pitiful affair." It's quite the lyric for Ailbhe Reddy to open her new album Endless Affair with, but one that smartly captures the central idea it addresses: the challenges we face in letting go and accepting finality.
With her new album Ailbhe Reddy poses these ideas across a spectrum covering the playful and up-beat to the sombre and heart-wrenching, plotting the album's path in a way that mirrors life's own evolution from the care-free to the serious. Its opening run of tracks – in particular new single 'Sh*tshow' and 'Inhaling'- crave revelry and reflect on the wilder side of a youth increasingly viewed in the rear-view mirror. The likes of 'A Mess' soar atop a swell of fuzzed-up indie-rock and a chorus of joyous hollers, while the come-down hits on the quietly brutal 'Last To Leave'. Once the final notes of the album's arresting centrepiece 'Shoulder Blades' ring out, there is a palpable sense that the struggle to let go is shifting away from the backdrop of the party and into that of relationships and mortality.
This is where Endless Affair leaves the party and matures further into a story of more certain endings and letting go of life. When the album reaches its penultimate song, the stunningly vivid 'Pray For Me' – penned after the passing of Ailbhe's grandmother – the strength of her song writing ability is laid out starkly. She instinctively straddles the line between emotional honesty and vulnerability, while delivering tongue in cheek moments, youthful stupidity, anger, defiance and heartache. Endless Affair exists as many of these things and leaves us with the final thought that we also do: you can be a party animal, a f*** up, a good partner, a bad partner, sensitive, unkind, a good daughter, and a bad one. All of this is rendered impressively in Endless Affair.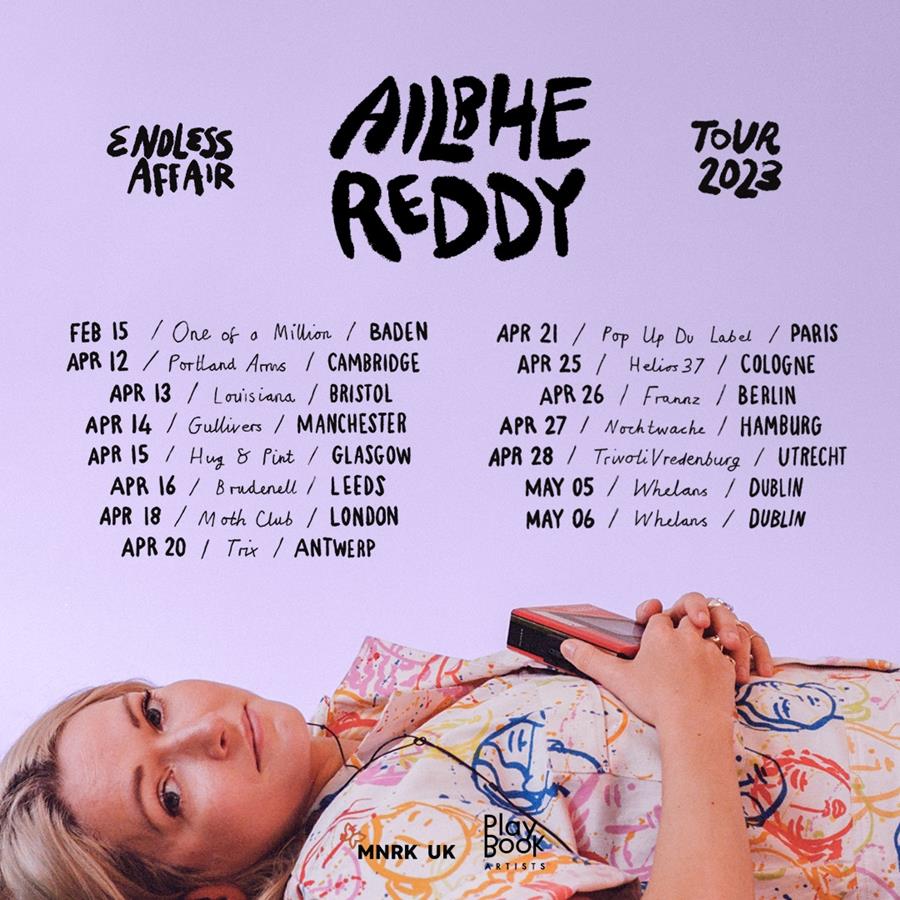 Ailbhe Reddy 2023 tour dates

March

10–19 – SXSW, Austin, Texas, USA

April

12 – Portland Arms, Cambridge, UK
13 – Louisiana, Bristol, UK
14 – Gullivers, Manchester, UK
15 – Hug & Pint, Glasgow, UK
16 – Brudenell, Leeds, UK
18 – Moth Club, London, UK
20 – Trix, Antwerp, UK
21 – Pop Up Du Label, Paris, FR
25 – Helios37, Cologne, DE
26 – Frannz, Berlin, DE
27 – Nochtwache, Hamburg, DE
28 – TrivoliVredenburg, Utrecht, DE

May

05 May – Whelans, Dublin, IE
06 May – Whelans, Dublin, IE