96 BITTER BEINGS ARE SET TO RELEASE LONG-AWAITED NEW ALBUM SYNERGY RESTORED ON NOV 4TH.
Hot on the heels of their recent signing to Nuclear Blast Records, revered Los Angeles rock band 96 BITTER BEINGS has announced plans to release their eagerly-awaited, second full-length album, "Synergy Restored," on November 4th. The former CKY frontman, Deron Miller and crew have offered up a taste of what's to come with the new single "Vaudeville's Revenge," which is available for streaming now and accompanied by the music video below.
Years in the making, 96 BITTER BEINGS' "Synergy Restored" is 11 songs of relentless power and vibe. Four-on-the-floor, fuzzy and visceral, proper rock n' roll made by an actual band, rather than a bunch of over-processed samples and otherwise stale shenanigans. Songs like "Vaudeville's Revenge," "90 Car Pile-Up," and "Wish Me Dead" offer vivid reminders of the truth-telling prowess of guitars, bass, and drums. Miller is on fire, weaponizing the same knack for memorable musical epiphanies behind projects like Foreign Objects, World Under Blood and CKY.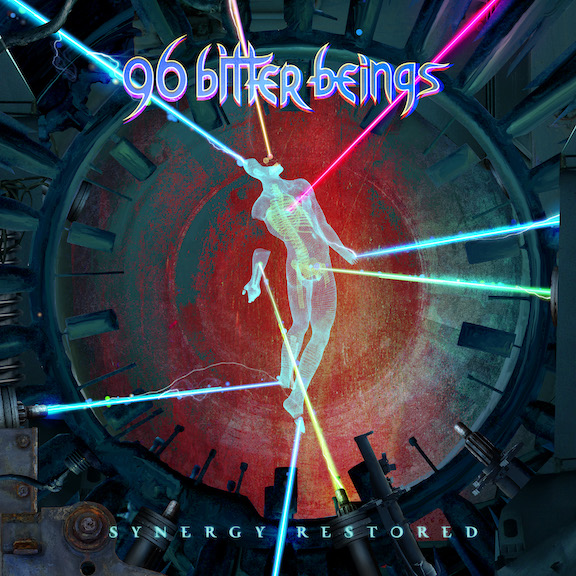 "Synergy Restored" Tracklisting: 
1. Vaudeville's Revenge
2. Wish Me Dead
3. Fire Skyline
4. Throw Yourself Inside
5. 90 Car Pile Up
6. Bedtime Story
7. Bloodrock Mania
8. Slither Away
9. Taken By Surprise
10. Adios Amigo
11. Conditioned Or Unconditional
96 BITTER BEINGS will hit the road this summer with HOWLING GIANT in support of the new record. 
96 BITTER BEINGS Tour Dates:
July 21 – Portland, OR – Dante's
July 22 – Seattle, WA – Funhouse
July 23 – Boise, ID – The Shredder

w/HOWLING GIANT
July 25 – Salt Lake City, UT – Loading Dock
July 26 – Denver, CO – Herman's Hideaway
July 27 – Omaha, NE – Reverb Lounge
July 28 – Sioux Falls, SD – Big's Live
July 29 – Des Moines, IA – Lefty's
July 30 – Sioux City, IA – Four Winds Festival
July 31 – Iowa City, IA – Wildwood
Aug 2 – Buffalo, NY – Mohawk Place
Aug 3 – Manchester, NH – Jewel
Aug 4 – Providence, RI – Alchemy
Aug 5 – Hallam, PA – Tourist Inn
Aug 6 – Akron, OH – The Empire
Aug 7 – Chicago, IL – WC Social Club
Aug 8 – Detroit, MI – Sanctuary
Aug 10 – Kansas City, MO – Vivo
Aug 11 – Oklahoma City, OK – 89th Street
Aug 12 – Fort Worth, TX – Rail Club Live
Aug 13 – New Orleans, LA – One Eyed Jacks
Aug 14 – Corpus Christi, TX – Boozers
Aug 15 – Austin, TX – Come and Take It Live
Aug 17 – Las Vegas, NV – Soulbelly
Aug 19 – Scottsdale, AZ – Pub Rock
Aug 20 – Santa Ana, CA – La Santa
Aug 21 – West Hollywood, CA – Whisky A Go Go
96 BITTER BEINGS Lineup:
Deron Miller – Vocals/Guitar
Kenneth Hunter – Guitar
Shaun Luera – Bass
Tim Luera – Drums