Ramblin' Man Fair are delighted to introduce a new festival residency concept. Clutch are one of the most exciting new generation of rock acts and fans at Ramblin' Man Fair 2020 will have the unique opportunity to see the band on three separate days playing three different sets. 
Starting with a Mainstage headline set on Friday, followed by a Mainstage semi acoustic set on Saturday, and closing with a Blues Stage headline jam featuring a host of special guests and special songs on Sunday, you won't want to miss a moment. The chance to see Clutch in their many guises in 2020 will make Ramblin' Man Fair a truly unmissable occasion. Ramblin' Man Fair will be looking to expand the festival residency concept with more incredible acts for 2020. 
The three sets over the weekend will be very different:
Friday Night "Who Wants To Rock?"Set – A blistering set of Clutch bangers to kick the weekend off. Full on electric rocking!
Saturday Afternoon "An Afternoon At The Doom Saloon" Set– A slow-burning set of Clutch classics, semi acoustic grooves, and more!  The band will start mellow and acoustic and gradually pick up steam….
Sunday Night "Sound Attack!" Set– The rock 'n roll masters round out the weekend fusing Go-Go, Funk and some Blues…  This set, featuring a number of special guests, will be the most experimental in nature and the party set!
Formed in 1991, Clutch have released twelve studio albums packed with modern-day classics, including songs such as "Hot Bottom Feeder", "The Regulator", "Electric Worry", "Spacegrass", "The Mob Goes Wild", and "50,000 Unstoppable Watts". The Maryland group's last two studio albums – 'Psychic Warfare' and 'Book Of Bad Decisions' were voted Classic Rock magazine's Album Of The Year. Clutch's first headline set continues Ramblin' Man Fair's intention to find the headline festival acts of the future – the festival also gave Black Stone Cherry their first UK festival headline.
Clutch are a stunning live act – wooing crowds across the globe with their riff driven blues rock. With their breadth of material and versatility, Clutch are the perfect act to launch Ramblin' Man Fair's residency concept. The band's unique three-day three-set run is sure to be a highlight of Ramblin' Man Fair 2020 and it will exclusively be the only UK festival you can see Clutch at next year.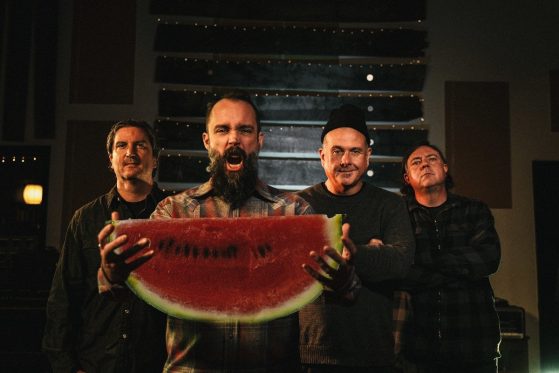 "We are very flattered to have been asked to do three sets at Ramblin' Man 2020.  We plan to make each set as distinct as possible.  The first set, on Friday, will be the barn burner, Saturday will be more of a semi-acoustic set, and for Sunday we plan to invite many friends to jam out to the end.  Then, we will sleep." – Neil Fallon (Clutch)
 "Ramblin Man Fair is committed to developing the festival headliners of tomorrow and, wherever we can to, innovate the established format of the rock festival. It's wonderful then that we can kill two birds with one stone and announce Clutch – the band of the moment in rock terms – and our residency concept together. Three sets in three musical styles on three stages over three days – what better way is there for both Clutch and Ramblin Man Fair to lay out their collective visions?" – Chris Ingham, Spirit Of Rock (Ramblin' Man Fair organisers)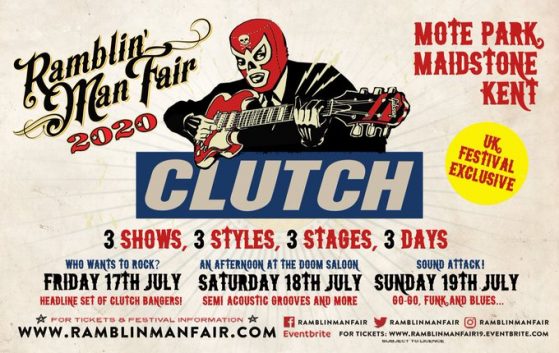 GRAND MAGUS
Sunday 19thJuly – Grooverider, Special Guests
The Swedish three-piece were formed in 1996. Hailing from Stockholm, the band's brand of hard rock, blues and doom echoes the likes of Black Sabbath, Judas Priest and Motorhead. The perfect festival act, Ramblin Man Fair will be the bands UK festival exclusive in 2020
THE INSPECTOR CLUZO
Sunday 19thJuly – Blues Stage
Ramblin' Man Fair are delighted to welcome Gascony duo The Inspector Cluzo to Ramblin' Man Fair. The band have now played over 1,000 gigs in 65 countries and are consummate live performers. 2019 saw the band release their latest studio album "We The People Of The Soil" (produced by Vance Powell – The White Stripes, Clutch, The Arctic Monkeys), tour Europe supporting Clutch (including a show at London's Brixton Academy) and then tour the USA supporting Clutch and then The Eels. The bands mix of riffs, melody and riotous live shows will be sure to be a highlight of RMF 2020. 
"Long live Ramblin' Man Fair" – Johnnie Walker BBC Radio 2 Rock Show
 "a weekend of great music, fun and good vibesRamblin' Man Fair is a classic rock lover's happy place." – Classic Rock Magazine
"a weekend of epic headbanging" –Sunday Mirror
"The highlight of the rock music calendar that sees the best genres of music come together in perfect 'southern harmony- three days of fun in the sun in the garden of England" – Powerplay Magazine
 "Ramblin' Man Fair Transforms Mote Park each year into its own raunchy turn off Route 66"  – Planet Rock Magazine
"the prog stage is a force of nature at Ramblin' Man Fair "  – Prog Magazine
Following on from the critically acclaimed and commercially successful fifth year in 2019, Ramblin' Man Fair returns in 2020! This year the festival will take place on the 17th, 18thand 19thJuly. 
Clutch mainstage's headline on Friday 17thJuly will also feature special guests Monster Truck. Also, already confirmed for Grand Magus(as special guests) areHawkwind (Headliner), Vintage Caravan, The New Death Cult, Crown Lands on the Grooverider Stage on Sunday 19thJuly. And thefull Prog In The Park Stage lineup of Big Big Train(Headliner), Curved Air (Special Guest), Pure Reason Revolution, Moon Safar, Lazuli and Blurred Vision. The Inspector CluzojoinClutch on the Blues Stage. Ramblin' Man Fair is shaping up to be an incredible 2020.
Ramblin' Man Fair will take place on 17th, 18thand 19thJuly 2020.
All tickets are available at the link below:
https://www.ramblinmanfair.com/buy-tickets/
To keep up to date with all Ramblin' Man Fair announcements :
www.ramblinmanfair.com
www.twitter.com/RamblinManFair
www.facebook.com/ramblinmanfair