Due to the current Covid-19 pandemic and public reaction to the spread of Coronavirus, GUN have postponed their up and coming 6 date UKtour.

These shows have now been moved and will take place later this year in September, the show must and will go on!
Off the back of an incredibly successful 2019, Scottish rockers GUN will return to the UK stages with a series of shows in September2020–entitled "R3L0aded: The Best Of GUN – Up Close and Personal Tour". The band also just announced their supporting acts, which include: Anchor Lane, Gin Annie, The Outlaw Orchestra, Revival Black, Autin Gold, The Howling Tides and Tribeless.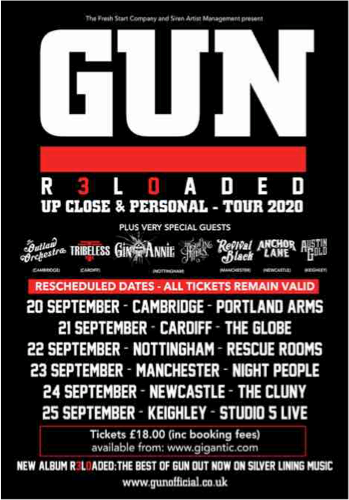 The band recently embarked on an epic co-headline UK tour with Dan Reed Network & FM, to celebrate their 30thAnniversary. With these new dates theparty will continue in 2020 and will see GUN taking a greatest hits set into some smaller rooms to be "Up Close and Personal" with their audience.

In late 2019, GUN released the critically acclaimed "R3L0ADED" album, a double CD set, featuring choice cuts from their previous studio albums as a "Best Of" package together with some great cover versions and live favourites.  The "Up Close and Personal" Tour will combine tracks from this album together with a few other surprises.  Tickets are priced at just £18.00 including all booking fees.

Gun's Dante Gizzi "We thought it would be great to take in some small clubs where we can play our songs in a very intimate setting and can keep the ticket price to a minimum – to really give back to our fans for 30 plus years of support. We are really looking forward to this, so hope to see you all there!"
Tour Dates are as follows:
20 September: Cambridge – Portland Arms
21 September: Cardiff – The Globe
22 September; Nottingham – Rescue Rooms
23 September: Manchester – Nght People
24 September: Newcastle – The Cluny
25 September: Keighle – Studio 5 Live


#GUN#UpCloseAndPersonal#Tour
Tickets available from www.gigantic.com


GUN have also been announced to play Stonedead Festival, Newark, UK – 29thAugust 2020 

GUN are – Dante Gizzi – Lead Vocals; Giuliano Gizzi – Guitar; Paul McManus – Drums,
Andy Carr – Bass, Tommy Gentry – Guitar

Website:https://gunofficial.co.uk
Facebook:https://www.facebook.com/gunOfficialUK/
Twitter:https://twitter.com/gunofficialuk
YouTube:https://www.youtube.com/user/gunofficialuk