Dark psychedelic rockers VENUS PRINCIPLE have released their acclaimed debut full-length "Stand in Your Light" (please see below for press voices) on Friday, May 27. The British-Swedish outfit are also streaming their first album in full via all relevant digital platforms. 
"Stand in Your Light" is a work of love. Passion drips out of every note from the bitter-sweet honeycomb of solemn melodies that VENUS PRINCIPLE have created for their debut album. Although this is the first record from the British-Swedish collective, these hymns for the burdened and broken come audibly with the profound maturity of hard earned experience from all the veteran musicians involved.
Classic rock is at the heart of "Stand in Your Light". Whether the resulting music is dubbed art rock, progressive rock, psychedelic rock, or anything else, VENUS PRINCIPLE are openly showing their roots with obvious pride: KING CRIMSON, PINK FLOYD, BLACK MOUNTAIN, GENESIS, Bob Welch era FLEETWOOD MAC, and many others of the giants that shaped modern guitar based music into the towering and persistent heritage have left their marks on "Stand in Your Light". Yet the 6-piece is anything but a simple carbon copy.
Expertly, VENUS PRINCIPLE add their own ingredients to the canonical rock elements. Foremost pain and darkness permeate each track, spawning a terrible beauty ruling in triumphant glory. Yet shadow cannot exist without light, which the British-Swedish musicians provide in delicate moments of hope, tenderness, and warmth. In these aspects of "Stand in Your Light", the metal spirit of some of the protagonists on the album reveals itself. Particularly tasteful British influences such as musically a dose from the legacy of sadly split-up ANATHEMA, and on a more emotional level a pinch of MY DYING BRIDE and PARADISE LOST but without their metallic harshness have added to the collective's recipe.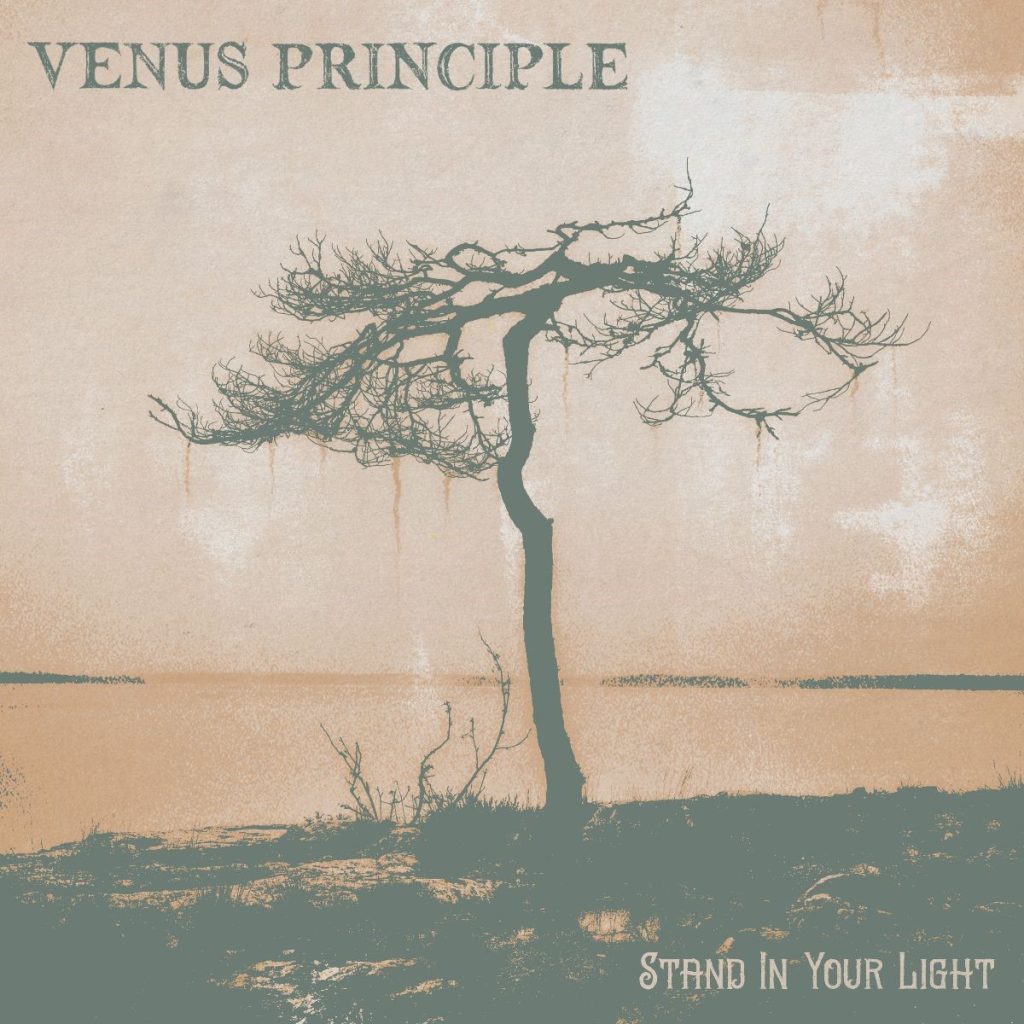 Line-up
Daniel Änghede – vocals, guitars
Daisy Chapman – vocals, piano
Jonas Stålhammar – guitars, keyboards
Mark Furnevall – keyboards, backing vocals
Ben Wilsker – drums
Pontus Blom – bass

Guest musicians
August Eriksson – saxophone
Johan Weber – pedal steel guitar
Kalle Widén – pedal steel guitar

Produced by Venus Principle
Recording by Jamie McKivitt at Shaken Oak Farm, Witney, UK
Recording by Kalle Widén at Studio Enheten, Uddevalla, Sweden
Additional tracking by Scot Mckenzie at New Cut Studios
Additional tracking by Jonas Stålhammar and Daniel Änghede at Moondawn and Observatoriet Studios

Logo design by Jonathan Hultén
Artwork & layout by Roger Iderman


VENUS PRINCIPLE were formed in autumn 2019 after several of its members decided to part ways with CRIPPLED BLACK PHOENIX. Still fully in love with dark, melodic art rock and psychedelic music, this group of close-knit friends was not content to just sit at home and twiddle thumbs. Inviting more familiar associates into their fold that included active and former members of AT THE GATES, ISON, TACOMA NARROWS BRIDGE DISASTER, and LOUISE LEMÓN this new rock band was born. To join the collective took more than just being friends. Each member is expected to share the passion and musical vision for this modern take on a vintage sound, which this new band derives from both the styles of Sweden and the UK that is crafted into a fresh and eclectic aural experience.
 
Although they are just at the starting point of an intended long career, VENUS PRINCIPLE emerge with the fully-fledged masterpiece "Stand in Your Light". This album is bound to accomplish a most difficult feat by delighting adherents of both rock and metal.