New single from the New Hampshire power-pop trio, Robotic Hawks, is backed with a feisty Agent Orange cover and hits the streams on Friday, May 13.
If 2021 was the year when Robotic Hawks took flight, then this is the one where they make sure everything's alright back at the nest. 
The New Hampshire power-pop trio deliver their first new music of 2022 with a cruising new single called "Gravity." The follow-up to a trio of infectious releases last year, "Gravity" hits the streams on Friday, May 13, backed with a feisty cover of Agent Orange's 1986 mainstay "Fire In The Rain." While somehow retaining Robotic Hawks' growing penchant for guitar-pop earworms that feel both classic and modern in nature, "Gravity" is, at its core, a love song.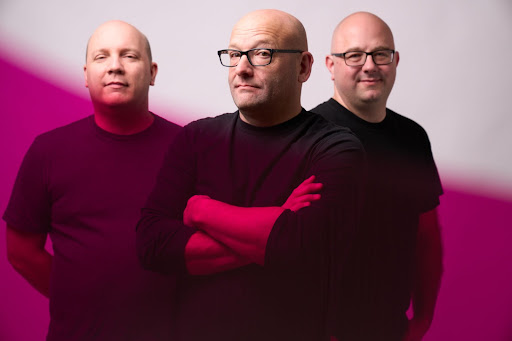 That's pretty sweet stuff, though on the surface,"Gravity" wouldn't seem out of place alongside familiars from the bands Robotic Hawks often get compared to, like The Replacements, XTC, The Nils, and Superdrag. Though unlike the band's recent singles, which over the past 12 months earned global airplay on both terrestrial and satellite radio and blog hype in New England and beyond, this one won't make it into the Robotic Hawks' live set. The trio's next public appearances are May 14 at Somerville Porchfest, the day after the release of "Gravity," and June 21 at The Midway Cafe in Jamaica Plain.  
And it's got one ripping guitar solo, courtesy of Doherty. Adds Pollard: "The guitar solo is ridiculous by design. The song takes you somewhere else for a few measures. Stratosphere baby, stratosphere. Shawn has had no shortage of very tasteful solos, but this one is my favorite to date. The solo on this song is muscular, spacey, a bit nerdy and unforgettable."
One additional single, due later this year, will help complete Robotic Hawks' EP package rollout of five new tracks to celebrate this new era of the band. And that one, like "Gravity" now and the trio that came before it, all have two things in common. One, they're all catchier than Jackie Bradley Jr. roaming the Fenway Park outfield, and two, they all were released with companion cover songs: May's "Forward Motion" and "Security", a cover of the Otis Redding song made famous by Thane Russal & Three; October's anthemic "Ansonia" and Graham Parker's "You Hit The Spot"; plus December's slinky "Quitter" and R.E.M.and The Clique's "Superman."  
Here, it's Agent Orange's "Fire In The Rain," a sonic rager that fits the casual sweat and fury of the Robotic Hawks sound. Pollard first covered it with his high school band M.F.P. back in 1989, and after the band reformed for a reunion show in Japan in 2018, the subject of 2020 mini-documentary Music For People In Japan, he decided to dust it off and bring it into the Hawks' world. As an added connection, Pollard's former M.F.P. bandmate, Andrew James King, has produced and mixed all the Robotic Hawks tracks over the past year.   
"We decided at the onset of these A/B Side single releases to add the challenge of finding the right cover to pair with our original songs," admits Pollard. "We all love the process of learning and adapting a cover to what we think our strengths are as a band; power, melody and enthusiasm. We're not under the delusion that we do these songs better than the original artists, but we do think that our aesthetic can bring new facets of the song to light. You can learn a lot about a band from how they cover a song." 
You can also learn a lot about a band from their ability to pull off a love song. And "Gravity" oozes out of the speakers with relative cool. "It's really all about trying to avoid ridicule at home," Pollard says. "Full disclosure, my wife likes the song and appreciates that it's not corny. Phew!"