Just a short breath after the exuberant applause for Rachael Yamagata, an expectant hush fell amongst the crowd as Joshua walked onto the stage and began, in a beautifully understated way, his magical set of new and older songs.
His signature gentle, emotive vocals wove their way around tender, expressive narratives to delight us, the listeners.
Joshua is the ultimate storyteller- and we want to listen. Accompaniment is simple; his fingers sliding effortlessly from chord to chord with natural, easy progression on his acoustic guitar. Everything about Joshua (his clothes, the stage set and lighting, his guitar) is pared down which makes his music shine all the brighter.
During his first song, 'No Fear', he moves away from the mic and performs without amplification; his soft yet powerful voice fills the hushed Assembly Hall. Lighting matching the simple vibe, he returns to the mic to play under a single spotlight, as if illuminated by the moon.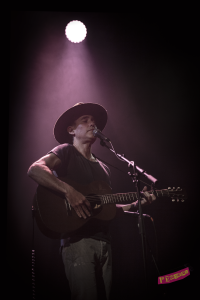 Joshua tells us," London, I've missed you," as he begins his second song, a cover of Vince Clarke's 'Only You', adding poignancy by finger picking his way through the love song. This was a beautifully tender, emotive interpretation which has quickly and easily become my favourite version of this well-known song. Following this, a not yet recorded song, temporarily named "You said", casts an even deeper entrancement over the bewitched and charmed audience. Joined by guitarist Dan, Joshua announced that 'Goodbye', his fourth song, is from his new album 'Fear of Intimacy'.
Joshua tells us that his music is about "trying to fix something in myself". The atmosphere in the Assembly Hall was certainly full of shared understanding and appreciation for –well, just lovely, lovely songs sung by a beautiful, spell-binding voice. We can certainly attest to feeling inspired, comforted, healed even.
Joshua Radin's mesmeric, repetitive chords and soothing finger-picking, combined with his true, clear vocals, distinctive tone and vulnerable, honest, moving lyrics that we can all relate to, made for a golden evening of insightful and richly rewarding music. To quote from 'Goodbye', we can also say; "we're in love with next time…" too.
Joshua Radin played Islington Assembly Hall on 25th April 2022
Support from Rachael Yamagata
(Rachael Yamagata review HERE)
Live images and words Copyright of 1st 3 Magazine
Not to be reproduced without permission.