A giant four headed line-up gets us hoping we have packed enough memory cards for an epic night in Kentish Town.
Less Than Jake, Millie Manders & The Shutup, Skinny Lister and The Toasters have been a hotly anticipated ticket. The Forum seemed to be the perfect venue for this billing, giving these bands the space they need and for the bustling audience to get close enough to join the party, but it wasn't all plain sailing.
The first act of the night were Millie Manders & The Shutup. Having seen Millie on the road a few times now, we knew it was bound to be a cracking show. But it didn't start off too great for Millie, things were not OK.
Coming on to the stage and tripping over a speaker, she took a fall. But even after breaking her finger, in true rock and roll style she gets up and carries on, making a joke about it.
They have their own Ska-Punk-Rock vibe which the early audience lapped up.  A quick 30 minute set started off with One That Got Away, followed by Obsession and ending far too soon with Your Story. As predicted, Millie Manders & The Shutup certainly got the crowd warmed up nicely and left them begging for more.
Next up was The Toasters – all the way from New York. These boys have been rocking the Ska scene for over 40 years now with Buck being the only constant member of the band.
Hopping and bopping along to the bouncy vibes, the now filled-out crowd were in full-on party mode. The Toasters have released nine albums and had many different members in their time but clearly the current line-up is loving what they do with highlights including Weekend in L.A. and Don't Let the Bastards Grind You Down.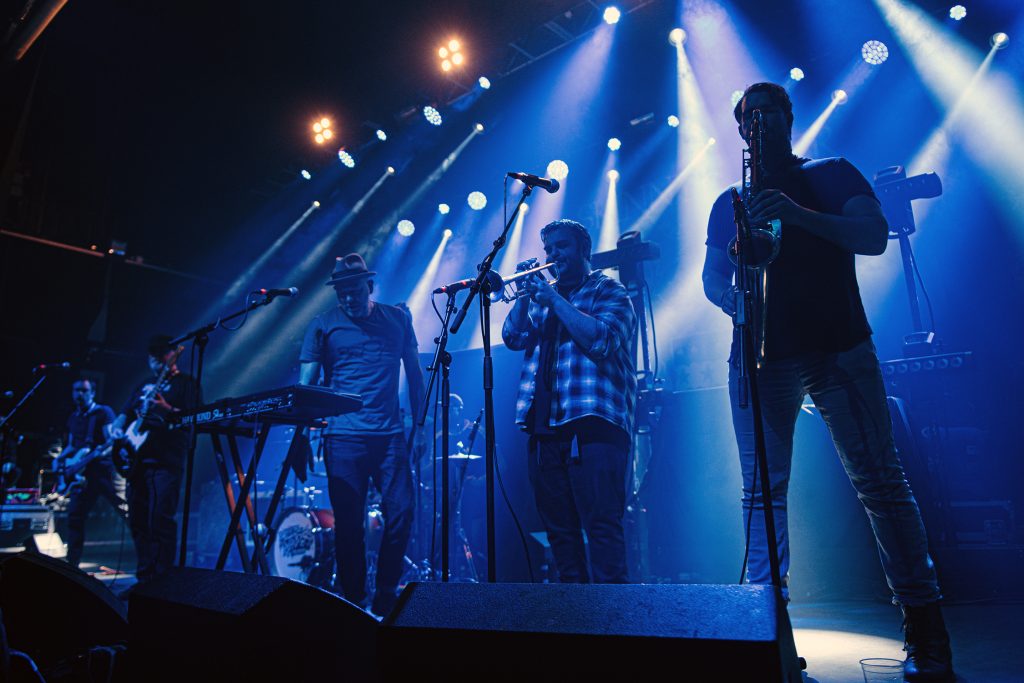 We have never seen anyone play the keyboard quite like Dave Barry, who literally karate chopped away at his keys; incredible.
1st 3 have covered Skinny Lister on a number of occasions on various stage sizes, although for many this was the first time. To see them is to fall in love with them –  Skinny Lister are guaranteed to 'bring it'.
Starting with 38 Minutes and followed by Tragedy In A Minor, they owned the stage and captivated the audience – they could have been head-lining the whole thing.
The set closed with Trouble On Oxford Street and it was at that point a we made a reassuring check that it was on our playlist.
And finally, Less Than Jake  – the room was ram jam packed by now, the music kicks in (Last One Out of Liberty City), you can feel the surge of energy in the building and the undeniable love for this band washed over one and all.
The band chatted between songs, between themselves and to the partying London crowd.
The set list was packed with a whopping 18 tracks, but the crowd would have happily stayed for 108. Everyone was here for a real good time and a real good time they were having, being filled with pure ska energy – everybody got skanking.
SET LIST 
Last One Out of Liberty City
Gainesville Rock City
National Anthem
Automatic
The High Cost of Low Living
Motown Never Sounded So Good
Fat Mike's On Drugs
Motto
History of a Boring Town
Look What Happened
Johnny Quest Thinks We're Sellouts
The Science of Selling Yourself Short
Plastic Cup Politics
Lie to Me
The Ghosts of Me and You
Encore:
Nervous in the Alley
My Very Own Flag
All My Best Friends Are Metalheads
Less Than Jake, Millie Manders & The Shutup, Skinny Lister and The Toaster played O2 Forum Kentish Town 09/04/2022
All words and images copyright.
Not to be reproduced without prior permission.