Thrash metal force WARBRINGER is launching into 2020 with the announcement of their brand-new full-length release, entitled Weapons of Tomorrow, scheduled to drop on April 24 via Napalm Records. With this release, the SoCal five-piece have not only proven a true mastery of their craft, but have spurred the forward shift of an entire genre – transporting thrash metal into a brand-new era.
Building upon their internationally-acclaimed blistering attack, with Weapons of Tomorrow, WARBRINGER showcases a refreshed technical approach and a heightened focus on unique lyrical and vocal style. The record takes the promise of the band's previous release, Woe to the Vanquished, and carries it onward, presenting WARBRINGER at their absolute best to date – over 10 years into their careers.
In celebration of the announcement of Weapons of Tomorrow, WARBRINGER has released a brand-new music video featuring a completely remastered version of their most recent single, "Firepower Kills" – exclusive to the new album!
WARBRINGER vocalist Csays: "'Weapons of Tomorrow' contains two tracks you've previously heard, 'Firepower Kills' and 'Power Unsurpassed', which now appear on the record in new and improved form. 'Firepower Kills' is about advancing weapons technology. Modern science is an enormously powerful tool, and the human species must be very cautious about its use. This song looks at the last 100 years of scientific advances in weaponry and asks, 'where does this lead?' Musically, it's a total thrashing burner, and the main riff 'evolves' throughout the song like the weaponry in the lyrics."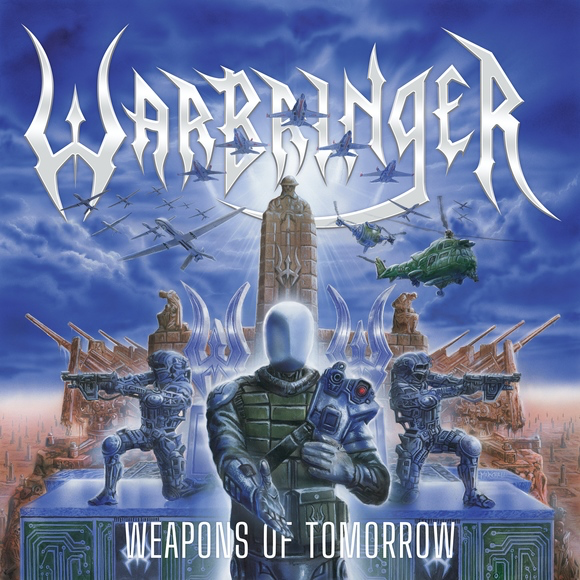 Artwork credit: Andreas Marschall (Sodom, Blind Guardian, Kreator)
Weapons of Tomorrow was recorded with acclaimed producer Mike Plotnikoff – producer on Woe To The Vanquished and for artists such as In Flames and Fear Factory – and mixed by Zack Ohren, who is credited for the mix on WARBRINGER's sophomore album, Waking Into Nightmares, as well as his work with artists like Machine Head and Immolation.
Weapons of Tomorrow contains a variety of themes, presenting a self-contained concept with each track, but ultimately focuses on the over-arching notion of modern technology endangering society rather than advancing it.
---
John Kevill says about the lyrical content of Weapons of Tomorrow:
"I put a lot of thought and detail into the lyrical content of this album. There's often a 'storytelling' component, in which the song's lyrics develop or turn along with the music and structure of the song. All in all, Weapons of Tomorrow contains elements of our previous album, Woe to the Vanquished, but takes them further and in new and exciting directions."
---
Regarding the band's advancing sound, Kevill adds: "While containing speed-driven burners like 'Firepower Kills' and 'Unraveling' and crushing stomps like 'The Black Hand Reaches Out' and 'Crushed Beneath the Tracks,' Weapons of Tomorrow goes really big on the epic tracks, containing not one but four. Each has its own character. The forlorn and semi-ballad 'Defiance of Fate' breaks serious musical ground for us and is like no song in our catalogue. 'Heart of Darkness' and 'Notre Dame (King of Fools)' offer different takes on a dark, black metal-oriented sound, and "Glorious End" is a tragic war epic with a unique lyrical component."
Weapons of Tomorrow Tracklist:
1) Firepower Kills
2) The Black Hand Reaches Out
3) Crushed Beneath the Tracks
4) Defiance of Fate
5) Unraveling
6) Heart of Darkness
7) Power Unsurpassed
8) Outer Reaches
9) Notre Dame (King of Fools)
10) Glorious End
Weapons of Tomorrow will be available in the following formats:
– CD Jewel Case Edition
– CD & Shirt Bundle
– Digital Album
– 1LP Gatefold Black
– 1LP Blue Gatefold Edition – limited 200 copies
– Wooden Box Set: Bonus CD, Logo Lighter, Flag – limited 500 sets
– LP (Black) & Shirt Bundle – US Store Only
– Skateboard – US Store Only
– Album Cover Shirt + Skateboard + Jewel Case – US Store Only
– Album Cover Shirt + Skateboard + Vinyl – US Store Only
Formed in late 2004, WARBRINGER has gone on to be one of the most consistent and well-regarded thrash metal bands of the new generation. After releasing two demos, the band broke out with their 2008 debut, War Without End – a record illustrating a frantic energy and aggression which had been absent from metal for some time. The band continued to redefine their sound on each of their next four career-defining albums – 2009's Waking Into Nightmares, 2011's Worlds Torn Asunder, 2013's Empires Collapse and 2017's Woe To The Vanquished, their first via Napalm Records (Billboard – #8 New Artist Albums, #17 Hard Music Albums, #26 Current Rock and #29 Independent Current Albums). WARBRINGER has bolstered their performance roster by relentlessly touring internationally throughout five continents with iconic artists such as Megadeth, Exodus, Arch Enemy, Napalm Death, Iced Earth, Nile, Suffocation, Kreator, Soilwork, Overkill and many more, and found themselves working with industry greats on each new album – creating with producers such as Steve Evetts (Symphony X, DevilDriver, The Dillinger Escape Plan), Bill Metoyer (Slayer, D.R.I., Dark Angel), thrash legend Gary Holt (guitarist, Slayer/Exodus) and beyond. The ever-evolving quintet continues to renovate their potent concept with each passing year, without ever losing focus on the future. Metal Injection said it best, "…the almighty WARBRINGER have proven that they reign eternal… no matter what the circumstances."
With one listen it's clear, WARBRINGER has continued to move forward in their own unique direction, and Weapons of Tomorrow is pure, 21st century, state-of-the-art thrash like never heard before. Stay tuned for details on tour dates, coming soon!
WARBRINGER is:
John Kevill – Vocals
Adam Carroll – Guitar
Carlos Cruz – Drums
Chase Becker – Guitar
Chase Bryant – Bass

More Info:
FACEBOOK
INSTAGRAM
TWITTER
NAPALM RECORDS
Cover Photo Credit: Alex Solca