The French melodic hardcore/punk quintet STINKY will release their third full-length album, "Of Lost Things", on May 15. Today, the group unveils a music video for the album's first single, "Revival Fire," which can be seen at THIS LOCATION
The video for "Revival Fire" – a two-minute blast of energy with inspirational lyrics about self-improvement and empowerment – was filmed at France's largest annual metal festival, Hellfest, where STINKY earned extensive praise for their visceral performance. The track aptly represents the melodic aggression captured on "Of Lost Things," the band's M-Theory Audio debut.
"Of Lost Things" was recorded in part by Fabien Guilloteau (Hacride, The Necromancers) and features cover artwork by Emy Rojas (Clutch, Ministry, Queens of the Stone Age). The album – which will be available digitally, as a CD digipak and on limited-edition orange splatter vinyl – can be pre-ordered RIGHT HERE
Since their formation a decade ago, STINKY has played more than 350 concerts across 15 different countries in support of their first two albums, 2015's "Against Wind and Tide" and 2017's "From Dead-End Street." Along the way, the group has shared the stage with the likes of Sick Of It All, Terror, Walls of Jericho and Millencolin.
While the band's name might seem curious to some, STINKY's music unquestionably passes the smell test. Influenced by the likes of Comeback Kid, Bane and Miles Away, the music is a perfect blend of melodic punk/hardcore with a metal edge. The band capably fuses melody with an affinity for violence, making the music's quintet a combustible mix of energy and aggression.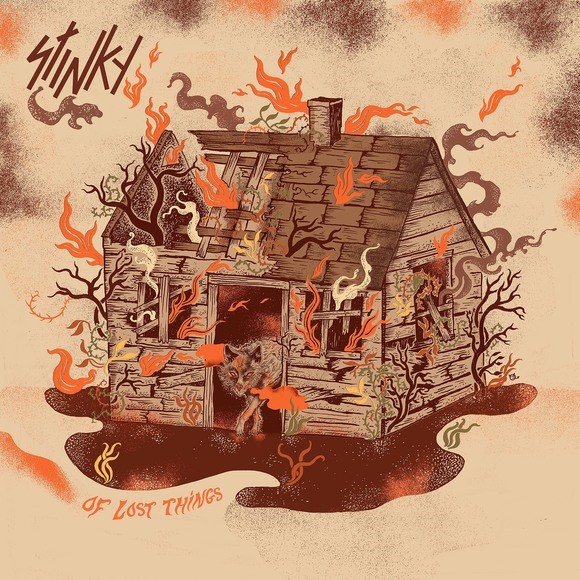 STINKY will perform live tonight at the Amarok Metal Fest in their home country. The band will make their live debut in Japan in April.

  STINKY live: 28/02/2020 – AMAROK FESTIVAL (AIGREFEUILLE-SUR-MAINE – 44) 14/03/2020 – LIEVIN METAL FEST (LIEVIN – 62) w/ KNUCKLEDUST 08/04/2020 – HATSUDAI WALL (TOKYO – JAPAN) 10/04/2020 – TSURUMAI DAYTRIP (NAGOYA – JAPAN) 11/04/2020 – BASS ON TOP – (OSAKA – JAPAN) 12/04/2020 – HATSUDAI WALL – (TOKYO – JAPAN) 30/04/2020 – WAREHOUSE – WARM-UP HELLFEST (NANTES – 44) w/ RISE OF THE NORTHSTAR 04/07/2020 – PLANE'R FEST (LYON – 69) 18/07/2020 – FESTIVAL LA GUERRE DU SON (LANDRESSE – 25) 07/08/2020 – POETFEST – (SAINT-SAUVEUR-EN-PUISAYE – 89) 15/08/2020 – FESTI'MAP (PERIGUEUX – 24) 28/08/2020 – USELESS FEST (LA FLECHE – 72) 29/08/2020 – GRAVEYARD FEST 3 (RIORGES – 42) 26/09/2020 – FESTIVAL POSE TES S'MELLES (SAINT-MARS-LA-REORTHE – 85)  
STINKY are:
Claire – Vocals I
Seb – Guitar I
Titouan – Guitar I
Antoine – Bass I
Paul – Drums
For more info visit:
www.facebook.com/stinkyhc
www.instagram/Stinky_hc
www.m-theoryaudio.com