Dublin's Pillow Queens are getting set to release their sophomore album Leave The Light On, their first release on Royal Mountain Records (Wild Pink, Alvvays, US Girls), which is due out on April 1st, and today the band are sharing the album's final pre-release single, a track called "No Good Woman." 
Preceded by the singles "Hearts & Minds" and "Be By Your Side", which have seen praise from outlets like The Guardian, NPR, Stereogum, Consequence, BrooklynVegan, Uproxx, DIY
and Clash who described "Hearts & Minds" as "Pillow Queens at their most out-going," the single arrives at an exciting moment for the band who are about to make their debut on American shores. Their first shows will take place at SXSW (full details can be found below), before they trace their way across the continent, with their New York debut at Mercury Lounge recently selling out over a month in advance.

This song is one which is very narrative based, though not in a linear way. It's written more from the perspective of someone looking upon the scenarios of those around them," explains singer Pam Connolly. "It tries to convey a perpetual hopelessness of debt and striving for an ideal that can never be achieved. It's pretty much a song about Sisyphus."


In support of the album the band will play a sold-out run of shows in Ireland, followed by their first ever US tour dates (including SXSW), as well as their biggest ever UK tour dates in May.
PILLOW QUEENS TOUR DATES

View all international tour dates here

March 9th – Kilkenny, Ireland @ Set Theatre (Sold out)
March 10th – Galway, Ireland @ Roisin Dubh (Sold out)
March 11th – Dublin, Ireland @ Button Factory (Sold out)
March 12th – Dublin, Ireland @ Button Factory (Sold out)

March 14th – SXSW
March 15th – SXSW
March 16th – SXSW
March 17th – SXSW
March 18th – SXSW
March 19th – SXSW

March 23rd – Santa Ana, CA @ Constellation Room
March 24th – Los Angeles, CA @ Moroccan Lounge
March 25th – San Francisco, CA @ The Chapel SF
March 27th – Seattle, WA @ Clock-out Lounge
March 29th – Vancouver, BC @ Wise Hall
March 30th – Portland, OR @ Mississippi Studios
April 1st – Salt Lake City, UT @ Kilby Court
April 2nd – Denver, CO @ Hi-Dive
April 4th – Omaha, NE @ Slowdown Jr.
April 6th – Saint Paul, MN @ Turf Club
April 7th – Chicago, IL @ Empty Bottle
April 9th – Toronto, ON @ Horseshoe Tavern
April 11th – Washington, DC @ Songbyrd
April 12th – Philadelphia, PA @ Johnny Brenda's
April 14th – New York, NY @ The Mercury Lounge
April 15th – Boston, MA @ Brighton Music Hall

May 3rd – Leeds, UK @ Brudenell Social Club
May 5th – Manchester, UK @ Gorilla
May 6th – Glasgow, Scotland @ Stereo
May 7th – Newcastle, UK @ Cluny
May 10th – Brighton, UK @ Chalk
May 11th – London, UK @ Scala
May 12th – Birmingham, UK @ The Castle and Falcon
May 13th – Bristol, UK @ Thekla

June 12th  Berlin, Germany @ Tempelhof Festival
July 2nd –  Gdynia, Poland @ Open'er Festival
October 1st – Dublin, Ireland @ Vicar St.
October 2nd – Dublin, Ireland @ Vicar St.
October 7th – Limerick, Ireland @ Dolan's
October 8th – Cork, Ireland @ Cyprus Avenue
October 14th – Belfast, Ireland @ The Empire
October 15th – Galway, Ireland @ The Roisin Dubh
October 16th – Galway, Ireland @ The Roisin Dubh
October 20th – Kilkenny, Ireland @ The Set Theatre
Pillow Queens are:
Pamela Connolly – Vocals, guitar, bass
Sarah Corcoran – Vocals, guitar, bass
Rachel Lyons – Drums, vocals
Cathy McGuinness – Lead guitar, vocals
When Pillow Queens set about recording their second album, before, after and during, great spaces were opening. The pauses in living and connection were profound. And so, they went two places: within, and towards each other. 
 
Leave The Light On is an exploration of the uncertainty of emotions as they are in process, and an intuitive outpouring of ideas as they form. It's about being intimately honest with yourself, and as a band. It's about trusting that this state of vulnerability can be held as it emerges, by you, by us.
 
What do queer dream blues sound like? More importantly, what do they feel like? Leaving home at night, driving through the black back roads until the tungsten light starts to glow. "Uaigneas an chaldaigh", the Irish sense of loneliness experienced on the shore. The confusion and discombobulation of waking and feeling unfamiliar. The liminal space between dreaming and being conscious. The unmooring that happens when a sense of self is being explored and sometimes slipping away.
 
But gravitating towards the unknown and the ambiguous can often yield the kinds of sounds and feelings that provide creative certainty, where the art is coming to you, as much as you going to it. Leave The Light On fills vast new sonic plains for Pillow Queens. It's an album that encourages duality; to be soft and hard, delicate, and muscular, intimate and anthemic, alone and together. Collaborating on lyrics, a shared emotional experience fills these songs of hope and home, insecurity and estrangement, songs that track time passing and a sense of reflection grows deeper every day.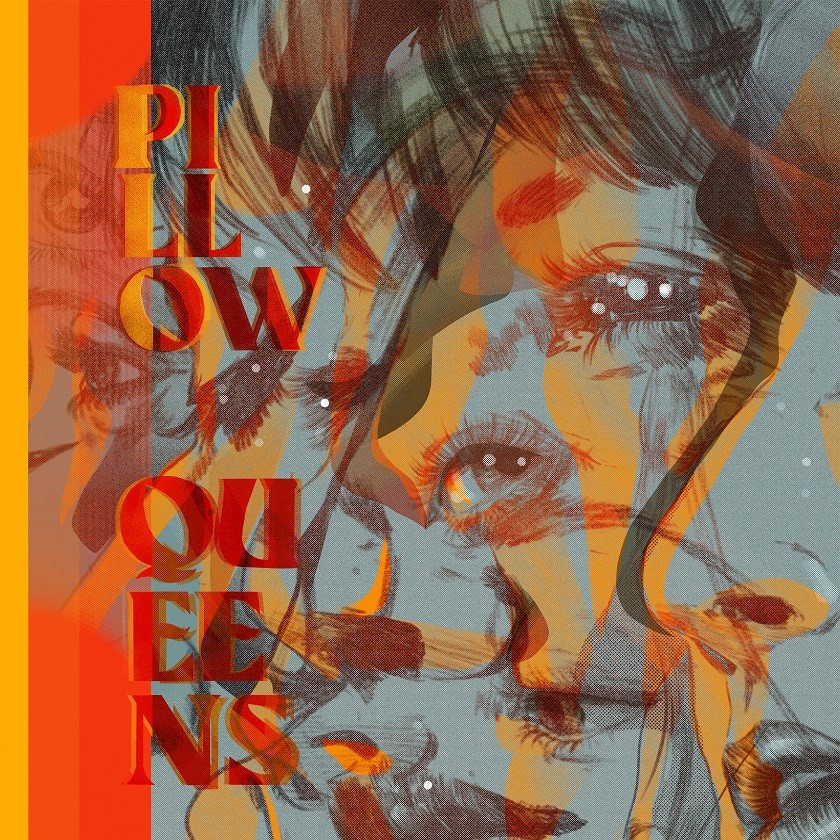 Pillow Queens – Leave The Light On album tracklist

1. Be By Your Side
2. The Wedding Band
3. Hearts & Minds
4. House That Sailed Away
5. Delivered
6. Well Kept Wife
7. No Good Woman
8. Historian
9. My Body Moves
10. Try Try Try
When real movement is stillness, when to be stationary feels transitionary, and when the most vital journey in life is to go within, then it's time to leave the light on, and open up.
Leave The Light On is due out April 1st on Royal Mountain Records.