Cheeky humour to their long tall stories of crime of passion in the corn fields. Steering away from the casual misogyny that often creeps into such topics, their gun totin' killers are just as often female, such as the tragic Miss Mary, the anti-heroine of a sinister country number with a generous lashing of klezmer-style gypsy folk.
Replacing its older sibling the double bass, the higher pitched cello makes an unusual addition to its stringed cousins. Rather than played seated in the conventional way, it was held up to the hips, wielded bass guitar style, and swung around with an impressive feat of strength and stamina. Although mainly plucked and strummed, the bow did come out for Deep When The River's High although it still never touched the ground.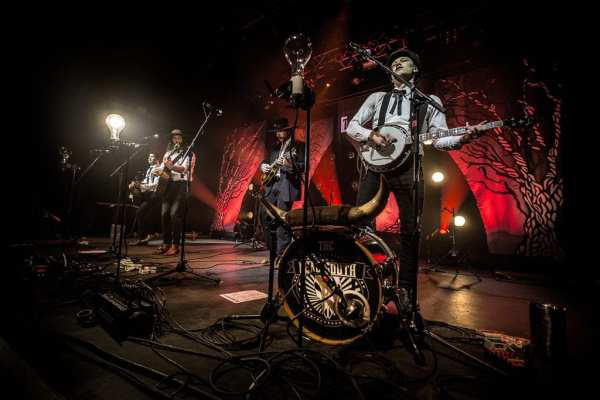 While the lyrics may play to the standard liquor, sex, drugs and guns themes, the instrumentation and arrangements bring the originality, felt to full effect in That Bastard Son, with a jangly and annoyingly catchy mandolin backline giving way to a lamented chorus sung by the entire venue, and culminating in wild stamping, thrashy strumming and head banging under the strobe lights. For In Hell I'll Be in Good Company, the musical accompaniment was left to cello and banjo, as Nate and Scott led the dancing with a nice bit of heel-toe and finger clinking.
The inevitable encore gave us a tambourine-slapping tale of cousin love and banjo trills, the appropriately titled Banjo Odyssey. Relentlessly thrashing the living hell out of their instruments, the night closed with Travellin' Man, a hollering ditty with more than a touch of raucous Irish folk-punk amongst the bluegrass.
Breathing their whiskey soaked fumes back into bluegrass, The Dead South capture the very essence of folk music – three-minute stories of love, loss and alienation played with passion and a stomping great beat, that lend themselves to collective clapping, singing and dancing.
[youtube https://www.youtube.com/watch?v=liKWdUvp_cE&w=560&h=315]
THE DEAD SOUTH played a sold out show at Kentish Town O2 Forum on 15/02/2019
Words: copyright Sarah Corbett-Batson
Photo: Carl Byron Batson
Article previously featured in Trebuchet Magazine