The rising Nashville duo are one of the most anticipated acts at C2C: Country to Country at the O2 Arena next month
Nashville-based duo Haley & Michaels (Shannon Haley and Ryan Michaels) have confirmed their first UK radio single as the fan favourite 'Drinking About You' from debut full-length album Hail Mary, released last year, and have just announced an additional C2C performance at the O2 Arena, an intimate acoustic set as part of the Country Hits Radio Sessions on Sunday 15th March. Stream/download 'Drinking About You' on Spotify / Apple Music / Amazon.
Co-written by the duo with Jeff Cohen – known for his work with The Shires, Sugarland and more – and Zach Abend (Chris Lane, Filmore), the single has already been featured as a Country Champion by Baylen Leonard last month; and has gained over two million streams on Spotify, featured on major playlists such as New Music Friday, New Boots and Wild Country; with Rolling Stone pointing to the duo's "penchant for introspective lyrics and arena-rock-inspired production".
In their own words, Haley & Michaels said: "Drinking About You" really defines our sound and who we are as artists and songwriters. We really wanted to capture both perspectives in a relationship in a way that highlights the raw honesty of country songs and also incorporates all of our musical influences in Country, Pop and Rock N' Roll. We're really excited to have this song as our first release in the UK!"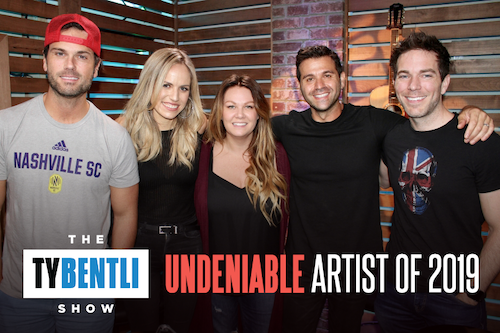 ABOUT HALEY & MICHAELS:
Named one of Rolling Stone's "Artists You Need to Know" and featured as an "Undeniable Artist of 2019" by UK & US national radio personality Ty Bentli, Nashville-based country duo Haley & Michaels are known for their strong, blended vocal harmonies and their relatable lyrics. Capturing the vision of both Shannon Haley and Ryan Michaels, they sharpen a fresh, arena-size sound and embody what it means to be a pure duo on stage and off. 
Introduced by a mutual friend in Nashville, the two musicians unassumingly met up for coffee and bonded over their lifelong passions for country music, discovering that they grew up just three miles apart from one another. Carving out a style of their own, the pair breathed new life into country with stadium size spark and powerful pop palatability, striking a chord immediately with audiences everywhere.
Following their emergence with the breakout single "Giving It All (To You)," the independent pair has generated over 40 million online streams in addition to landing on marquee Spotify playlists such as New Music Friday, New Boots and Wild Country. Along the way, they have performed three times on NBC's "TODAY", earning a fan in Hoda Kotb, and have shared the stage with the likes of Entertainer Of The Year Jason Aldean, Dan + Shay, Sam Hunt, Chris Young and Old Dominion.
After signing to Sony/ATV's label imprint, Hickory Records, they dove headfirst into creating their first full-length studio album, titled "Hail Mary". Following the title track's original debut in the Netflix film Walk. Ride. Rodeo, the song was picked up by the duo's hometown San Francisco 49ers with a music video directed and produced by the team leading to a Monday Night Football halftime performance in October at Levi's Stadium.
The duo finished 2019 as the most added country artists on Billboard and they are on the rise with recent features in TIME, The New York Times, Washington Post and USA Today and are excited to release their new single "Drinking About You" in the US and UK in the first part of 2020.
For more information on Haley & Michaels, visit www.haleyandmichaels.com or follow them @haleynmichaels on Twitter, Facebook.com/HaleyandMichaels and @haleyandmichaels on Instagram.