There is an urgency to the music of No Nations that is as hard to define as the band itself. The Boston sextet, a group of dudes who have spent most of their lives on stage, in the van, and out in the crowd, were, like most of us, caught standing still during the pandemic.
The tension of that inactivity has manifested itself into a pair of debut tracks – this past December's "Seltzer," and the forthcoming "Queso," set for release on Friday, January 21. Both songs make up No Nations' debut cassette, self-released and recorded and mastered with Chris Johnson (Deafheaven, Doomriders) at Mad Oak Studios in Allston, Massachusetts.    
Where "Seltzer" was a post-hardcore/grunge punch to the face that declared their arrival, "Queso" is a warmer embrace to help us back up, a more melodic turn of shoegaze, dream-rock, and alt-indie, that already shows a varied layer to the band's sonic spectrum.  
No Nations take their moniker from a political idea that can apply to music as well: Taking down power structures that assert dominance of some more than others, and removing borders and boundary lines from everything we do as people and a society. For No Nations, that ideology is furthered in its sound, its vision, and its own ideology within the group. 
Conceived by Wormwood, many of the players in No Nations have played together in past bands, with a musical DNA that runs deep in the Boston and New England music scene, extending to the likes of I am become Death, Suffer on Acid, Kimachi, Cocked N Loaded, Polarbaron, The Vershok, Mean Creek, Marconi, and countless others you saw that one time at that venue somewhere. The lineup reads like the mugshots displayed in their press photo: Wormwood and Neeson are joined by Garrett Gordon (bass), Jason Perry (guitar and synth), Jason Seaver (drums), and Steve Trombley (guitar). 
No Nations are:
Erik Wormwood: Guitar
Garrett Gordon:  Bass
Jason Seaver: Drums
Kyle Neeson: Vocals
Steve Trombley: Guitar
Jason Perry: Guitar and Synth
"Queso" was born out of drum compositions Seaver sent Wormwood during the height of pandemic quarantine in 2020, and Wormwood fleshed them out into demos, a process repeated often for No Nations songs.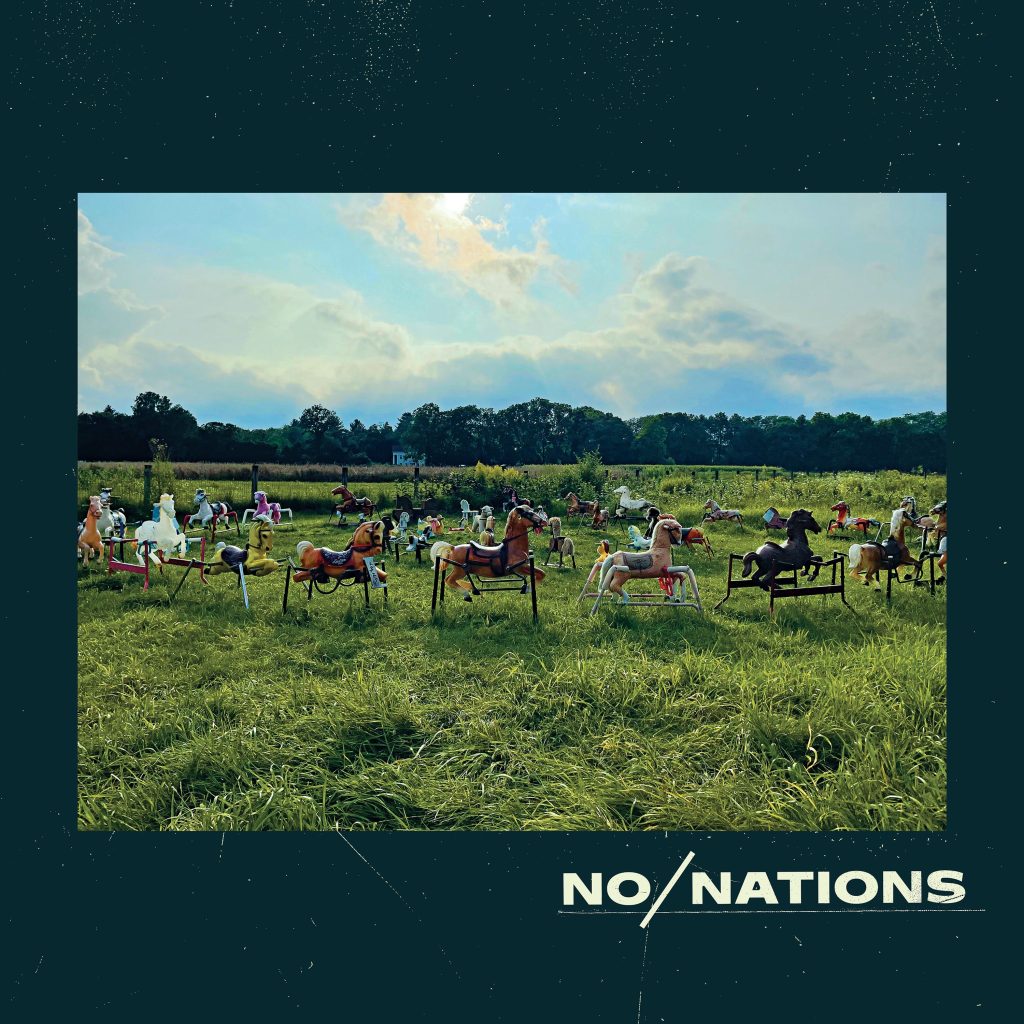 Wormwood worked with the band on the ending melody, and crafted the closing lyric "after talking to an old friend who was feeling kinda fucked up about the state of the world, and how hard stuff could feel sometimes. Everyone felt and seemed more anxious, myself included, around that time."
That anxiousness hasn't really gone away, it's just been replaced by a different flavor of anxiety. Two years into the pandemic, No Nations are starting to show their own colors, and their musical reactions to life standing still. As "Queso" flows out of the speakers, the frustrated emotions of a band only able to do half the things they want to – write and record songs, but unable to play them in a live setting – are embedded in the sound.
In the meantime, plans to head back into the studio to record more music with Johnson are coming up. From there, it's anyone's guess.