Chart-topping, platinum-selling recording artist and current Best New Artist of the Year (all-genre) GRAMMY nominee Jimmie Allen's dynamic album Bettie James Gold Edition will be available to purchase on CD from 21 January, 2022, and is now available to pre-order here.
Released to stream/download earlier this year, the 16-track album doubles down on Allen's expansive love for music across genres, with nine collaborations in addition to the seven previously featured on his critically acclaimed July 2020 project Bettie James, named in homage to Allen's late father, James Allen, and late grandmother, Bettie Snead.
Featured artists on Bettie James Gold Edition include Nelly, Keith Urban, Babyface, BRELAND, Keith Urban, LANCO, Mickey Guyton, Lindsay Ell, Little Big Town, Monica, Darius Rucker, Charley Pride, Noah Cyrus, Tim McGraw Pitbull, teamwork. and Vikina.
The album includes the current US Top 10 chart-climbing single with Brad Paisley, 'Freedom Was a Highway,' which Allen performed on The Late Late Show With James Corden.
The physical release of Bettie James Gold Edition in 2022 will follow a monumental 2021 for Allen, which saw him publish his first children's book My Voice Is a Trumpet, take home the trophy for New Male Artist of the Year at the 56th Academy of Country Music Awards and New Artist of the Year at the 55th Annual CMA Awards, receive his first GRAMMY nomination, hit the road with country superstar Brad Paisley, serve as Executive Music Producer for the Netflix series Titletown High, perform at the Kennedy Center Honors in tribute to Garth Brooks, appear on Elton John's newest album The Lockdown Sessions with the track 'Beauty In The Bones,' and make it to the quarterfinals on Dancing with the Stars (US), among other professional highlights.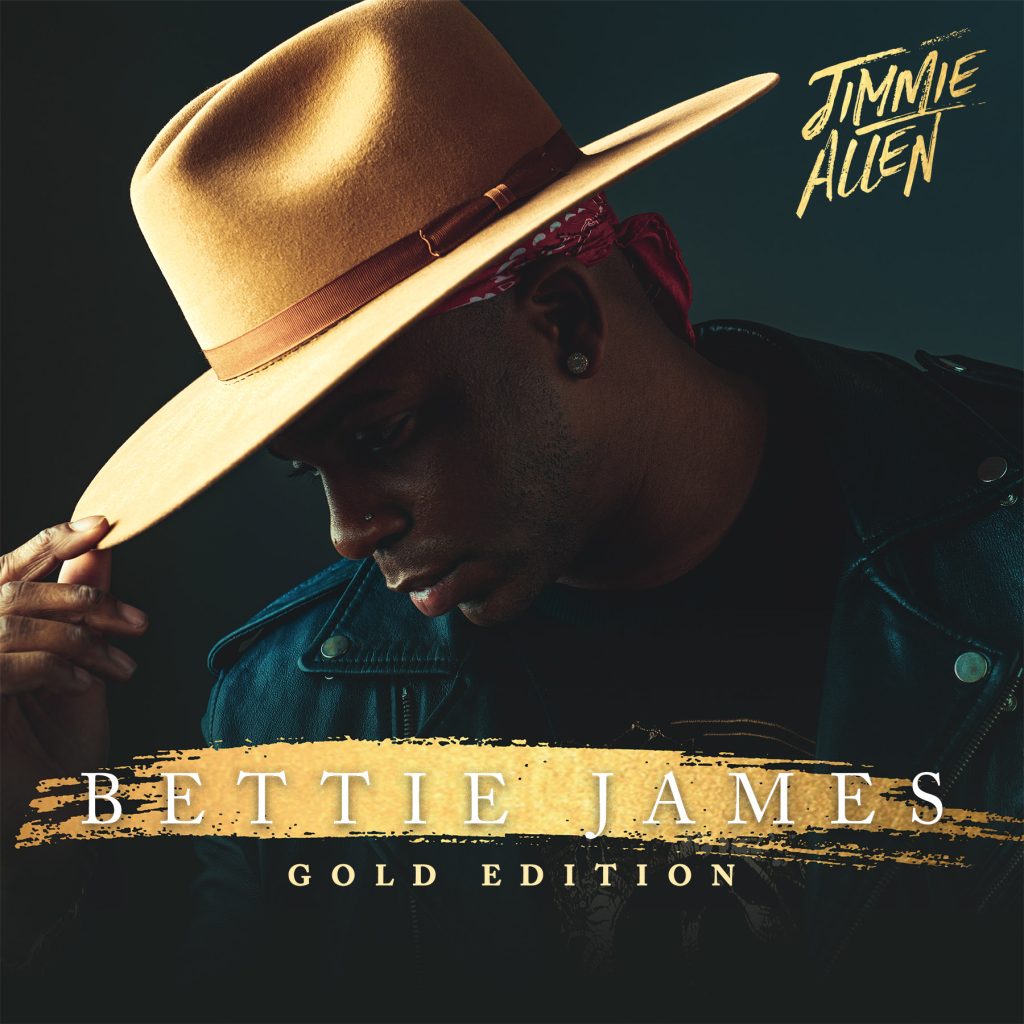 Bettie James Gold Edition Track List:

1.     "Get Country" – Jimmie Allen, LOCASH
2.     "Home Sweet Hometown" – Jimmie Allen, LANCO
3.     "Flavor (feat. Vikina)" – Jimmie Allen, Pitbull, teamwork.
4.     "Somebody" – Jimmie Allen, BRELAND, Lathan Warlick
5.     "Pray" – Jimmie Allen, Monica, Little Big Town
6.     "Boy Gets A Truck" – Jimmie Allen, Keith Urban
7.     "Livin' Man" – Jimmie Allen, Neon Union
8.     "Tequila Talkin'" – Jimmie Allen, Lindsay Ell, teamwork.
9.     "Forever" – Jimmie Allen, Babyface
10.  "Good Times Roll" – Jimmie Allen, Nelly
11.  "Drunk & I Miss You" – Jimmie Allen, Mickey Guyton
12.  "Made For These" – Jimmie Allen, Tim McGraw
13.  "Freedom Was A Highway" – Jimmie Allen, Brad Paisley
14.  "Why Things Happen" – Jimmie Allen, Darius Rucker, Charley Pride
15.  "When This Is Over (feat. The Oak Ridge Boys)" – Jimmie Allen, Tauren Wells, Rita Wilson
16.  "This Is Us" – Jimmie Allen, Noah Cyrus
Allen was featured on BBC Radio Two and BBC Four's CMA Country Christmas on the 23rd and 24th December and celebrated Christmas from one of his favorite places – Walt Disney World Resort – where he performed his rendition of 'White Christmas' for the beloved Disney Parks Magical Christmas Day Parade.