AUSTERE have signed a multi-album deal with Lupus Lounge. The veteran depressive black metal duo from Wollongong in Australia's east coast state New South Wales is ending a more than a decade-long dormancy to release their third full-length album in 2022. Lupus Lounge will also reissue their much sought-after catalogue of past cult recordings as an essential anthology.
AUSTERE arose from an existing solo-project of multi-instrumentalist and singer Desolate alias Mitchell Keepin who joined forces with drummer, keyboarder, and vocalist Sorrow aka Tim Yatras in 2005. From the onset, the Australians started to explore their own path into a dark emotional sub-genre of harsh music that is often dubbed as depressive black metal, which had been originated by such bands as the Norwegians STRID and SILENCER as well as SHINING from Sweden. 
Signature frost-bitten guitars, along with high-pitched screams and wails mark AUSTERE's debut album "Withering Illusions and Desolation" (2007). Those elements remain staples of the band via two well-regarded split-releases "Only the Wind Remembers / Ending the Circle of Life" (with LYRINX, 2008) and "Bleak…" (with ISOLATION, 2008) – AUSTERE's part on the latter was reissued on the EP "Only the Wind Remembers" (2008). In 2009, their sophomore album "To Lay like Old Ashes" (2009) witnessed AUSTERE refining the production while keeping the sound organic and raw, and adding more melancholic moments and melodies.
Although the Australians had quickly attracted an equally loyal and substantial following during their first few years, AUSTERE decided to go on hiatus before resuming activities in 2021.
AUSTERE will unveil their long-awaited third full-length album via the label in 2022.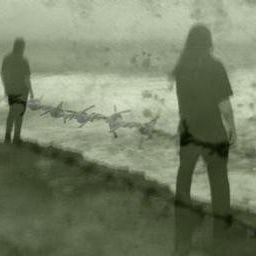 Line-up
Mitchell 'Desolate' Keepin – guitars, bass, keyboards, vocals
Tim 'Sorrow' Yatras – drums, keyboards, vocals