The CMA Foundation, the philanthropic arm of the Country Music Association, welcomes Curb Records recording artist Filmore as the non-profit's newest Artist Ambassador, further expanding its support and advocation for equitable music education opportunities across the U.S. Filmore took over CMA's Instagram on Wednesday, 15 Dec to discuss becoming a CMA Foundation Artist Ambassador, his personal connection to music education, and what he has coming up in 2022.
As a CMA Foundation Artist Ambassador, Filmore will participate in various events and initiatives that enhance the CMA Foundation's mission of ensuring this generation's access to equitable music education opportunities. Filmore will also lead a focus group with Nashville-based Music Teacher of Excellence recipients to discuss the program, their experiences attending "The 55th Annual CMA Awards" and being recognised on live television during the broadcast.
Filmore joins the CMA Foundation's Artist Ambassador group alongside Lauren Alaina, Jimmie Allen, Russell Dickerson, Lindsay Ell, Maddie & Tae, Ashley McBryde, Caitlyn Smith, Tenille Townes and Charlie Worsham who have all supported music education initiatives in ways that are unique and personal to them.
Since its inception in 2011, the CMA Foundation has been committed to improving and sustaining music programs throughout the U.S. so all students have equitable opportunities to participate in a high-quality music education. The non-profit, which is in the midst of celebrating its 10th anniversary this year, believes music and the arts are part of a well-rounded education. During this time, the CMA Foundation has observed why music programs are not thriving, seeing first-hand the challenges educators are facing and, most importantly, the systemic issues that must be addressed in order for every child to have access to music. Committed to its vision, the CMA Foundation is working directly with school districts to identify needs, understand their challenges, build community support and develop local and national resources from partners as part of the non-profit's systems change model.  
The CMA Foundation will continue to provide unique opportunities and support for music teachers and students as more Artist Ambassadors are announced next year.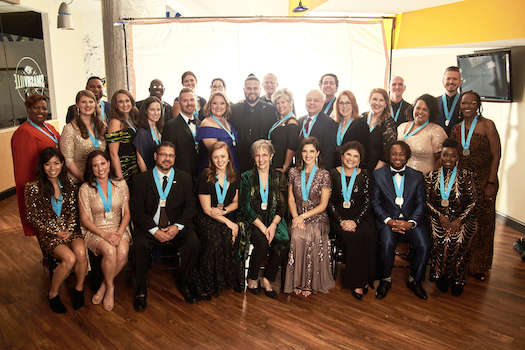 About the CMA Foundation  – Established in 2011 as the philanthropic arm of the Country Music Association (CMA), the CMA Foundation is committed to improving and sustaining high-quality music education programs across the United States, working to ensure every child has the opportunity to participate in music. Through strategic partnerships, professional development and grant distribution, the CMA Foundation, a nonprofit 501(c)(3), invests various resources across the national public school system, after school programs, summer camps and community outreach organizations.   
About Filmore – "Groundbreaking" is just one word that can begin to describe Curb Records recording artist Filmore, a Wildwood, MO native, who now calls Nashville home. With over 193 million on-demand streams, appearances on NBC's "TODAY" and The Bobby Bones Show, the singer/songwriter has honed his electric and engaging live show by opening for artists such as Sam Hunt, Blake Shelton, Carrie Underwood, Dan + Shay, Lauren Alaina, Brett Young, Chase Rice, Walker Hayes, and Pitbull; and has rocked performances at Stagecoach, Watershed, CMA Fest and Country Thunder. Song releases like "Slower," "Love That About You," and "Other Girl" are resonating with fans thanks to unprecedented streaming boosts, as prior to being signed, Filmore was the first independent artist to be featured on Spotify's Hot Country cover. Filmore's current radio single, "Who Cares," is from his album, State I'm In.