One of the new songs on SERIOUS BLACK's upcoming studio album, Vengeance Is Mine, is called "Album Of Our Life" and hits the nail on the head in several respects.
On the one hand, the melodic metal act surrounding bassist and founder Mario Lochert has succeeded in creating what is probably the most powerful and imaginative work of its career so far, with razor-sharp guitar riffs, grooving rhythms and anthemic melodies. On the other hand, the album's lyrics venture into territories previously uncharted by the band.
Vengeance Is Mine is slated for a release on February 25, 2022 through AFM Records, it will also mark the debut of SERIOUS BLACK's new vocalist Nikola Mijic. With his powerful voice and expressive timbre, guitarist Dominik Sebastian's rapid riffs and hooks, drummer Ramy Ali's driving grooves and bassist Mario Lochert's diverse songwriting, Vengeance Is Mine has turned into a prime example of a deeply melodic yet dynamic metal album! 
But give ear, after previously released songs such as "The Story" or the blistering "Rock With Us Tonight", today SERIOUS BLACK has unleashed a brand new lyric video for their third, enthralling album single, "Senso Della Vita"! Says band mastermind Lochert:
"It's only 3 months left until the release of our new album "Vengeance Is Mine".
On this album we let you look deep inside our private lifes. For us it was a big step which required us courage and overcoming and led to crossing of various principles.
"Senso Della Vita" – the meaning of life – tells of a daily situation that almost everyone has to deal with. EVERYBODY has to be the best – always. On instagram, facebook and other channels you need to present yourself as the biggest, the most beautiful, the pick of the bunch. Who is not fitting to that picture will be stamped. Just the surface is important, not one's character. Some even hide and disclaim other people, friends, family because of being ashamed for them and they don't fit into their picture and life."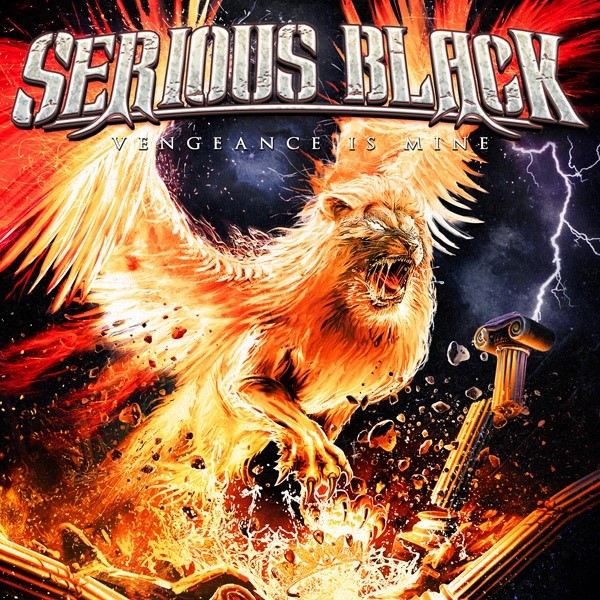 Album Tracklist:
01 – Rock With Us Tonight
02 – Out Of The Ashes
03 – Fallen Hero
04 – Senso Della Vita
05 – Ray Of Light
06 – Soul Divider
07 – Tonight I'm Ready To Fight
08 – Just For You
09 – Soldiers Of Eternal Light
10 – The Story
11 – Queen Of Lies
12 – Album Of Our Life
13 – Alea Iacta Est
Vengenance Is Mine was produced and mixed by Lochert at his SERIOUS BLACK Studio in Kirchseeon. The guitars were recorded by Dominik Sebastian at his own studio and all orchestral arrangements and keyboards were cut by Bob Katsionis in Greece. SERIOUS BLACK enlisted singer Anna Likunic from Belgrade for the anthemnic background vocals. Mika Jussila (Avantasia, Stratovarius, Nightwish) was in charge of the first mastering sessions at the renowned Finnvox Studios in Helsinki, before the recordings were polished by Konst Fischer during a second, innovative mastering process to optimise the sound. Lochert adds: "This time we really pulled out all the stops to get the optimum result. And I think our efforts have really paid off!" 
Furthermore, SERIOUS BLACK has announced an extensive tour schedule for 2022 with many more shows to follow soon, check out their tour trailer and make sure to catch the band live at the following dates!
26.01.22 ( HU ) BUDAPEST – DÜRER KERT
27.01.22 ( AT ) SALZBURG – ROCKHOUSE *
28.01.22  (DE ) SELB – ROCKCLUB *
29.01.22 ( DE ) STUTTGART – CLUB ZENTRAL *
30.01.22 ( DE ) SAARBRÜCKEN – GARAGE *
31.01.22 ( CH ) PRATTELN – Z 7 *
01.02.22  ( FR ) PARIS – LE CIRQUE ELECTRIQUE*
02.02.22 ( BE ) BILZEN – SOUTH OF HEAVEN *
03.02.22 ( DE ) BREMEN – TIVOLI *
04.02.22 ( NL ) TILBURG – LITTLE DEVIL **
05.02.22 ( DE ) MONHEIM AM RHEIN – AULA AM BERLINER RING **
06.02.22 ( DE ) BOCHUM – MATRIX / ROCKPALAST **
07.02.22 ( DE ) HAMBURG – LOGO**
09.02.22 ( DE ) FRANKFURT – NACHTLEBEN**
10.02.22 ( DE ) BERLIN –  PRIVATCLUB **
11.02.22 ( CZ ) PRAGUE – STORM CLUB **
12.02.22 ( DE ) LEIPZIG – HELLRAISER **
13.02.22 ( DE ) MUNICH – BACKSTAGE**
14.07.22 ( AT ) LEOBEN – AREA 53 FESTIVAL
23.09.22 ( CH ) TENNWIL – ROCKNACHT TENNWIL
w/ Grey Attack, Skeletoon*,  Seven Thorns**
Set to be released on February 25, 2022, the pre-sale of

Vengenance Is Mine

is now available at

THIS LOCATION!