Defying fears of Omicron and Storm Arwen, for those of a certain age the closing night of the Wedding Present's 

Seamonsters

 30 year anniversary tour was always going to be worth the risk to life and limb. 
It was a line-up of three generations, progressing getting older as the night went on. While the punters were still filing into the venue, bright young things singer-songwriter Yvonne MK and guitarist/vocalist Precious took the stage. Self-deprecating and endearing, their set consisted mainly of a varied range of covers but Yvonne's thoughtful self-penned number held its own, demonstrating more maturity and self-awareness than the current chart topper by Adele. Precious's sweet, clear voice complemented Yvonne's rich vocal tones.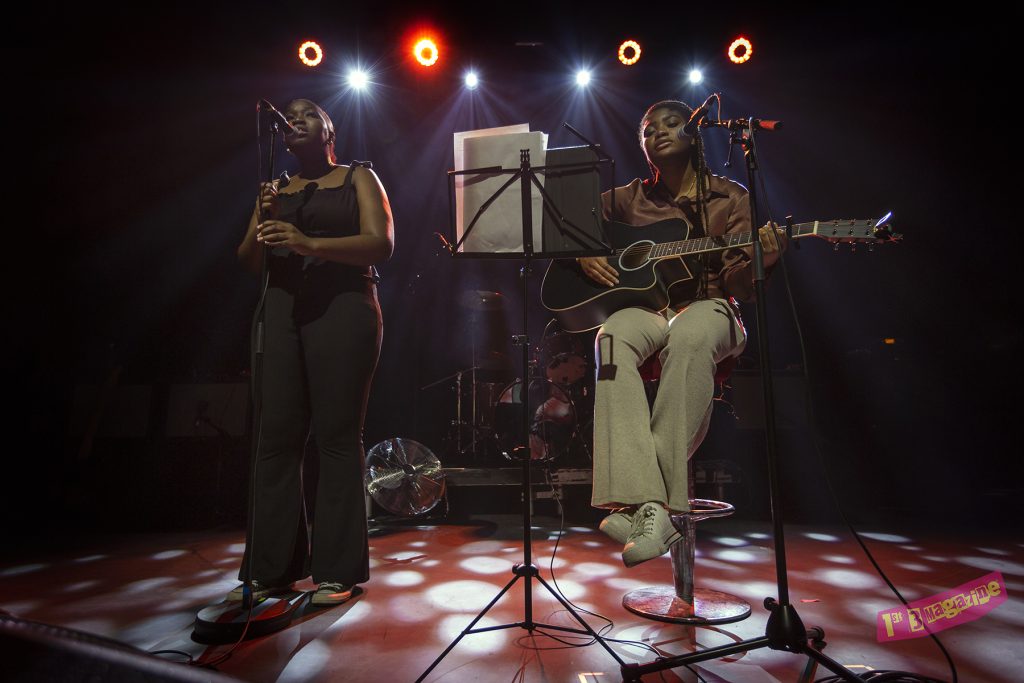 They were followed by Such Small Hands, the side project of Wedding Present bassist, Melanie Howard. Taking the stage alone, sporting a borrowed guitar, and accompanied by a backing track, she played a selection of songs from her album, Carousel.
Seamonsters was never The Wedding Present's most immediate album. While, even in the early days, The Wedding Present guitar and drums was always heavier than many of their peers, Seamonsters saw them go full-on Sonic Youth style, with the fast-paced jangly twangs replaced by a slower, more mature yet relentless wall of sound. Twenty-something fidgety angst became thirty-something misanthropic bleakness. American punk Steve Albini as sound engineer was a brave choice for a band who had traded on their Northern down to earth origins, with conversational lyrics like 'I'm not being funny with you'. Yet in hindsight, it makes sense. Albini, formerly of Big Black and Rapeman, two bands not known for their reticence, brought to the fore the demons within David Gedge and company.
Lyrically, it continued Gedge's trademark themes of domestic drama, betrayal, regret and heartbreak, but amplified the darkness, shifting from unrequited lovelorn young man to disturbed self-loathing obsessive. Thirty years on, this is now the stuff that court orders are made of. Thankfully, Gedge never descended to the ranks of jilted mass murderer, although his stage outfit of a black boiler suit made one question what weaponry was concealed within it, or maybe it was just hiding the consequences of one fancy IPA too many.
His previous jet black mop of hair now unapologetically grey, Gedge now fronts a very different Wedding Present. The other original members have all moved on to other lives, leaving Gedge to find new playmates. Jon Stewart of Sleeper fame, is now on guitar, with the aforementioned Melanie Howard on bass guitar and Nick Wellauer on drums.
Seamonsters was played in full, with no between-songs banter or introductions, allowing for the intensity of the tracks to take effect. Opener Dalliance was tenderly moody, as Gedge mewled, 'I still want to kiss you'. Dare, perhaps the indie version of Baby, It's Cold Outside, showcased his talent for dialogue and three minute story telling. Suck was delicious filth – discordant and perverted. Bass driven Blonde built from self-pitying melancholia to chaotic frustration and back down again, while Rotterdam jangled, chimed and sparkled like the Wedding Present of old. Lovenest and Corduroy were as frenzied as ever, with Gedge wielding his axe like a deranged murderer. The bouncy groove of Carolyn got the crowd moving, then the thrashfest that is Heather ratcheted it up, before the warm intimate stickiness of Octopussy coursed through our veins like a booster jab.
The album done and dusted, Gedge broke the spell and said his pleasantries to the audience before launching into Bizarro's Brassneck, a powerful blast of embittered guitar pop that had spawned an uncomfortable Top of The Pops experience. He implored, 'Just don't forget you ever knew me', but there was no such danger, as even the newer songs, We Interrupt Our Programme and Each Time You Open Your Eyes had a favourable, although more muted reaction. They were interspersed with Blue Eyes, the first of the twelve Hit Parade singles of 1992, a single a month feat that they plan to repeat in 2022.
All very nice so far, but the party really got going with A Million Miles and Anyone Can Make a Mistake from 1987's seminal George Best album. Watery beer went flying as crowd surfers were flung over the barriers and security looked rattled. Everyone settled down as bassist Melanie sang a gentle rendition of Sports Car. Following Deer Caught in the Headlights, the mosh pit sprang back into life with singalong crowd pleaser, Kennedy, a perfect slice of indie goodness. The evening ended with a stalker double header of Bewitched and Crawl.
As we were reminded before the final song, The Wedding Present don't do encores but after a ninety-minute set, there was little cause for complaint. The only slight issue was that the interspersion of faster hits and more gentile lesser known songs meant that the momentum was a bit stop-start. A few more 1980s numbers near the end would have been a perfect finale (you just know that the crowd would have gone crazy for My Favourite Dress or You Should Always Keep in Touch with Your Friends or Everyone Thinks He Looks Daft) but after enjoying a post-lockdown gig like this, you can't moan, can you?
THE WEDDING PRESENT PLAYED KENTISH TOWN FORUM, LONDON – 27/11/2021
Words and photos copyright 1st 3 Magazine
(not to be reproduced without express prior written consent)