Postponed for eighteen months due to the pandemic,

The

Great British Tattoo Show

returned to North London's Alexandra Palace on 23-24th October 2021.
Slightly smaller in scale than previous events, no doubt due to the some of the international artists being unable to make the trip, there was a strong display of predominantly homegrown talent on show. There were a few artistic nods to the pandemic with the odd 'fuck 2020' tattoo to be seen. Mask wearing, however, was conspicuous by its absence.
As ever, there was a mix of seasoned punters flaunting years of inked flesh, and those with virgin skin debating whether to take the needle or just curious to see what it was all about. The majority of tattooists were fully booked both days, limiting options for those who hadn't booked in advance. For those who couldn't make an inky decision, a few stalls had a 'get what you get' lucky dip whereby you can pay and take the chances.
There were also plenty of flash to choose from, although many of those getting inked went with a custom design of their own. For most, tattoos are intensely personal – we spoke to Holly from Nottingham who told us that she 'just really likes potatoes' and proudly sported a potato ghost, alongside her roller derby and Hawaiian Tiki inspired tattoos.
Tattooing is no longer a male preserve, with the gender balance evening out in respect of both artists and attendees. As at the previous show in 2019, blackwork and realism were particularly popular styles. The old school traditional designs were less prevalent this year. For those looking for a delicate touch, one artist offered hand poke dot designs, using a centuries old technique. One relatively new and controversial trend that is increasing in popularity, but not for the fainthearted, is the blackout tattoo, whereby a section of the body is covered in solid black ink.
The close proximity to Halloween meant that stalls were adorned with plenty of skulls, always a tattooing staple, and the free sweets to lure in the punters took on a trick or treat quality, with the bowl of goodies on one stall featuring a motion activated skeleton hand that grabbed the greedy guzzlers.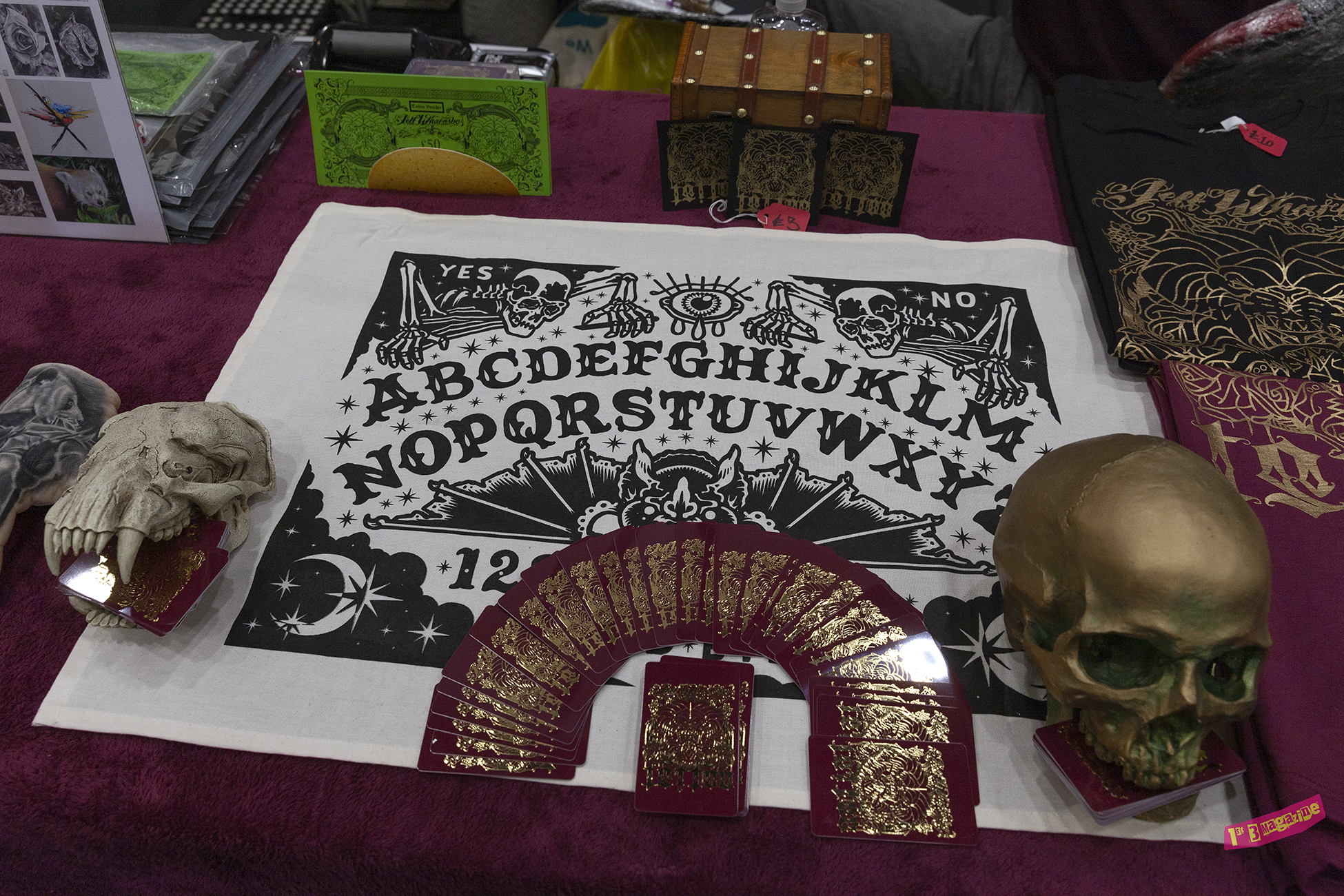 This year all the food stalls and vans were indoors, probably prudent with the timing of the event moving from May to October, and featured plenty of burger choices for both vegans and carnivores. The merch stalls included the usual liquor, taxidermy and tattoo guns, as well as fancy cutthroat razors, high end designer guitars and made-to-order tattoo art gloves and signs.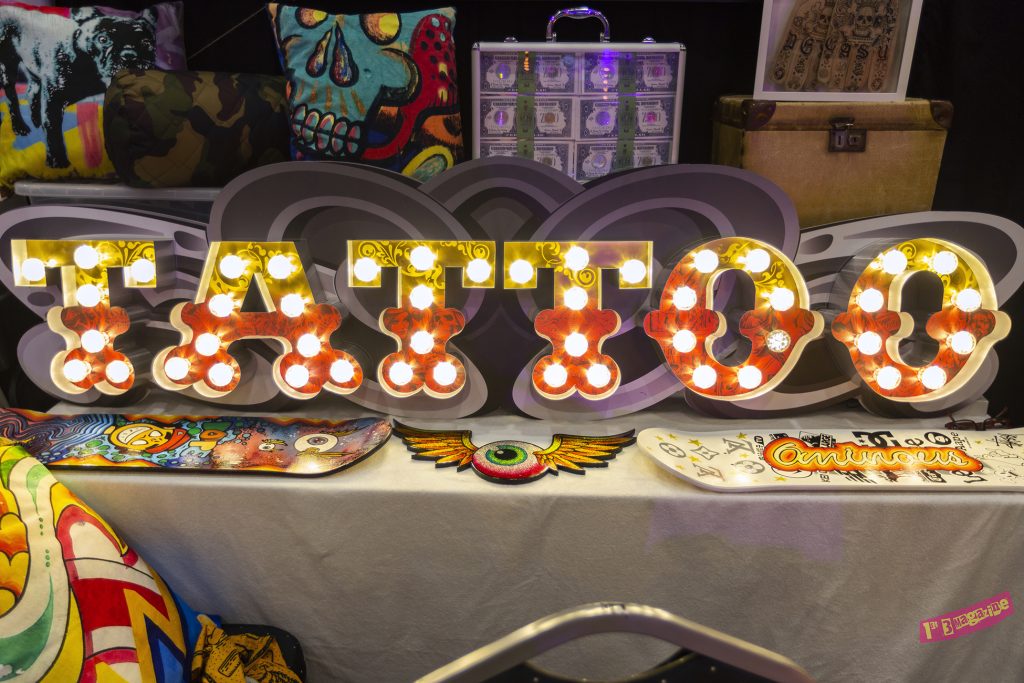 The entertainment was slightly scaled down this year, with no fashion shows. However, the two acts that performed were of an especially high standard, so nobody was complaining. Lady Luck Lexy and the Riverside Boys played two sets a day of toe-tapping rockabilly, combining covers of the likes of Johnny Burnette with some authentic sounding originals.
Later on, tattooed four-piece The Fuel Girls drew the crowds to the stage with an edgy cabaret performance that combined contemporary dance, classical ballet and fire eating.
Overall, the event was welcome escapism from the doom and gloom of the pandemic world. Here's looking forward to The Great British Tattoo Show 14th – 15th May 2022.
Full photo set coming soon….
All images and contents of article copyright of 1st 3 Magazine. Not to be reproduced without prior written permission.