March 13rd 2020 will see Portuguese heavy psych rock unit, EARTH DRIVE, release their sophomore, stellar album titled Helix Nebula via Raging Planet.
The four-piece, who is characterized by a dense, melodic, visceral, cathartic and heavy sound, has created their most ritualistic and meditative record to date. While the power of distortion and loud amps still lead you in front of a massive sound wall, EARTH DRIVE manage to combine all that is heavy with yet spatial effects, catchy hooklines by vocalist Sara Antunes and a hazy, mesmerizing atmosphere. Just recently, the band shared a first appetizer taken from Helix Nebula – join the trip and dive into EARTH DRIVE's brand new single for Dharma Throne HERE!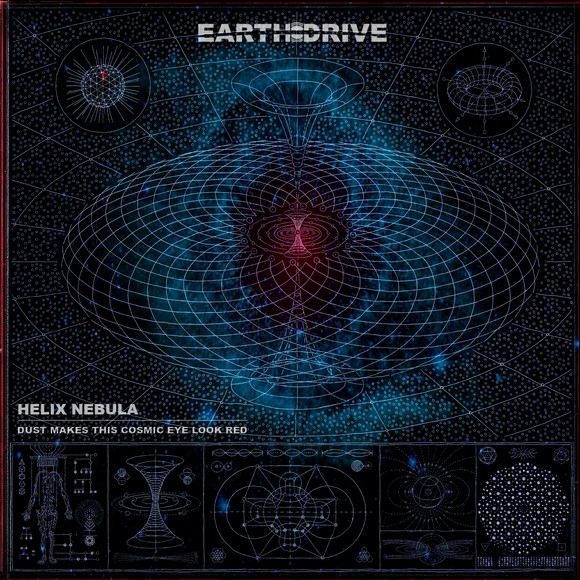 Helix Nebula – Tracklisting:
1. Cosmic Eye
2. Helix Nebula
3. Holy Drone
4. Spectra
5. Axial View
6. Dharma Throne
7. Nagarjuna
8. Anulom Vilom
9. Sciene of Pranayama
10. Amazon
11. Phantalien
12. Space God   EARTH DRIVE, who burst into the underground scene in 2007, left their heavy stamp with a first EP, Planet Mantra, followed by their highly acclaimed debut album, Stellar Drone. In addition to the band's traditional cosmic and psychedelic influences, their new album Helix Nebula explores the potential of raw and powerful tunes with a warm, saturated and ambient sound in a more refined way.
Among numerous festival appearances, EARTH DRIVE have shared the stages with bands alike Sasquatch, Steak, Crippled Black Phoenix, Glowsun, Isaak, Radar Man from the Moon, Planet of Zeus, Spectral Haze, Ecstatic Vision, The Black Wizards and many more to date – but one is sure, with the release of their upcoming album, Helix Nebula, they will be no longer Portugal's best kept heavy psych rock- secret!   Helix Nebula will be available as LP, CD and in Digital formats on March 13rd 2020 via Raging Planet.   For More Info Visit:
www.facebook.com/earthdrivesound
www.earthdrive.bandcamp.com
www.ragingplanet.pt   
EARTH DRIVE is:
Luis Silva – Bass
Sebastião Santos – Drums
Sara Antunes – Vocals
Hermano Marques – Vocals and guitar     PR Contact:
Mona Miluski
ALL NOIR
info@all-noir.com