Germany's revered underground black metal band WALDGEFLÜSTER will release their awaited 6th full-length album, "Dahoam" (English: "Back Home"), on September 24th with their new label AOP Records.
The band has revealed an epic 10+ minute long, blistering post-black metal masterpiece, "Am Tatzlwurm," which features guest vocals by JJ from bands HARAKIRI FOR THE SKY and KARG.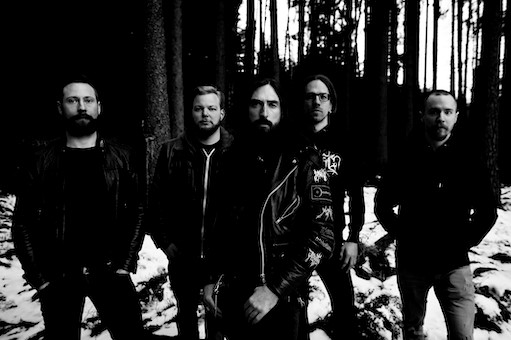 Line-up:
Winterherz – Vocals
Thomas Birkmaier – Drums
Dominik Frank – Guitars
Markus Frey – Guitars
Avagr – Bass
Founded in 2005, WALDGEFLÜSTER (English: Forest Whisperings) has become critically known and beloved by fans for their reflective and engaging topics of nature and humanity that are brought to life with a melancholic and melodic style of atmospheric post-black metal that recalls the likes of Ulver, Panopticon, Wolves in the Throne Room and Falls of Rauros. Originally conceived as a solo project by founding vocalist, multi-instrumentalist Winterherz, the line-up was expanded in 2014 following the release of "Meine Fesseln," with Thomas Birkmaier (drums), Dominik Frank (guitar), Markus Frey (guitar) and Avagr (bass) all contributing to subsequent releases, including a split with Panopticon and lauded albums "Ruinen" and "Mondscheinsonaten."


Over the years WALDGEFLÜSTER has performed shows throughout Europe and the world, including highlights such as the Summer Breeze and Ragnarök Festivals, a festival by Hammerheart Brewing Company in the US and a tour through Europe in Spring 2018 with Angantyr and Ereb Altor.
"Dahoam" Tracklist:
1. A Taglachinger Morgen
2. Im Ebersberger Forst
3. Am Stoa
4. Am Tatzlwurm
5. In da Fuizn
6. Mim Blick aufn Kaiser
7. Am Wendelstoa