Back in the mid-1990s, the London Borough of Camden was the stomping ground of Britpop. This marked the move of indie guitar music from the preserve of lonely, skinny white boys from Northern English towns to a slightly more diverse, though arguably more privileged, selection of participants, notably a sprinkling of female fronted groups, including Elastica, Echobelly, Lush and tonight's Sleeper.
Suddenly indie stopped being shorthand for being signed to an independent label, and become code for a particular brand of catchy guitar pop. Indie kids switched from crying into their beer to drinking it. By the time that the Euros came to London in 1996, and Blair was elected in 1997, Britpop fever was in full lager-swilling swing.
Returning to indie home turf, ('this song was written in Kentish Town, just down the road from here,' said Louise Wener in introduction to one number), there was no popstar attitude from Sleeper. As Louise posed for the cameras, wished a fan happy birthday and applauded the audience, this was a band who were just happy to be on stage and slightly overwhelmed by the positive response from the crowd.
While the heaving masses were predominantly the indie crowd of old, with some digging out the old zip-up tops and Converse one-star sneakers, there was a sizable contingency young enough to be their children who no doubt joined the party on the strength of 2019's The Modern Age album. For most, this was the first post-lockdown gig and they were ready to sing, shout and applaud. The dancing took a while to get going but once Twisted kicked in, it was game on.
The first part of the set consisting of debut album, Smart in full running order. The one downside was that  the two standout tracks, Inbetweener and Delicious, were dispatched far too early. Following a quick break, they played some later hits, mainly from The It Girl, with the set culminating in Blondie cover Atomic, recorded for the Trainspotting soundtrack, curiously mashed-up with Joy Division's Love Will Tear Us Apart, followed by Sale of the Century. By the end, the crowd were euphoric, with the prolonged applause as the band linked arms for a collective bow. Alas, there was no time for an encore as they had to make way for The Bluetones, but nobody could complain after an hour and a half. Louise's voice was as strong, solid and delicately nuanced as ever, with as much energy as a quarter of a century ago. Indeed, it appeared as if time had barely touched her at all.
Sadly, world troubles have remained constant too. Prior to Poor Flying Man, Louise commented that this song about a refugee on a plane desperate to leave their home country had particular resonance given current events in Afghanistan. There were also the inevitable Covid references, with the band obviously rapturous about finally getting to play a tour that had been postponed twice.
As far as The Bluetones went, Expecting to Fly was always a pleasant jangly album with some lovely chord changes, but the issue was that the vocals never quite matched up to the music.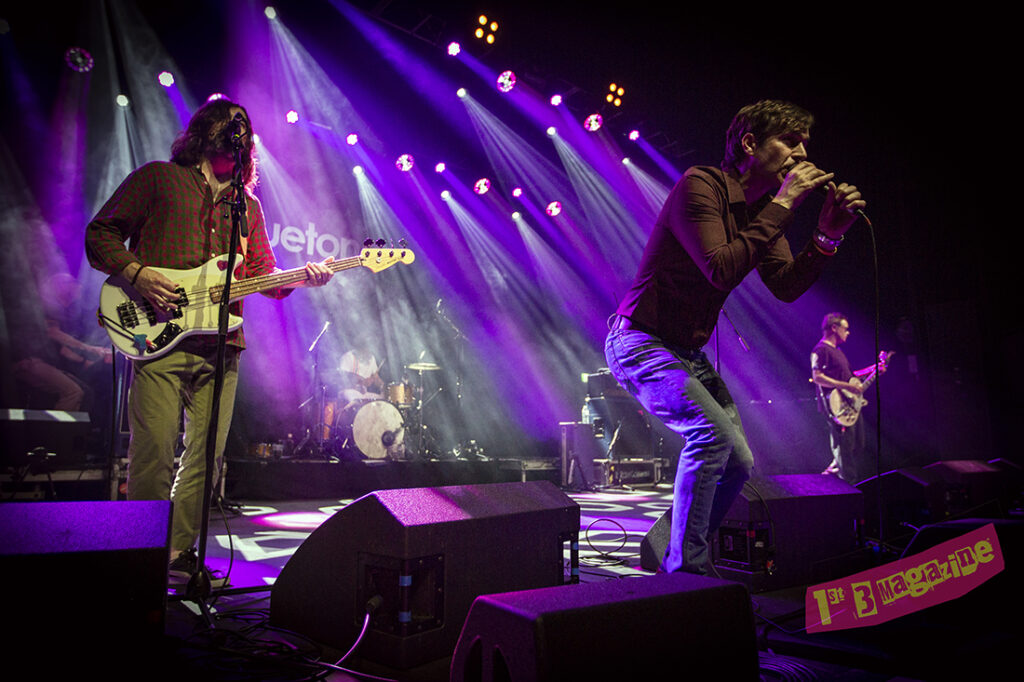 At the time of its release, one couldn't help wondering how magnificent some of the songs would have been with a stronger vocal, male or female. Unfortunately time hadn't changed this and Mark Morris's pipes remained quite weak and whiney. 
Never mind, they were drowned out by the crowd singing along, making it more of a mass karaoke session than a gig, and the faithful most certainly enjoyed it nonetheless.
SLEEPER + THE BLUETONES PLAYED THE O2 FORUM, KENTISH TOWN, LONDON, SATURDAY 28 AUGUST 2021 
Words Copyright – 1st 3 Magazine
Live Images Copyright – 1st 3 Magazine
Not to be used in any form without prior permission