GRÀB ("old", "grey)" have released the track 'Norwand' as the second single taken from their forthcoming album "Zeitlang" ("Yearning"), which is scheduled to hit stores on October 1, 2021.
The Bavarian black metal outfit previously revealed cover art, tracklist, and further details of their harsh full-length, which may be viewed below. 
The title 'Nordwand' quite literally translates as "Northern Wall", but means the often rugged and steep northern mountain faces of the European Alps. On the northern hemisphere, the resulting lack of sunlight means that fare more ice covers the northern sides of mountains, which makes them much more dangerous to climb. As an infamous example, the steep northern ascent of the Eiger mountain (Eiger Nordwand) has earned its nickname "Mordwand" ("Murder Wall") through the heavy death toll this unforgiving rock has taken on mountaineers.
An excerpt and translation of the 'Nordwand' lyrics:



"Am ganzn Lemsweg triffst auf Stoana
und am End' wart d' Erdn auf deine Boana
Håb vor langer Zeit verlernt zum Woana,
beim letztn Schritt, da huift da koana"

"All your life, stones stand in your way
and finally the ground awaits your bones
I forgot how to shed tears a long tome ago
and no one will help you before that final step"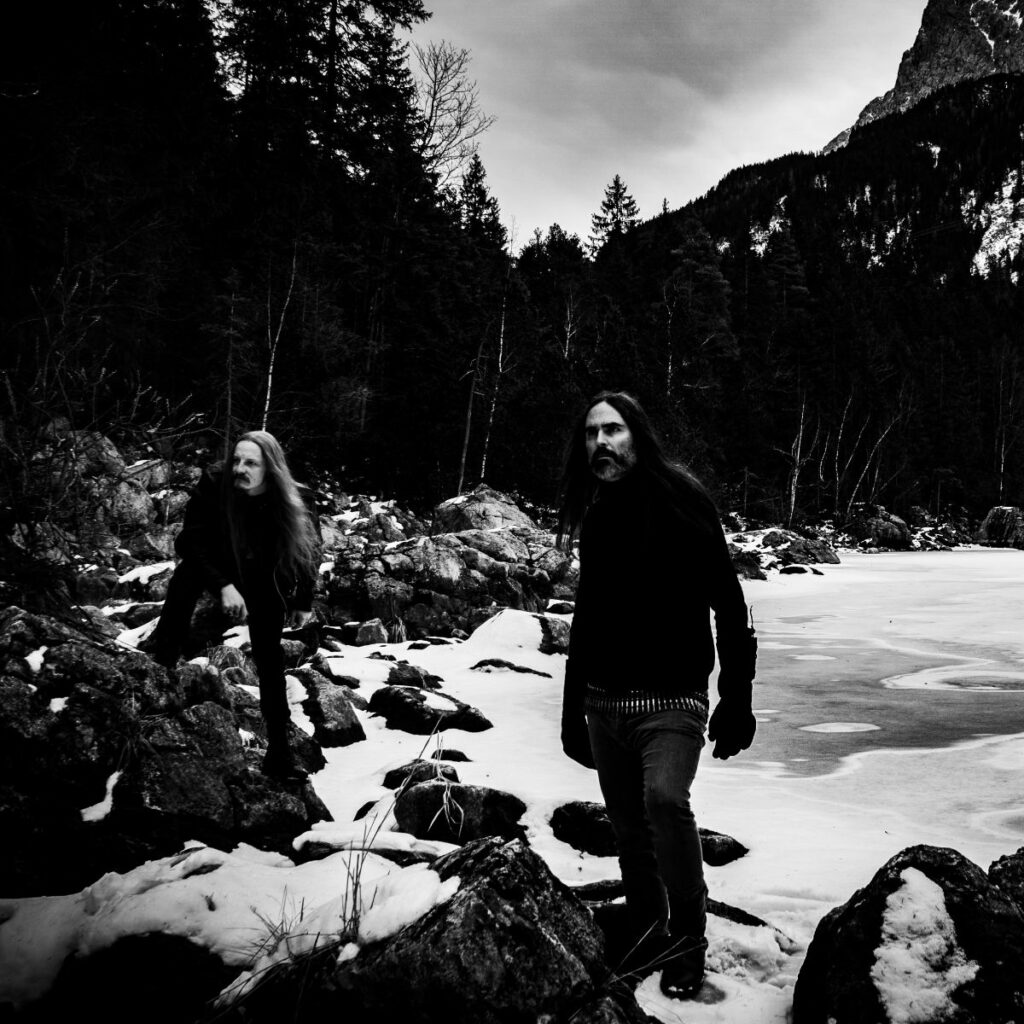 "Zeitlang" is the harsh debut full-length of Bavarian black metal act GRÀB featuring founding vocalist Grant. The former DARK FORTRESS frontman has written the entire concept album in a local dialect of Germany's southernmost Alpine state.
 
When black metal was redefined particularly in Scandinavia during the early 90s, the style quickly adopted a local component with such bands as ENSLAVED or BORKNAGAR taking inspiration from local history, legends, and language. When black metal became a global phenomenon, more acts chose this path with examples ranging from Romania's NEGURĂ BUNGET to Cascadian USBM pioneers WOLVES IN THE THRONE ROOM.


GRÀB, which means "old and grey", are lyrically following this tradition by telling the story of an old man, who has chosen to withdraw from society into an isolated cottage deep in the mountains, where he reflects on his life while his death edges ever closer. The story on "Zeitlang" ("Yearning") begins in his early childhood with the song 'Nachtkrapp' ("Night Raven") and continues all the way to his end, which is illuminated by the track 'A Gråbliacht' ("A Grave Lantern").
 
Musically, GRÀB are picking up the Norwegian strands of early GEHENNA, ULVER, and DARKTHRONE as well as being inspired by German NAGELFAR and LUNAR AURORA. Yet true to their topic, the Bavarians include traditional local elements, which is instrumentally expressed by the use of hammered dulcimer, zither and alphorn.
 
Vocalist and Bavarian poet Grant views "Zeitlang" as his personal musical legacy. Join the singer and GRÀB on their equally intimate and forceful quest into the dark and stark places of the human mind and Alpine nature where there are no safe spaces.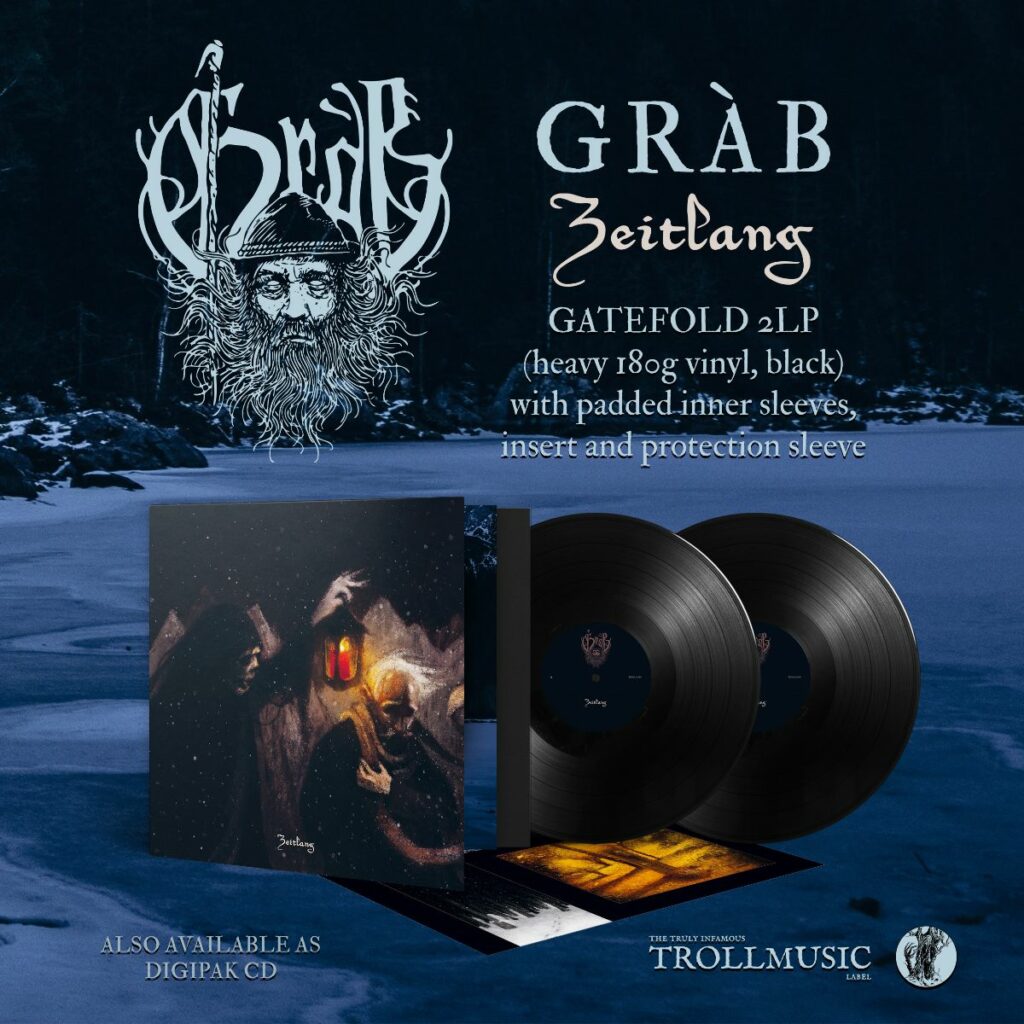 Line-up
Grant – vocals, poetry
Gråin – guitar, bass, synth
Seb – drums 
Guest musicians
PK (Abigor) – additional lead guitars on 'Zeitlang'
Schwadorf (Empyrium) – hammered dulcimer and composition on 'Auf da Roas' 
Morean (Dark Fortress) – undertone vocals and guitar on 'Sched oreidig'
Paymon (former Dark Fortress) – keyboard
Diverse guest musicians performing folk instruments 
Vocal recording by Stefan Karl at Studio Kagers
Drum recording by Markus Stock at Studio E
Undertone vocal recording of Morean by V. Santura at Woodshed Studio
Mix & mastering by Thomas Taube at Five Lakes Studio

Conceptual artwork by Benjamin König (Sperber Illustrationen)
Gràb logo by Chris Kiesling (Misanthropic Art)
Layout by Dan Capp