Born and raised in Stockport but made in emo land,
Matter of Mind

combine dark lyrics, heavy guitar melodies and big, big choruses.
They make music promos drenched in blood but also erotic sour dough videos on Youtube. Even emos have to feed – all that angst can make you hungry after all. With time well spent honing their sound, and single 'Take It Back' making waves, their time may have come.
We caught up with enigmatic lead singer, Jordan.
1st 3 Magazine – For anyone not familiar with Matter of Mind, how would you sum up the band?
Jordan – We're classic emo with modern rock and pop influences, loud, sad and catchy.
1st 3 – Where did the name Matter of Mind come from?
We formed in high school and when we were younger, we had a few different names. I think that we were called The Standard at one point and then something else about fire, I can't quite remember. Then we were driving past a tattoo studio to go to band practice and it was called Mind Over Matter Tattoo, and I thought, that's cool. So we were Mind Over Matter but then we thought no, let's flip it aroundto Matter of Mind because I'm quite spiritual. The way you can view life is very much that it's a matter of mind over matter. You can have a negative outcome but if you think with positivity then you get positivity back so it's like a double meaning within that regard.
1st 3 – A lot of your lyrics are quite dark, and you cover themes like depression – is it all very personal to you?
Yes, I try to be as open and as honest as I can with my lyrics. I find writing songs and writing lyrics quite cathartic and it helps me get through periods of my life. I tend to write in blocks and it's usually when something naff has happened and so I'll write some music to get out of that headspace. I like to connect with people via songs. Music has always been there for me and I want to do the same for other people. Also, I like to listen to my own lyrics so it's a bit of a crutch for me. I like to get deeply personal. I suffer from anxiety and bits of depression here and there, not as much now but back in the day, and I draw inspiration from that because it's a creative outlet. Music is an escape and I love to use it that way. Like I say, connecting with people lyrically is amazing so I try to be as open and honest as I can with my music. Sometimes it's a bit weird if you're playing your family a song and they're like, oh it's a bit dark isn't it? And I'm like, it's ok, we're good. I swear we're not all depressed sad boys, we just act like it!
1st 3 –  People are a lot more open these days about mental health issues, particularly younger people. How important is it to you to have a dialogue about mental health issues?
I like to champion the fact that it's ok to speak about your mental health. Like you say, it's getting to where it's being talked about it a bit but I still think that there are certain situations, especially in the professional world, where if you say you've got anxiety or depression or something like that, you're not exactly looked down on but it is in the back of someone's mind all the time. I don't think that it should be treated like that, I mean you wouldn't treat anybody with a disability any different, we're all people at the end of the day. I try to be as honest as I can and say, it's ok to have these issues, it's absolutely fine. I think that a lot of people will go through it and not say anything, which is when I think it becomes dangerous. So yes, it's important to shout about that kind of stuff. When we do hear from fans that they're going through struggles, I think that the important thing is that you're not going through it alone. There's always someone to turn to or music is a big thing. It's definitely important to speak about it.
1st 3 – Is playing live also cathartic or can that be quite anxiety inducing?
Once we're up there, once we're on that stage, absolutely amazing, the best feeling in the world. You get to be the coolest people in the room for however long your set is, if it's going well. Before we go onstage, I am in bits, I'm not doing very well, I can't concentrate. But as soon as I'm on that stage, a light switch goes on and I have the best time ever. Then when you come off, if you've had a good show, it's such a high and an adrenaline rush and you've connected with people in the audience, which is such an amazing thing. It's something I've missed, I mean we've not played a live show for getting on for two years now, which is crazy. We took a bit of a break to rebrand and stuff before Covid and that happened during Covid as well, which was weirdly a good time for us in a way. But it's been such a long time so we've really missed that release and connection that we can have with other people.
1st 3 – Was lockdown quite productive for you in terms of songwriting?
Yes, we were very lucky. Before lockdown hit, we had all these plans for gigs which fell away which was obviously wasn't great but in terms of songs, we were sat on our last bunch of singles for quite a while and we were lucky that we had that to go with so that we could still be releasing music throughout lockdown. On a personal level, in a weird way without sounding selfish, I loved it. I'm a miserable sod, I don't go out anyway so I'm just fine, happy staying inside and just working on music. We were playing a lot of Xbox together, so we didn't feel like we were missing out on the social contact really. It was a weird time for being in a band but now things are opening up again, we had band practice for the first time a couple of months ago and it was good going back into the room and thinking, we can still play, thank god we've not completely forgotten everything. It was weird, but for the rebrand and everything, it worked out in our favour. It was nice to have that time to sit back and take a breather from everything and regroup almost.
1st 3 – Another theme in your lyrics is lies – does that tie in with what you said about being open and honest?
I try to see the best in people. I'm not as negative as my lyrics would portray me to be and I'm sure that the rest of the lads would say the same. I think that maybe a lot of the lies come from an inner monologue that is subconsciously coming out within the music but our latest single, Take It Back was written upon a very personal experience and the way that how someone speaks to you can highly affect you. It's like talking in a mirror – if you're telling yourself that you're not good enough, you're going to feel like that, and if someone else says it, it's even worse, you've got to be aware of how your actions can affect others. Maybe it's a subconscious thing that's coming out in the songs.
1st 3 – You're from Stockport near Manchester, a city with a huge musical pedigree. Although there have been Manchester bands who tackled themes such as depression and anxiety in their lyrics, musically you're more akin with US bands – where would you place yourself?
I think that you're completely right there to be honest. Obviously, we've grown up listening to a lot of Manchester bands, it's never really seeped into our musical influences as such. Like you say, we are quite different, and we suit that USA sound more. Growing up and writing music, we were listening to a lot of bands like Green Day, My Chemical Romance, Foo Fighters, The Used, Silverstein, all that kind of stuff is what's influenced us. We are a bit different to Manchester and where we've had support slots in the past supporting Manchester bands, and they've come out and been an indie band, it's cool and I'm into it, but then when we come on and we're all aggressive and shouting and screaming, everyone's like, what's going on here? You can see heads turn. Some people are like, oh this is interesting, and other people are like, not for me. So, it's been hard to fit into our scene within Manchester. But we spend a lot of time in Sheffield, which has amazing bands like Bring Me The Horizon, While She Sleeps are down the road, which is awesome, and they are our influences as well. I think, from my personal perspective anyway, the UK scene is getting a little bit heavier. Even with the pop punk bands coming out like HOT MILK coming out, they're bringing that influence as well, which is awesome because it's the stuff that we love. Yes, it's been a bit weird for us to fit into certain places, but I think that we're finding our place.
1st 3 – Not only have your own music become heavier over the years, but it's also become more epic and orchestral, with a bigger sound – is that fair to say?
Yes, 100%, and thank you for noticing. I work in a recording studio as well – I manage bookings and I'm an assistant engineer. I think that being in that world has put a stamp within our music, which is great, we all love recording and that element of it. It's been amazing to add new textures rather than just have your typical guitar, bass, vocal, drums. It gives you so many more avenues to explore. Growing up, we were always listening to heavier bands, and it got to the point where we were thinking, why aren't we recording the type of music that we're listening to. We still love our old songs and there's a time and a place, and it's our past, but we've always listened to heavier stuff, so we thought, why don't we just throw it in the pot. Vocally as well, adding more screaming layers has been really fun and more interesting for us and it was a natural progression for us.
1st 3 – You combine both standard rock vocals and the harder screaming vocals in the same song, but the screaming bits are more just at the end of the songs – do you think that balance might shift in the future?
To be honest, I don't know. We're constantly writing. There is some stuff we've got which is a lot heavier, there's some that is stripped down acoustics. Personally, I think that it's about whatever adds to the song. I listen to a lot of heavy, heavy stuff as well, that's fine but for us, I don't think that screaming all through a track would be that beneficial, unless it's something that we're really into. It's all about what the song needs – if it needs a big chorus with choirs and stuff, then cool, let's go for it. If it needs a balls to the wall breakdown with some mad pig squeals going on then we'll give it a go, it's all about the song. But what we're feeling is that we try to write music that we enjoy and really want to hear so we'll see where it takes us.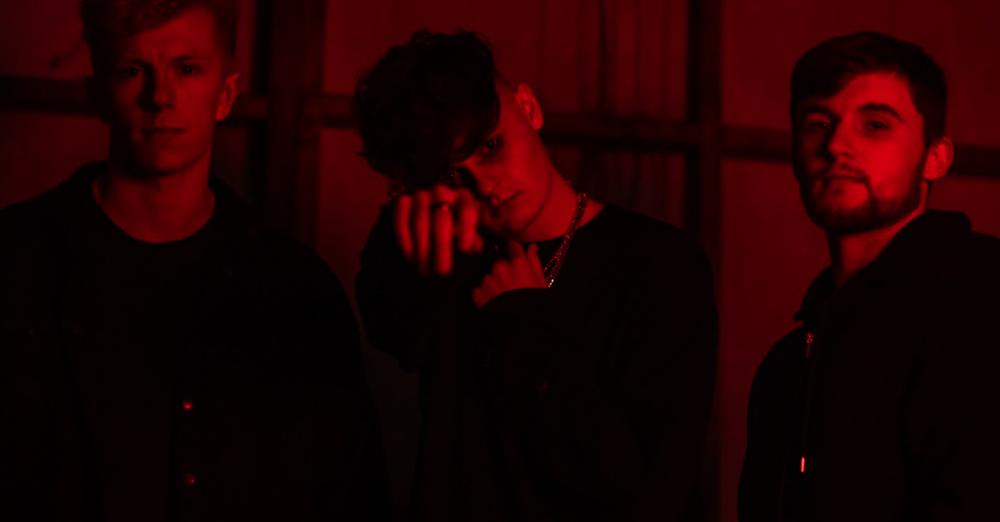 1st 3 – It's noticeable that although you have a heavy sound overall, you don't just go for a heavy drum sound all the time and you're not afraid to use sparser drums – was that a conscious choice?
Yes, I'm a big fan, and the lads are as well, of bands like Thrice and Nirvana. They're the kings of dynamics – so verses quiet, loud chorus, loud heavy bit. It just adds a lot and that's something that we try to champion. I love dynamics. If your verse is nice and mellow, you've got more room to play with your vocal melodies, you can strip back on the vocal and then come in with that hard chorus, kick up all the drums, you've got your strings that come in, your vocals that come in, it makes it feel bigger. I think that dynamics is key for our style of music at the minute.
1st 3 – You've made a number of videos now and the imagery is very dark – there's blood and so on. How important is the visual imagery and how involved in that process is that band?
It's all us mainly, we script pretty much everything. Some of our older videos looking back are a bit cringey but it's fun to make and it's a time stamp, it's something to look back on. For the last video, Take It Back, we had a big crew which was absolutely amazing, and big shout out to everyone who worked on that with us, it was insane. We were way out of our depth, there were seven different guys doing lights and rigging and camera work and stuff. It was really fun to do but the idea of the video stemmed from a concept that we had. The song is based on a reflection, whether that's self-reflection or reflection of other people so I wanted to use mirrors, and they were really cool to help us get that vision across. So, it's developed to have a few more people on board but usually in the past it's solely just us and I am a huge horror fan so when we were doing the video for Sparks in our Blood, I was just, let's go mental and get covered in blood! Let me tell you, that stuff tastes horrible, it tastes vile, don't put it in your mouth, it's awful, it stains your teeth and it's a nightmare but it's all good fun. I think videos are fun, and we can kind of be fake actors for a day, which is always a laugh, and making music and messing around with cameras with your mates is all part of the package.
1st 3 – What does the future hold for Matter of Mind?
Hopefully some shows, I'm really, really missing playing live. Hopefully we can just on some tours, which we're trying to book at the minute. More music writing, we're constantly writing. We're sitting on so much material, it's crazy and we need to go through it and pick out the good stuff. We're just going to keep going. We've got a few songs out under our belts now and I feel that the last few singles really cemented our sound – we know where we want to be, and what we want to do, and what we're about.
I feel like we're heading in the right direction now, which is great so just onwards for us – just keep going, keep writing, play some shows and spread the word of our band.
Contents of this article are copyright of 1st3 Magazine. It is prohibited to reproduce in whole or in part without prior written permission.