The Wedding Present was born in Leeds, in the UK, in 1985 with the release of the debut single GO OUT AND GET EM' BOY! and the band's first album, GEORGE BEST, followed a couple of years later.
80's Indie Rock Icons, the Wedding Present, mark the 3oth anniversary of Bizarro  with a string of headline shows. This Saturday (7th December) sees them at The O2 Forum, Kentish Town.
With the early releases on their own label, the band acquired a reputation for bittersweet, breathtakingly honest love songs immersed in whirlwind guitars, so it was quite extraordinary that they decided to explore traditional Eastern European folk music for their major label debut on RCA Records in 1989 with UKRAINSKI VISTUPI V JOHNA PEELA. However, this was soon to be followed by the more traditionally incendiary BIZARRO, which featured their first hit single KENNEDY.
The band's next step was to enlist the aid of the noise-mongering [and, at that point, relatively unknown] sound engineer Steve Albini. The resulting SEAMONSTERS, recorded in the snowy wilds of Minnesota in just 11 days, suggested a more thoughtful Wedding Present.
A unique plan was hatched in 1992. By the end of that year, The Wedding Present had released twelve 7" singles, one per month, and equalled Elvis Presley's 35-year-old record for "most hits in one year". A gang of impressive names, including Ian Broudie [The Lightning Seeds] and legendary Rolling Stones producer Jimmy Miller collaborated on the industry-challenging project, ultimately to be compiled on the two HIT PARADE LPs.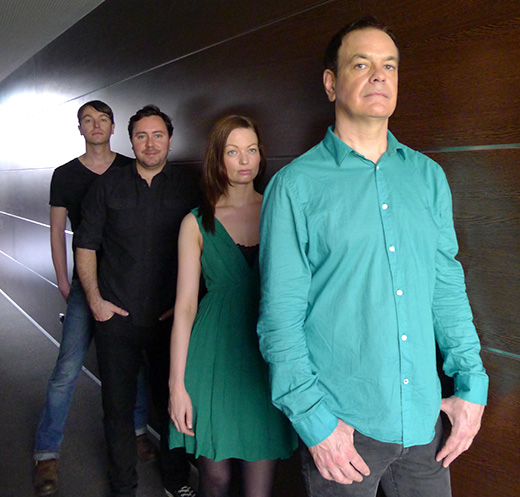 1994's WATUSI, produced by Steve Fisk [a prime mover in the celebrated avant-garde scene of Seattle] whisked the band off into yet another new area with its lo-fi pop, three-part a capella harmonies and Waikiki-ready surf strains. The band returned to a more familiar sound in 1995 with the car themed MINI, in which Gedge cloaked his tales of love and lust with automobile symbolism.
The next album, SATURNALIA, was recorded in the studio owned by The Cocteau Twins and released in 1996 to the usual flurry of critical approval, but it was shortly after this point that Gedge started work on a solo project, CINERAMA. A fittingly titled outfit, Cinerama indulged Gedge's love of film music from John Barry to Ennio Morricone… via Blaxploitation and The Ventures! Cinerama went on to record three stunning studio albums, VA VA VOOM, DISCO VOLANTE and TORINO.
At the end of 2002, Gedge split up with Sally Murrell, his long-time girlfriend and chief Cinerama collaborator. He decided to leave Leeds, his home for the preceding twenty-four years, and move to Seattle, where he began writing a collection of songs apparently influenced by his despair over the split. TAKE FOUNTAIN, the resultant album, was recorded by Steve Fisk and released, perhaps ironically, on St. Valentine's Day, 2005. This long awaited LP brought The Wedding Present back into the spotlight with all the style and sophistication associated with a legendary group, but fans were also pleased to see the band had lost none of the growling angst with which they had burst onto the scene in 1985.
In January 2008 the band returned to Steve Albini for the recording of EL REY, which was released in the summer of that year to further critical acclaim. At the end of 2008 Gedge fulfilled a long held ambition by releasing a bona fide Christmas song, HOLLY JOLLY HOLLYWOOD, a duet with Los Angeles based chanteuse, Simone White.
In 2009, as well launching his own mini-festival, AT THE EDGE OF THE SEA, which he curates and which now takes place every year in Brighton [UK], he also took part in a major collaboration with the BBC Big Band for the biannual 'Fuse' Festival which was held back in his home town of Leeds. For the event he performed Wedding Present and Cinerama songs backed by eighteen world class musicians including legendary 'James Bond' trumpeter Derek Watkins. Also in 2009, two Take Fountain songs, I'M FROM FURTHER NORTH THAN YOU and RINGWAY TO SEATAC, appeared in the award winning independent film Skills Like This.
In 2012 The Wedding present released VALENTINA [which was mixed in L.A. by Grammy award winning producer Andrew Scheps]  to further rave reviews. 2012 also saw the release of a new comic book series, TALES FROM THE WEDDING PRESENT, which, Gedge has hinted, is essentially his memoirs in graphic novel style.
In what turned out to be a huge and comprehensive reassessment of the band, 2014 saw Edsel Records re-releasing seven Wedding Present albums in critically acclaimed multi-disc 'extended' editions which brought together a wealth of historic recordings, radio sessions and videos.
Such has been the unpredictable nature of Gedge's career over the years, hardly anyone could have be surprised when he announced yet another remarkable project in 2015. Collaborating with Spanish indie legend Pedro Vigil he decided to completely 're-imagine' The Wedding Present's VALENTINA album as Cinerama. The resulting album was also entitled VALENTINA and, with its "musical set pieces and vocal nuances fine enough to rival Bacharach and David",  was described as "a truly sparkling and uplifting concerto for the modern age" by Vive Le Rock Magazine.