Big Yellow Dog Music's heartland troubadour Logan Mize is serving up a hometown helping of brand-new music with his upcoming album, Welcome to Prairieville – out October 1st.
Featuring 11 masterfully written tracks, Welcome to Prairieville not only celebrates Mize's rural upbringing, but also showcases his unique storytelling abilities that have helped shape his career since the beginning. A true passion project, Mize spent nearly a decade developing the concept behind the album and co-wrote all but one song on the track listing, making this one of his most personal releases to date.
Fans won't have to wait until the fall to hear what's coming from the Kansas native, however, as he's offering up the first taste of the project today (30/7), following an exclusive first play from Bob Harris on BBC Radio 2 yesterday, with his "breezy ode to country roads," (CMT) "George Strait Songs." Written by Mize and Blake Chaffin, the heartfelt tune pays homage to the country crooner's roots, highlighting all the best aspects of Middle America that made him who he is today.
LOGAN MIZE
WELCOME TO PRAIRIEVILLE
Filmed in Pretty Prairie, KS, just miles from Mize's hometown of Clearwater, KS, and directed by Jordan Horsch, the video for the song, finds the Sunflower State native in his childhood comfort zone, as he explores the streets and fields of a tiny town that mirrors the one that built him.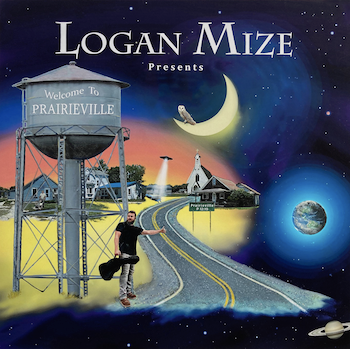 Welcome to Prairieville Album Track Listing:
George Strait Songs (writers: Blake Chaffin, Logan Mize)
Welcome To Prairieville (writers: Blake Chaffin, Logan Mize)
River Road (writers: Blake Chaffin, Logan Mize, Tyler Johnson)
Wine at the Church, Beer at the Bar (writers: Blake Chaffin, Logan Mize, Jason Blaine)
Follow Your Heart (writers: Lynn Hutton, Logan Mize)
I Need Mike (writer: Blake Chaffin)
If You Get Lucky (writers: Blake Chaffin, Logan Mize, Daniel Agee)
Tell the Truth (writers: Blake Chaffin, Logan Mize)
We Ain't Broke (writers: Blake Chaffin, Logan Mize)
I Still Miss You (writers: Blake Chaffin, Logan Mize, Jill Martin)
It's About Time (writer: Logan Mize)