A whirlwind of tightly-sprung guitars, boogie-woogie piano jams and starry blue-eyed soul vocals, the latest from the London quintet is a funky, retro-pop floor-filler. Naturally, it features the congas too.

Taking cues from Studio 54 classics to Wings' mid-seventies disco period, "The Night Is Ours" is inspired by that unbeatable feeling of a night on the tiles and an homage to the mirrorball flecked dancefloors of yesteryear. As Silvertwin frontman Isaac Shalam says of the track: 
Following recent singles including "Ploy", "You Only" and "Saviour", "The Night Is Ours" is just one of many delights soon-to-be-heard on Silvertwin's self-titled debut album, which arrives on 16th July 2021. Already shaping up to be one of 2021's most essential debuts, 'Silvertwin', will be like opening a time-capsule of 70s hits you never knew existed. An intoxicating rush of retro-pop nuance and artful nostalgia, think Paul McCartney produced by ELO and you're part-way there.
 
With a sound as familiar as your childhood soundtrack, the record is notably blessed with the touching turn of phrase and swooning couplets of frontman Isaac Shalam. Setting-out to create "an album of timeless songwriting", Shalam explores themes of "young love and the wide spectrum of emotions that come with it" written with heartfelt honesty and endearingly relatable experiences. Recorded to tape rather than digitally, most parts were recorded by Shalam with some overdubs by the rest of the band and session musicians to enhance its warmly authentic baroque-pop feel. The result is indeed a record of timeless feel; lost out-of-time and estranged from its seventies acolytes, yet sounding fresher than ever in the mixed-up here and now of 2021. Yearning to be heard by the ears of all generations, it will appeal to fans of like minded retro-revisionists like The Lemon Twigs or Whitney, as well as fans of the myriad quintessential acts who have inspired it, from Billy Joel to The Beatles, Supertramp to Gilbert O'Sullivan.


The record is masterfully produced by Foxygen's Jonathan Rado (The Flaming Lips / The Killers / Father John Misty) who has mentored and supported the band from their very earliest days. Providing the record with the classic finish it richly deserves, 'Silvertwin' was mastered by Frank Arkwright at Abbey Road Studios and mixed by the legendary Cenzo Townshend.
10 lovingly crafted treasures hallmarked with the songwriting flourishes and the misty-eyed, lovelorn charms of a once golden era for music, Silvertwin will self-release their s/t debut on 16th July 2021.
Full tracklisting is as follows: 
PLOY
DOUBTED
PROMISES
YOU ONLY
SAVIOUR
I DON'T WANT TO FIGHT ANYMORE
THE NIGHT IS OURS
LOVE ME HATE ME
TAKE ME ON
DRIVING ME WILD
Masterminded by Isaac Shalam, Silvertwin are the new band your life is sorely missing. Raised on a diet of seminal cuts from the 60s, 70s and 80s consumed via the family car stereo, from early-on in high school Shalam felt a yearning to recreate the sounds he had grown up with all his life. Looking for a vehicle to bring his self-penned songs to life, Shalam formed Silvertwin while at college in London; a quintet of like-minded souls including Alicia Barisani, Dan Edery, Lauric Mackintosh and Antonio Naccache. 

 
Quickly impressing audiences and industry alike, the Silvertwin name soon caught the ear of Foxygen's Jonathan Rado who invited the band to develop their studio sound with him at LA's prestigious Electro Vox studios. Spending the last year readying a clutch of songs for wider release, recent single "Ploy" was the first of those sessions to materialise, swiftly followed by leading album track "You Only" and recent addition "Savour".  
 
Playing their first official shows in 2020, the band drew a sold-out capacity crowd to a two night residency at London's Pin-Ups venue by word-of-mouth sensation.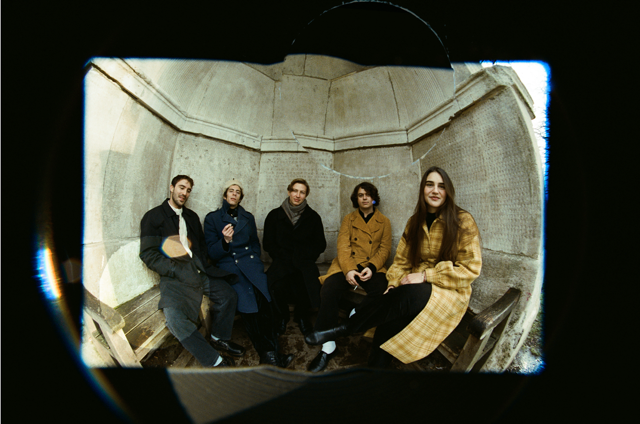 Taking to the live stage for the first time in May 2021, Silvertwin confirmed 4x socially distanced shows over two nights at Paper Dress Vintage in Hackney. Selling like hot cakes, all four shows sold out almost instantly, with the final two of the residency taking place tonight. Marking the release of their debut album in style, Silvertwin have also announced an album launch show at the Sebright Arms, London on 15th July – the night before their record hits the shelves.
Dates and details as follows:
Wed 16 June – Paper Dress Vintage, Hackney – Early Show 8pm – SOLD OUT
Wed 16 June –  Paper Dress Vintage, Hackney – Late Show 9:30pm – SOLD OUT
Thu 15 July – Sebright Arms – ** Album Launch Show ** – TICKETS