Following a hiatus in their musical journey VANT are back and there is quite a buzz surrounding their return. 
We are unsure why VANT took the break they did, perhaps it was the mixed reviews for the Dumb Blonde album, who knows? The good thing is they're back up off the canvas and punching; looking and sounding good and out doing the road work. We love a fighter.
"Mattie touched hands with  the faithful as he roamed the front of the stage with the self-assurance of a man who names a band after himself"
The Garage at Highbury, London was the venue for the evening's low light extravaganza. The Garage has been host to many great acts in the past and tonight's support came in the form of Magnetic Spacemen and Roxy Girls, both bands of which we had absolutely no knowledge, which is often a good thing.
Up first for the early crowd with some Dutch courage was Magnetic Spacemen. Their grungy looks didn't match their sound, but it didn't really matter and it's about time we stopped expecting it to do so.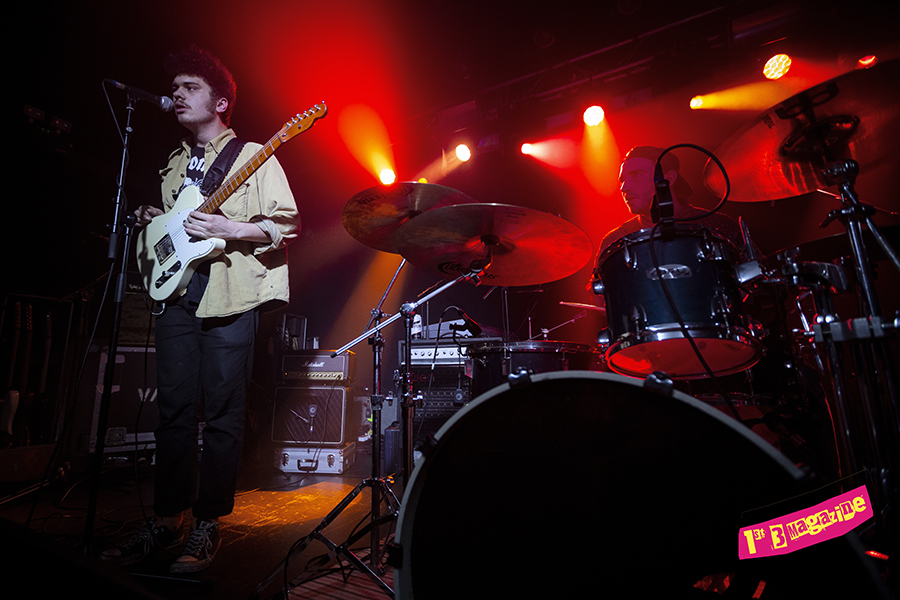 With a light drizzle of Nirvana, an unexpected touch of The Sonics and an even more unexpected splash of The Cramps, this was a bubbling hot pot of eewee goodness. You half expected Sam Pols to scream 'Psycho' at any given time, bend a mic stand around his head or hump the stage.
The band had an incredible musical presence, which was somehow wasted on the teenage boys in the audience who barely had a pubic hair between them. However, the hormonal teenage girls of which there were many were driven to a soggy frenzy by Pols' raw vocal, classic frontman showmanship and the band's amazing instrumental ability. If they had spiky quiffs they'd be an awesome little psychobilly group, instead they're just an awesome group and a real must-see.
We caught up with Magnetic Spacemen after the show and asked how things were going.
"We had a real good time crossing your country back and forth from the North of Edinburgh to the Southern city of Brighton. It was good to see people coming back for us and seeing familiar faces in the crowd. We had a great time dancing for you guys! 

We travelled in a RV which allowed us to park and sleep at beautiful places like the coast of Scotland and Brecon Beacons national park in Wales. We got to see the Shrewsbury – Liverpool match at a local pub in Shrewsbury and met Jason Cummings the FA cup hero!!

We loved the cities! Met lots of nice people and great bands like; Roxy Girls and Marigolds.  Now we're gonna finish the album and be back dancing in the UK when it's done!"
Yo, big up for Shrewsbury there – Doesn't  often happen.
---
At this point we just want to say, there were no girls in Roxy Girls. Disappointed really, sad face emoji, hash tag 'cheated'.
Roxy Girls are from Sunderland, they were rough and ready and difficult to pigeonhole. Their front man looked like he'd just finished on a site, the guitarist thrashed his Rickenbacker like a young Wilko Johnson, the drummer hit the skins like a human metronome and the bass player had a ginger pudding bowl haircut (you legend).
The first half of the set gave us one of those painful headaches, the output was just too intense and overloaded our delicate dry January brains.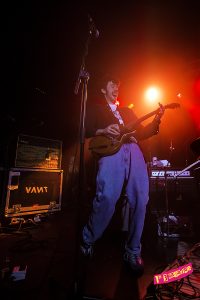 The songs were short, Ramones short and even shorter. Hard, brash and exploding with pent up emotion, Roxy Girls were a tempered northern blade slashing through the fluffy soft London assembled, like a louder Mark E. Smith smashing up cocktail glasses in an Islington bar. No sooner had a song grabbed your attention then it finished unexpectedly and abruptly, as if to antagonise. People weren't even sure when to start clapping.
Halfway through we got it and by the time it was over we loved it, sort of loved it. Let's just say it could be the start of something.
---
What have Roxy Girls got to say?
"We really enjoyed the gig, despite some hitches on our behalf we thought it went really well. We have our second ep/mini lp coming out at some point in the near future and we aim to tour a bit around that. We have some small local festivals such as Hit the North and Tipping Point booked and we'll also be playing gigs here and there as they come in and hope to be back down London sooner rather than later!"

---
VANT came on to dramatic lighting and dramatic screams from the girls. Following the recorded bongs of Big Ben, which is more than Boris could pull off, Mattie announced, 'This is the sound of Brexit, guys.' Much like an ecstatic nationalist, they were embracing the new hype and their rebirth with gusto. Grungy hair days behind him, Mattie Vant himself sported a shaggy blonde /pink do and was all a bit GQ with a pin stripe whistle, paired with grubby Converse such that, unlike Farage, he was equally attractive to the girls and the boys.
Hold on, was Gwyneth Paltrow moonlighting or was that Alice Costelloe on bass? Yes, it was Ms Costelloe who we hadn't seen for (let's think) maybe eight years or so when she was plucking away in the departed shoe-gazing Big Deal on the same bill as Wolf Alice down at the 100 Club. Emotionless as ever and dressed ready for her John's Children audition, we think she feeds off the virgin blood of the young fans because she just doesn't seem to age.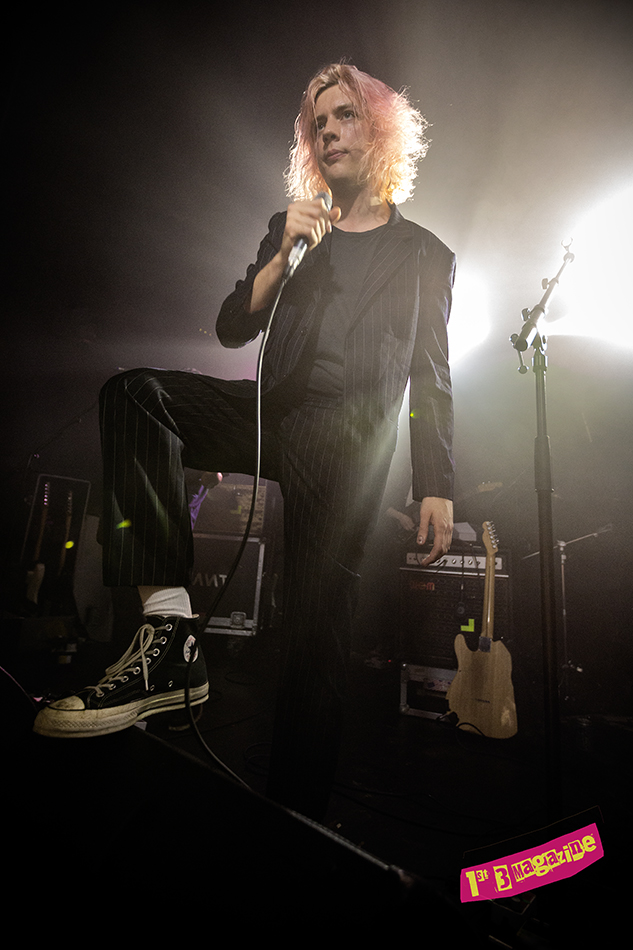 Enjoying his moment in the lights, Mattie touched hands with the faithful as he roamed the front of the stage with the self-assurance of a man who names a band after himself. With a full sound, poppy choruses and a nod to 80s synth, the kids started bouncing around and the girls kept screaming. A couple of songs in, he filled the sound out even further as he strapped on his guitar.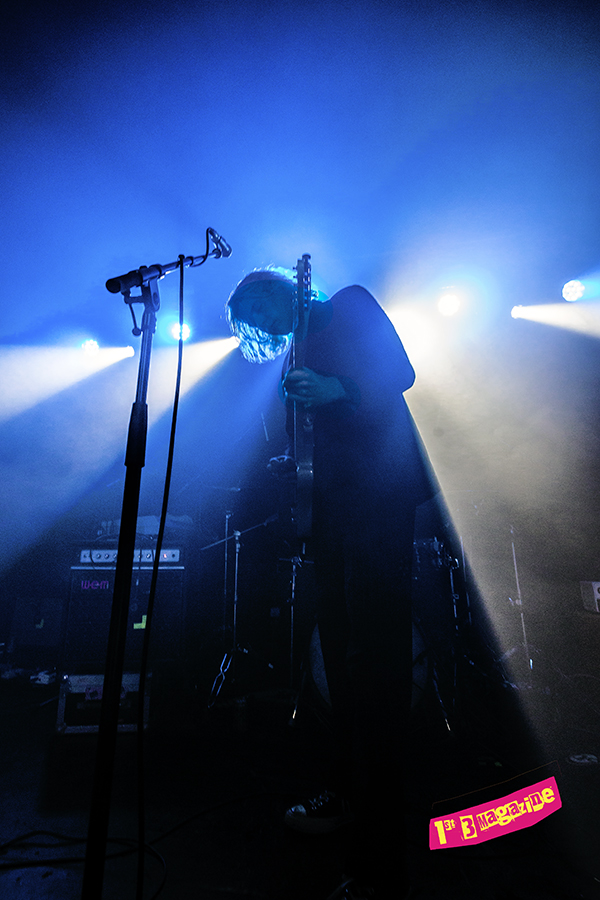 It was an intoxicating blend of high energy danceability and anthemic indie guitars, chiming for B-day. This is what could have happened if Robert Smith had spent his formative years on energy drinks rather than snakebite and black. No doubt Mattie spent the band's time out burning his tie dye, washing his hair and making new, fragrant friends. Bubblegum grooves had replaced headbanging grunge and the new improved formula has proven successful, indeed 9 out of 10 people who expressed a preference prefer new VANT.
VANT info HERE
Magnetic Spacemen info HERE
Roxy Girls info (there are no girls) HERE
Words – Shasta 'Pickles' Alamo
Images Copyright Carl Byron Batson – Not to be used in any form without prior permission