Fuzz rock label and booking institution, Heavy Psych Sounds, who specializes in presenting us the best artists of the global heavy psych, doom, fuzz blues and space rock realms, has announced its first festival edition in Switzerland!

While the first HPS Fests were held in Italy, the label has since extended its live reach into the UK, Belgium, Netherlands, Germany, Austria and even the USA: The underground cult label is not only THE adress for all heavy rock record collectors, but has also become an important live and festival contender; with a brisk participation from heavy music fans all over the world.

After the recent HPS Fests in Berlin and Dresden, Germany, that took place in the end of 2019, were sold-out and once again the label festival-caravan is about to take over the Netherlands, Belgium, France and the UK this March, Heavy Psych Sounds is proud to announce their first Swiss edition! Taking place in the early summer on June 5th & 6th 2020 at the Gaswerk in Winterthur, as usual Heavy Psych Sounds is triumphing with an outstanding line-up: Prog-rock overlords ELDER, BLACK RAINBOWS, DUEL, ECSTATIC VISION and many more high class acts will be turning the Swiss edition of the HPS Fest into a psychedelic and heavy sounds wonderland! Tickets and more infos are now available at THIS LOCATION!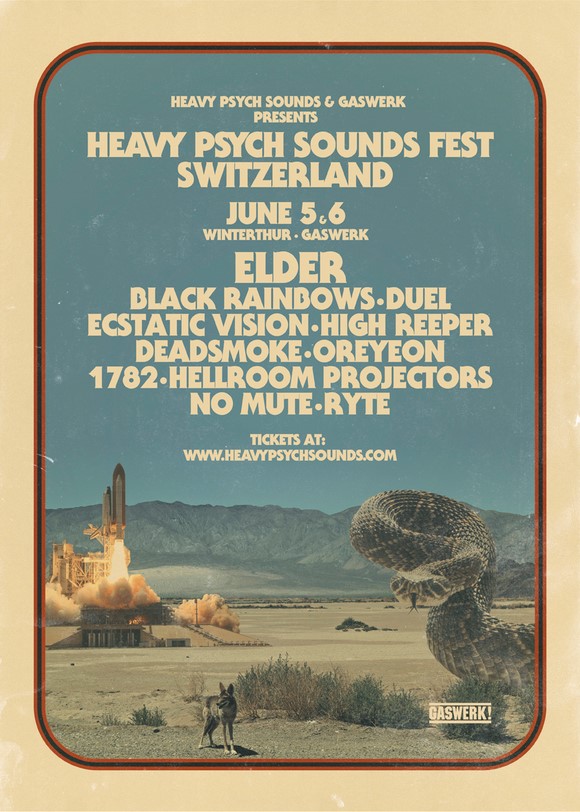 Get ready for a heavy as hell 2020, as the label's festival series will also
take place at the following dates and cities this March, with MONDO
GENERATOR, BLACK RAINBOWS, GIÖBIA, DEAD WITCHES & many more:
 
05.03.2020
FR – Paris / Glazart
06.03.2020 BE – Antwerp / Trix
07.03.2020 UK – London / Underworld
08.03.2020 NL – Deventer / Burgerweeshuis


For More Infos,
Tickets & News Visit:
www.heavypsychsounds.com/fests.htm#hps-fests-2020
www.heavypsychsounds.com
www.facebook.com/HEAVYPSYCHSOUNDS