The buzz may be gone, but the buzz lives on…
As the dust settles on the Great British Tattoo Show, we're left with an invigorating tableau of vibrant impressions, underpinned by the lingering scent of incense and antiseptic.
We find ourselves grappling with existential questions of the highest order, such as, "Is there a limit to the tribal symbols one can wear?" and "Could there be a secret society comprised of individuals with cartoon characters cheekily inked onto their buttocks?" The resonating hum of the tattoo gun may have quietened, but its symphony of culture and artistry continues to echo within us, as persistently as a 'winning' Eurovision tune. 
Alongside the parade of intricate, vibrant tattoos on display, there were several other attractions which served to complete the experience. The merchandise stalls were as diverse and enticing as ever, ranging from the traditional tattoo-inspired apparel to the more novel, edgy bondage items.
The tarot reader set up shop near to the axe throwing stand, ready to predict your future with uncanny accuracy… because what better way to balance between browsing stalls, getting inked, and ensuring you don't accidentally throw an axe at your fortune?
The food outlets did not disappoint, offering a smorgasbord of delightful treats to cater to all palates. From traditional hot dogs and burgers to some really fabulous Vegan options, the food scene at the show was nothing short of fantastic.
While the absence of Lady Luck Lexy and the Riverside Boys was a disappointment to many fans, the gravel filled voice of Ruben Seabright  and the jazzy, vintage vibes from Dead Dolls managed to fill the void. Their performances added a sense of nostalgia, enhancing the overall atmosphere of the event.
The Great British Tattoo Show, this peculiar circus where the etching needle plays ringmaster to the human canvas, is nothing short of a rollicking visual feast. This annual hullabaloo is a delightful homage to the age-old allure of body art, as riveting and enthralling as a high-octane action movie. It's a living, breathing, and occasionally hiccupping art gallery, where each participant is a walking exhibit of personal narratives, each more intriguing than the last.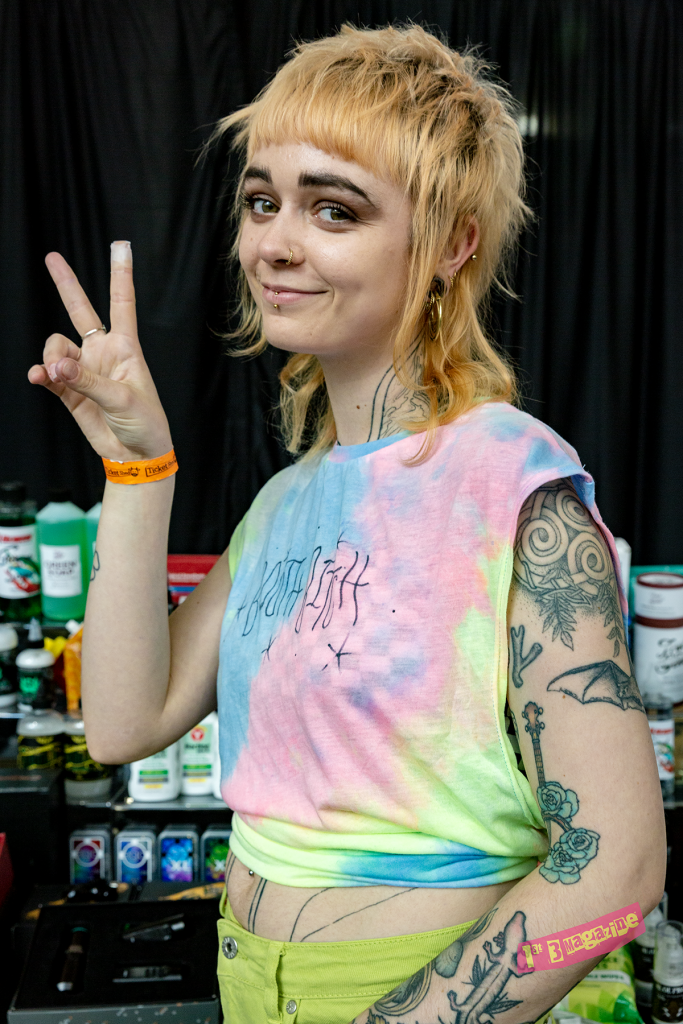 Now, let's raise a cider-filled glass, only £6, to the unsung heroes of this spectacle – the tattoo artists. These daredevils, armed with their needle-tipped brushes, are the Picassos of pain, the Monets of masochism. They elevate 'putting pen to paper' to an entirely different, nerve-racking level. Constantly innovating, they push the boundaries of what's possible on the human canvas. We stand in awe of their work, simultaneously grateful it's not our unblemished flesh under that needle, yet secretly wishing, in part, that it was. Standing out this weekend is Vicki, a tattoo artist with no visible tattoos. She tells me, "I just like to give art. To give art and make people happy. I don't feel the need to do it to my own body, but I love to help people create private art that's just for them.
In between the buzz of the tattoo guns and the admiring oohs and aahs of the onlookers, there's a palpable sense of camaraderie at the show: a shared understanding that transcends the diversity of designs on display. From the first-timers nervously gripping the tattooist's chair to the seasoned veterans nonchalantly showing off their full-body masterpieces, all are united by a common passion for this unique art form.  
Some have planned their tattoos for years and have pondered, planned and honed their designs, while for others the random selection from a lucky dip is the preferred option. AKA looks impossibly young to have seemingly every inch of visible skin inked, but he tells us he is in fact 35, having had his first tattoo at 18. Nearly every space on his body is filled (apart from his armpits- too painful, he tells us) and he answers that he will 'start again' when there is absolutely no space left. In fact, he has already had some spaces blacked out in preparation… 
 Tattoo artist Sadie has a sleeve of devils in different styles- she had them separately at different times in different years- linked by the words "Bad to the Bone", while Yves met his tattoo artist (now his friend) last year as he embarked on the journey of having all twelve Zodiac signs on his body. This weekend, they are working on Libra (Cancer, Gemini, Virgo and Taurus having previously been created). Yves describes this as a collaboration with the artist, as much an opportunity for her to express her creativity as for him to. 
Angela and Wendy are a mother and daughter duo who are having a day out to get new matching tattoos "that mean something to us". Before coming today they weren't sure what to get, but after having walked up and down the aisles they both chose the phases of the moon by different artists.  
This daring approach, the unflinching bravery of individuals baring their skin for their stories to be permanently inked, is as riveting as it is unnerving. There's a raw authenticity to it, a spirit of defiance that resonates with our inner rebels. Each tattoo seems to shout, "I'm here, I'm bold, and yes, that did hurt."
In a world often encouraging us to blend into the beige wallpaper of conformity, events like the Great British Tattoo Show serve as a kaleidoscope of creativity. They remind us that art isn't confined to canvases or marble blocks, but can be found etched on human skin in a riot of colours and forms. And while other spectacles may come and go with their share of glitz and glamour, it's in the honest, raw, and occasionally wince-inducing narratives of the Tattoo Show that we find a resonance that keeps us coming back, year after tattooed year. After all, it's not just the spectacle of art we love, but the courage of those daring enough to wear it. 
This courage, this celebration of individual expression writ large and permanent, resonates within us. The Great British Tattoo Show is more than an event; it's a testament to the enduring human desire to tell our stories in the most personal of ways, inked onto the canvas of our skin. It's a yearly reminder that art is not just seen, but also lived, and that the human body can be the most expressive of canvases. 
It is tattoo artist Jadey's first time at the GBTS, having recently branched out into the business of ink from her background as a watercolour painter. Jadey tells me how she first learnt the art on a grapefruit, progressing to fake skin and then pigskin. She assures me that by the time she did her first tattoo (on her husband, who proudly shows it off to me), the push and pull of the gun was like "going into butter." 
As we reflect on the echoes of the show, the artistry, camaraderie, and the sheer courage on display, we are reminded why we love this spectacle. It's not just about the tattoos, as stunning and diverse as they are. It's about the people, their stories, and the shared experience of being part of something that celebrates individuality, creativity, and the enduring human spirit. As we anticipate the next Great British Tattoo Show, we can only wonder what new narratives will be etched onto skin, what new stories will be told. And for those of us who are part of this vibrant and ever-evolving community, that's a thrilling prospect indeed. 
The London Great British Tattoo Show was held at Alexandra Palace on 13th and 14th May 2023
Words and live photography Copyright of 1st 3 Magazine
Not to be reproduced, cropped or altered without prior permission. Social media use only for persons depicted, event organisers and venue.