In the desolate realm of the East Frisian island of Spiekeroog, where the tempestuous fury of winter storms and the relentless assault of the North Sea have sculpted a breed of tough-as-nails inhabitants, there exists a band that embodies the unyielding spirit of its surroundings.
TEMPLE OF DREAD, the sole harbinger of death metal on this unforgiving isle, returns with their fourth full-length opus, "Beyond Acheron," resolutely charting a course that stays true to their established old-school roots.
Expanding their sonic horizons from the depths of brutal death metal, TEMPLE OF DREAD has ventured into the realm of the cinematic on "Beyond Acheron." The Frisians, with their characteristic penchant for darkness and weight, have infused their sound with a healthy dose of melancholic despair, and at times, even delving into the twisted inspirations of black metal. Adding a tantalizing spice to the mix, former MORGOTH and INSIDIOUS DISEASE vocalist Marc Grewe, along with GOD DETHRONED's Henri Sattler, make guest appearances, injecting their distinctive voices into the tempestuous sonic tapestry.
Not content to dwell solely within the boundaries of their chosen genre's traditional gore-laden wasteland, TEMPLE OF DREAD's lyrical endeavors on "Beyond Acheron" transcend the splatter-filled confines that death metal often finds itself trapped in. The band once again enlists the support of their erudite friend and psychologist, Frank Albers, whose mastery of words crafts intelligent and blood-soaked verses that delve into the annals of ancient myth and history. The tales of Icarus, Vulcan, Hades, Cleopatra, and Marcus Antonius (or Mark Anthony, if you prefer) intertwine seamlessly, like the thread of Ariadne, throughout the album's dark passages.
Line-up
Jens Finger – vocals
Markus Bünnemeyer – guitars, bass
Jörg Uken – drums, keys

Guest musicians
Marc Grewe (ex-MORGOTH, INSIDIOUS DISEASE) – additional vocals on 'The Plague'
Henri Sattler (GOD DETHRONED) – guitar solo on 'Beyond Acheron'


The evocative cover artwork for "Beyond Acheron" is a testament to TEMPLE OF DREAD's commitment to their thematic vision. Paolo Girardi, the celebrated Italian artist, conjures an image of Charon, the mythic ferryman who guides souls across the River Styx to the netherworld of Hades, provided, of course, they possess the necessary coin to secure passage.
It should come as no surprise that "Beyond Acheron" boasts a colossal production, courtesy of TEMPLE OF DREAD's very own drummer, Jörg Uken. As the proprietor of the esteemed Soundlodge Tonstudio, Uken has overseen the recording endeavors of illustrious acts such as DEW-SCENTED, GOD DETHRONED, OBSCENITY, SUICIDAL ANGELS, and WARPATH. A weighty sonic assault awaits those who dare to venture into the tempestuous depths of this album.
TEMPLE OF DREAD emerged from the rugged shores of Spiekeroog in 2017 when guitarist Markus Bünnemeyer, driven by his insatiable appetite for old-school death metal, sought a new outlet for his sonic obsessions. Joining forces with vocalist Jens Finger and drummer Jörg Uken, both of whom Bünnemeyer had previously collaborated with in Slaughterday, the trio solidified their lineup and embarked on a path that has remained steadfast ever since. A mere year later, "Blood Craving Mantras" (2019) assaulted the scene with unrelenting force, showcasing the trio's creative prowess. Following in quick succession, "World Sacrifice" (2020) and the critically acclaimed "Hades Unleashed" (2021) cemented TEMPLE OF DREAD's reputation as a force to be reckoned with.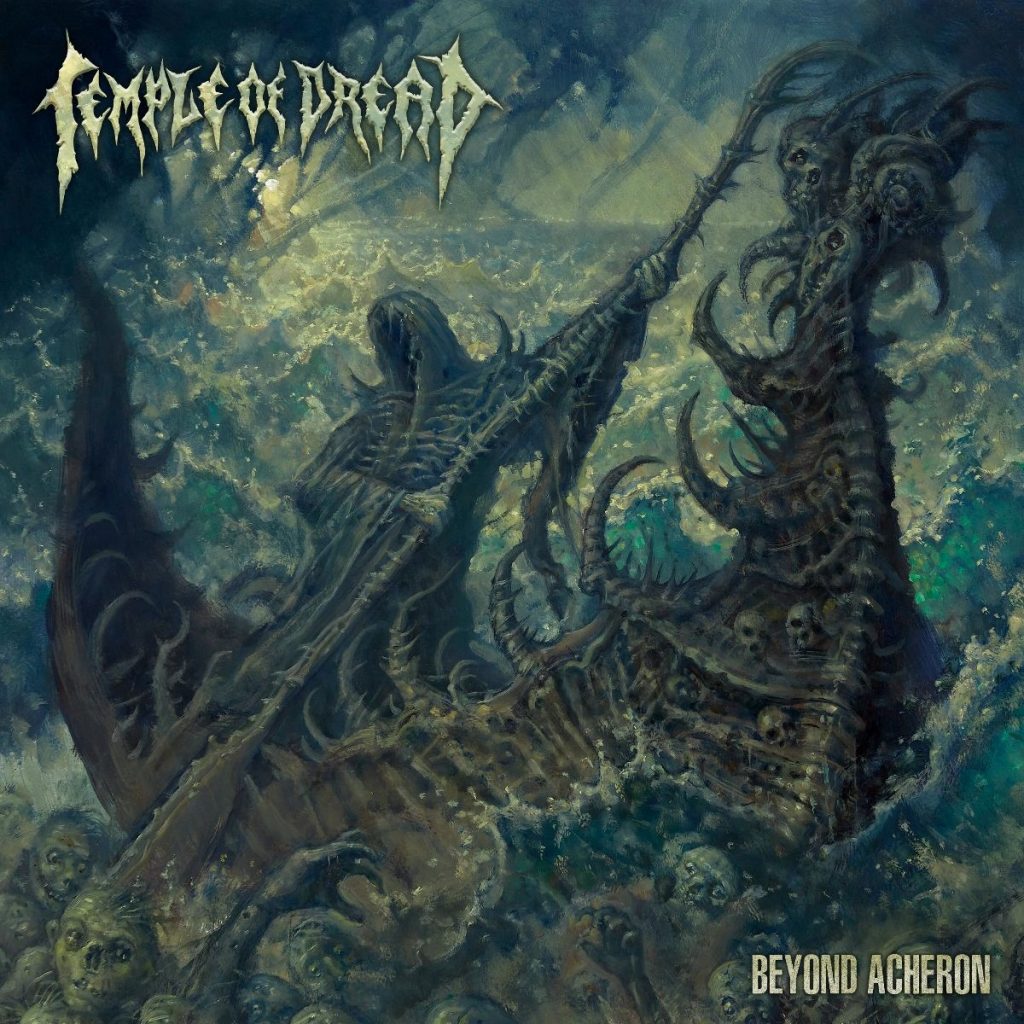 Tracklist
1. Charon's Call (Intro)
2. Beyond Acheron
3. World Below
4. Damnation
5. Dance of Decay
6. All-Consuming Fire
7. The Plague
8. Carnality Device
9. Asebeia
10. Hades
With "Beyond Acheron," TEMPLE OF DREAD thrusts themselves to new heights, establishing a formidable benchmark for the realm of intelligent death metal brutality. Their unwavering dedication to the essence of the genre, combined with their willingness to explore new sonic territories, sets them apart from the pack.
The island of Spiekeroog, with its unforgiving landscapes and resilient inhabitants, serves as the perfect backdrop for TEMPLE OF DREAD's brand of uncompromising music. Just as the island's people prefer action over idle chatter, so too does the band's music cut through the noise with unwavering conviction. They eschew trends and fads, adhering to the primal essence of death metal that has captivated their souls since its inception.
"Beyond Acheron" stands as a testament to the band's evolution. Their roots in brutal death metal remain intact, but they have honed their sound to incorporate a sense of grandeur and an atmospheric quality that lends itself to the cinematic realm. Each track carries the weight of ancient legends and historical tales, a lyrical tapestry woven by the insightful mind of Frank Albers. These themes, though not bound by a strict concept, weave their way through the album, binding its sonic fury with the threads of classical antiquity.
The guest contributions on "Beyond Acheron" further solidify the band's prowess. Marc Grewe, whose growls have echoed through the halls of MORGOTH and INSIDIOUS DISEASE, adds a raw intensity to the already ferocious vocal assault. Henri Sattler, known for his work with GOD DETHRONED, brings a dark and commanding presence that perfectly complements the band's sonic tapestry.
Paolo Girardi's artwork adorning the album cover is a visual feast that captures the essence of TEMPLE OF DREAD's music. Charon, the guardian of the underworld, stands as a harbinger of doom, ready to guide lost souls across the River Styx. It is a fitting visual representation of the band's sonic voyage into the depths of darkness and despair.
Under the watchful eye of Jörg Uken, the owner and operator of Soundlodge Tonstudio, the production of "Beyond Acheron" is nothing short of monumental. Uken's expertise has graced the works of numerous renowned acts, and his mastery ensures that every crushing riff, thunderous drumbeat, and guttural growl is captured with the utmost clarity and power.
Since their inception, TEMPLE OF DREAD has embraced the ethos of perseverance and dedication. With each release, they have pushed themselves further, sharpening their musical blades and carving their own path through the metal landscape. "Beyond Acheron" stands as a testament to their unwavering commitment to their craft, a monument to the unyielding spirit of death metal that flows through their veins.
So, brace yourself, dear listener, for TEMPLE OF DREAD's latest offering will take you on a harrowing journey through the depths of myth and history, all while delivering an unrelenting sonic assault that will leave you battered, yet exhilarated. "Beyond Acheron" is a testament to the enduring power of metal and a reminder that in this chaotic world, there are still those who dare to embrace the darkness and forge their own destiny amidst the raging storm.