A fresh insight into the highly anticipated new album 'A Fine Commitment' (out 16 June), MONOGRAMS is back with the invigorating new single: "Carry The Weight".
From the speeding cop sirens that screech through its intro, to the exhilarating electro/punk chase that ensues; "Carry The Weight" is the breathless new release from the New York-based 'Nuke Wave' artist.
Hurtling into earshot like Fischerspooner and Joy Division in an all-or-nothing drag race, its highly-charged guitar riffs and radioactive synthesisers vie for pole position across a track that will heighten the senses at its every hairpin twist and turn.
A song about overcoming the intensity of the world when its relentless traffic becomes all too much,
Ian Jacobs
AKA Monograms explains:
"I wrote Carry The Weight at a time about a year ago when I was really just taking everything on. Everything in my life: My past, My future, My present. While also taking on my day to day: You're tired, you're wide awake, you're horny, you're lazy, you're hungry, you're full, you have money, you're broke, you're happy, you're sad. Sometimes all that noise can be a bit too much of a buzz. Other days it's totally fine. The lyrics are specifically about how I have no idea where that weight goes when it goes away, or if it really does go away? How we overcome things, or why some things we internalize while other times we decide to unpack s**t to others to quiet the noise. But I realize most of the time that weight is just based on my mood or my perspective. I think a lot of other people are probably like that too." 
With themes of architecture and morality, plans of reconstruction and hopes for salvation rippling through its lyrics; "Carry The Weight" finds Monograms restarting from the ground up and assessing the tools with which to rebuild his life.
"I had all this sort of strenuous work theme in the world I wanted to build for the lyrics" he says. "Like construction. Getting everything in line, getting a grip, scaffolding going up, making a plan, architecture, it's dirty, it's unfinished, there's rubble and unpaved cement everywhere.  Themes of building blocks and tools… I think maybe it's about letting go of all that work and just knowing you're gonna be OK for a bit as is.  It's also a bit of a 'I dunno' moment, cause I have no idea what's at work pulling the strings sometimes, if it's me or not. Control is a fickle beast."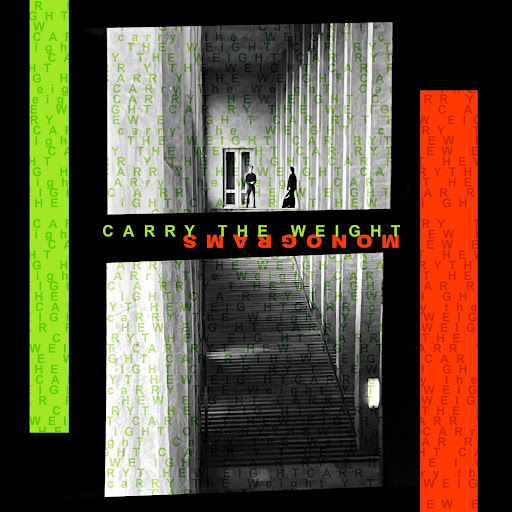 MONOGRAMS – NEW SINGLE: "CARRY THE WEIGHT" – OUT NOW
STREAM ON ALL SERVICES HERE
NEW ALBUM: 'A FINE COMMITMENT'
– OUT 16 JUNE 2023, VIA PAPERCUP MUSIC
Described as one of the "easiest and most fun to make" on his upcoming third album, "Carry The Weight" swiftly follows the shadowy Mancunian overtones of lead single "Hi Low"; with both tracks due to feature on the new record. His first outing since 2020, 'A Fine Commitment' finds Monograms expanding his portfolio of post-apocalyptic sounds into dark and uncharted territories. Fusing post-punk and new-wave, industrial and gritty pop, and occasional forays into far-out folk; these 12 dynamic songs also contain some of his most visceral lyrics of his catalogue to date. Entirely written and recorded by Monograms in Brooklyn, the album was produced with the assistance of Ben Rice and promises a thrilling meltdown of sounds and boundaries. Documenting a journey of personal mental health struggles over the two year period in which it was made and how the music he was making offered him a road to recovery, Ian says of 'A Fine Commitment':
"Let's just say I went through a time in my life while making this record where I almost lost myself and my mind a couple times. The process of this album felt like a fork in the road where I finally started letting go a bit of my past and trying to predict my future. The tension wasn't directly about the creative process but that was often the trigger. It's a long story but I've been facing those divots in my life a lot more lately and trying to be more real about it cause it's not something I think about often… but I truly did almost completely lose myself in the span of time while making this record more than once. But I'm still here, still living, still dreaming."